View Poll Results

: September 09 ROTM

BuiltFordFast
23
79.31%
Hampy
6
20.69%
Voters: 29. You may not vote on this poll
September 09 Voting
---
Allright folks it's time to vote. For the September 09 vote we have a pair of nice lookin F-150s. I think this ones gonna be a really tough choice. Good luck to all entrants.
---
BuiltFordFast
---
FordTough.ca Username: BuiltFordFast
First Name: Dave
Location: Windsor, Ontario, Canada
Year: 2001
Model: F150 SVT Lightning
Engine/Drivetrain Modifications:Stage 4, ported/polished Eaton S/C
Stiegemeier Stage 4, ported/polished Eaton S/C
SCT Xcalibrator2 Flasherher
JDM cool air induction kit
JDM 4 lb. lower pulley
Billetflow 2.76 upper pulley
Accufab SB throttle body(polished)
JDM line mod valve
Deep sump pan and filter
NGK-TR6 sparkplugs (gapped at .035)
Boost bypass mod
JDM Silver Bullet exhaust
Truk-Traks traction bars
PSP Driveshaft safety loop
Nitto 305/45/R18 Drag Radials
American Racing Baja rims 16 x 10(Track)
MT ET Streets 26 x 11.50 x 16LT(Track)
Suspension/Brakes Modifications:
F.R.P.P. Lowering Kit / 1"Front-2"Rear
Exterior Modifications:
Mustang Bullitt Fuel Door
Stull Upper and Lower Billet Grille
20% Window Tint
Lightning Floor Mats
02 HarleyF150 Headlights
John Coletti and Al Suydam signatures
Bort's Billet Nameplate Bracket
Keystone #GHF-100 Ramair hood
Paint and "DSG" stripes by Windsor Bodyworks
Cervini Rear Wing
Centerline "Legend Series Retro" rims. 18x9.5
Interior Modifications:
Stock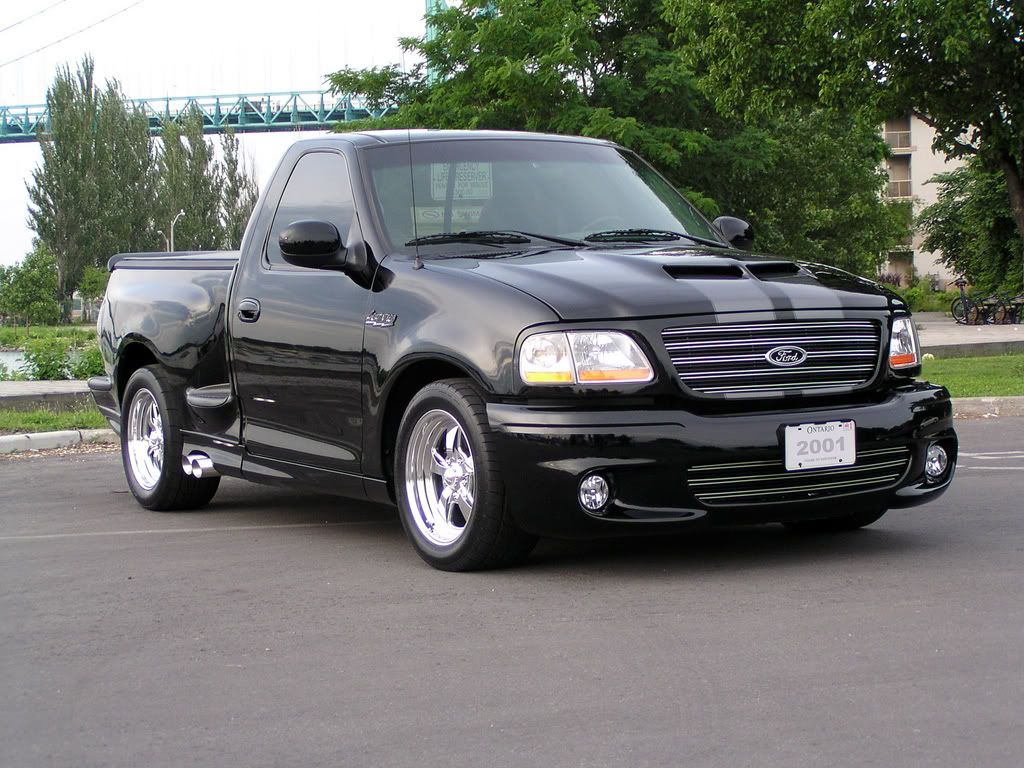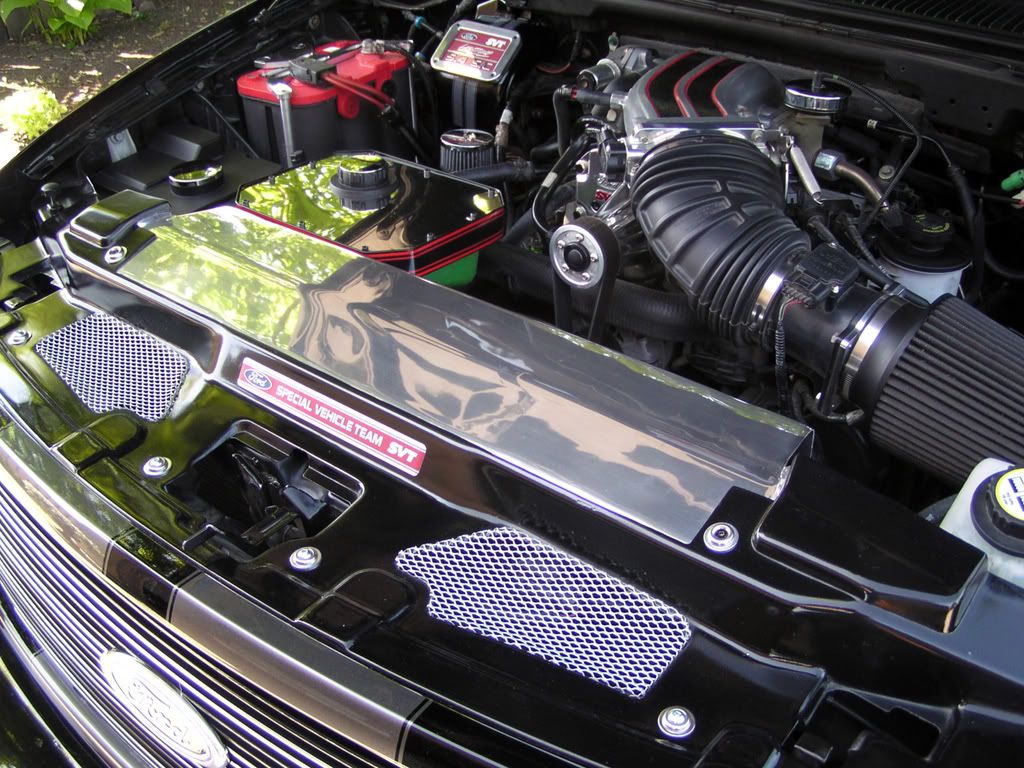 Hampy
---
FordTough.ca Username: Hampy
First Name: Robert
Location: Riverview, NB ( Moncton )
Year: 2002
Model: XLT Sc, 2wd
Engine/Drivetrain Modifications: 5.4 lt, 2" drop in rear, Superchips programmer.
Suspension/Brakes Modifications: N/A
Exterior Modifications: 17" - 7 lug AR Atlas rims. ( 4 years to find....very rare, discontinued and brought back into production. ) Bridgestone Dueller H/L rubber 275/60/17, Rancho shocks, soft top tonneau cover, Lucerix towing mirrors, custom gel Interceptor badges over Ford blue ovals, black tube running boards, Harley Davidson Headlights with GE NightHawk bulbs.
Interior Modifications: painted interior dash and door parts in matte exterior paint color with no clear coat, 3 pod pillar gauges, xm radio, Infinity speakers.
Winter stored.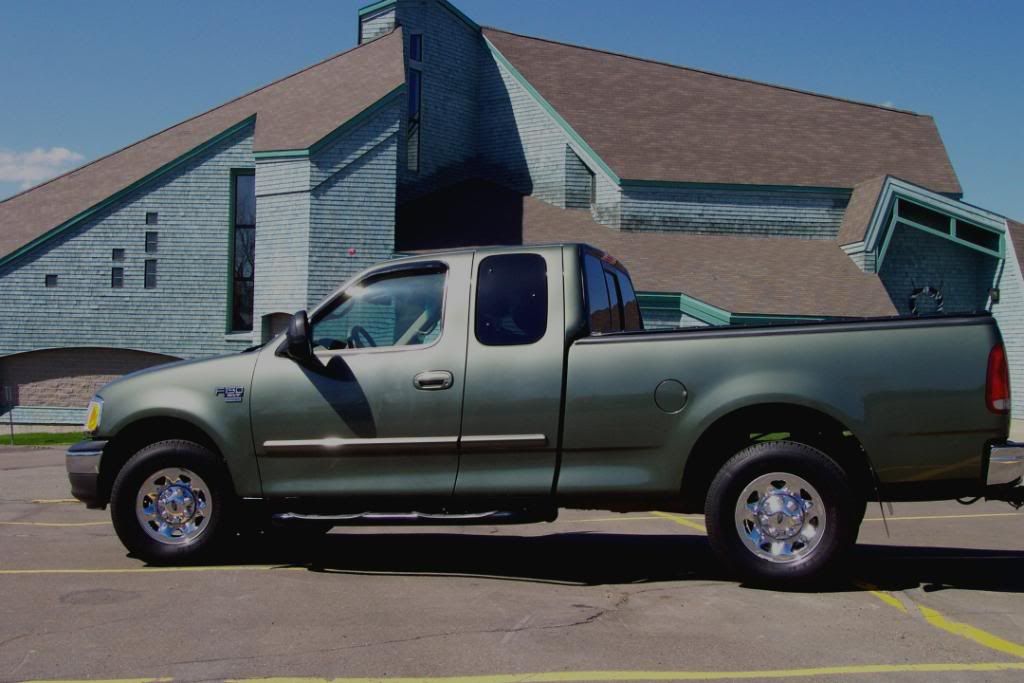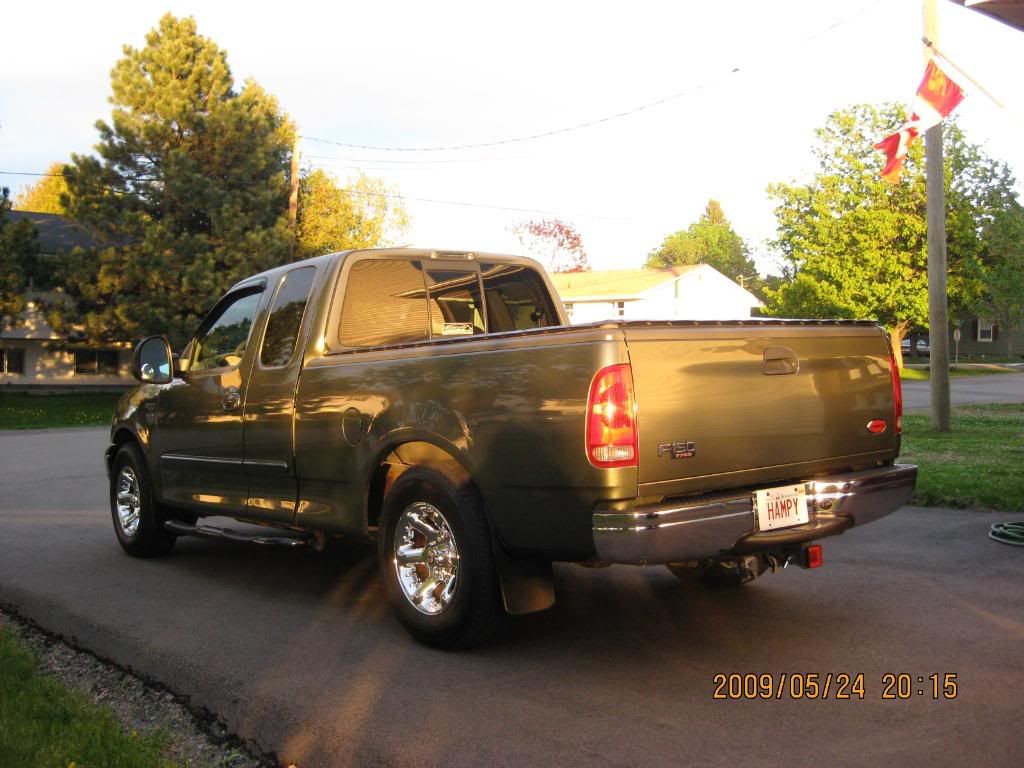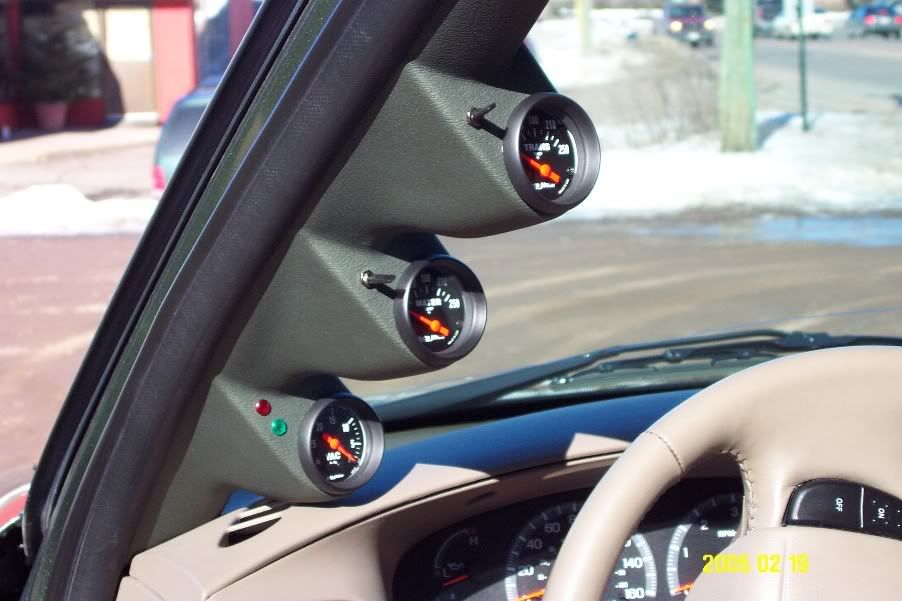 ---
both nice trucks,i would love to find a lightning for myself!
---
a moments silence for the shelbyx,i hope her new owner enjoys as much.
both look real good but im goin to have to go with the home town guy dave.
---
You tried your best and you failed miserably. The lesson is 'never try'. -Homer Simpson
Join Date: Feb 2009
Location: Kitimat, BC
Posts: 1,079
Gotta go with Dave's superb ride. That is one clean looking blvd cruz'er.
---
The Hauler - '05 F-350 4x4 CC Dually 6.0 Powerstroke
The Project - '90 Ford Bronco 4x4
The wife's - '11 Ford Escape
For every minute you are away from work...you can add two minutes to your life!
Both cool rides, have to go with Dave's Lightning, fortunate enough to see it in person, well kept truck!
---
It's all about the boost!
Both AWESOME Rides, I must say that I am a bit partial to L's myself...
---
2001 SVT Lightning F-150 #1976 (SOLD)
2007 Harley Davidson F-150 #3402 (SOLD)
2010 SVT Raptor F-150 / 6.2L
Similar Threads
Thread
Thread Starter
Forum
Replies
Last Post
ROTM Contest: Aug 09 Voting

jdcrush

R O T M - Voting & Monthly Winners

8

08-27-2009

12:21 PM

ROTM Contest: Voting July 09 ROTM.

jdcrush

R O T M - Voting & Monthly Winners

8

07-26-2009

09:30 PM

ROTM Contest: voting for June 09 ROTM

jdcrush

R O T M - Voting & Monthly Winners

15

06-19-2009

02:03 PM

ROTM Contest: Voting for May 09 ROTM

jdcrush

R O T M - Voting & Monthly Winners

21

05-22-2009

01:46 AM
Posting Rules

You may not post new threads

You may not post replies

You may not post attachments

You may not edit your posts

---

HTML code is Off

---