July 2010 Winner
---
Congrats to Matt (lone ranger) on winning the july rotm. He'll represent aug in next years calendars.
FordTough.ca Username:
Lone Ranger
First Name:
Matthew T
Location:
Langley, BC
Year:
2009
Model:
Ford Ranger FX4
Engine/Drivetrain Modifications:
HD tranny cooler, 130a alternator, Optima Yellowtop
Suspension/Brakes Modifications:
Rancho shocks, rear airbags, t-bar crank front
Exterior Modifications:
33x10.5R15 BFG ATs on 15x7" AR767 wheels, custom canopy, custom trail damage
Interior Modifications:
Icom 2100H VHF radio, Uniden scanner, custom rear cab storage, 6 disc CD w/ Sat radio, Garmin Nuvi255w w/ BC topo maps, compass/thermometer RVM, 12v cooler, OBA, rifle rack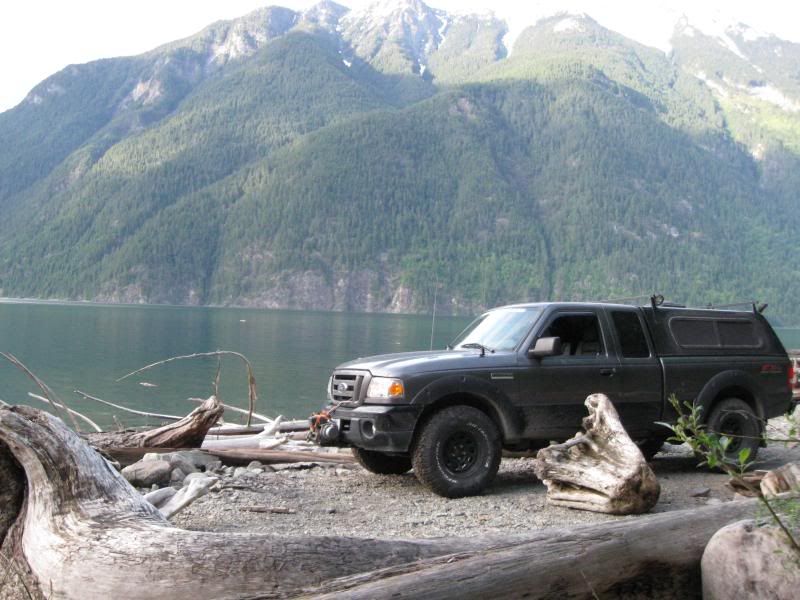 ---
congrats
---
MAKE: Ford, MODEL:Ranger, YEAR: 1993, MODS:4inch body lift, 32 11.5 15 M/T's, push bar chrome, rollbar black,4 off road light JVC CD deck,2 12' mtx subs, 1000watt mtx amp,blue neon
Congrats on the win, I love the second pic!
---
Nitrous is like a beautiful girl with an STD. You know you want to hit it but you're afraid of the consequences
Atta-boy!
Tell us about your custom canopy. Looks good on your truck. I see you've got some worklights and a rack.

I'm reluctantly thinking about eventually ditching my Bakflip because it now leaks like a seive, and a canopy might be the way to go.
---
If Princess Auto were a real girl, I'd ask her to marry me.
Looks good there Matt........a fine win.
---
2013 f150 Ecobeast
3.55 E locker
FX4 Screw
SSI tuned!!!!!!!!!!!!!!!!!
Thank you for the votes! JD, I can send you a full size resolution pic of whichever you think is the best pic (I personally like the truck beside Harrison Lake) for the calendar. Those are just reduced versions.

Nothing major to say about the canopy, its a complete POS but it doesn't leak. It came with my previous '93 Ranger, I think it was originally off an '01 sport or something it says on the tag, but the back of it has an odd flair to it (a touch too wide). All that's really custom about it is four 35w work lights installed behind the canoe racks for night lighting when I'm camping and two interior lights for camping as well. Windows are blacked right out and there's a crank up RV roof vent. I camp a ton in that truck so having the extra vent makes a huge difference in the summer, and its nice being able to see at night.

I'm trying to find either a flatdeck and go that route (because of their strength), or a contractor's canopy. My roommate has a Gemtop on his '07 Ranger and its a sweet setup, the side storage shelving and flip-up sides are super handy. It would make for a way sweeter camping setup, but a flatdeck would be far handier for working with (hauling the quad, scrap, garbage, ect) and I can always pop a tent up on the deck if need be. Decisions decisions.. LR
---
Matt T.
'09 Ford Ranger FX4 with a mean owner
CONGRATS
---
Gordon
Proud owner of 1998 NASCAR special edition F-150
(Celebrates 50 yrs of NASCAR and the F series truck)
My Pictures
Congrats on the win.Great looking ranger.
---
Posting Rules

You may not post new threads

You may not post replies

You may not post attachments

You may not edit your posts

---

HTML code is Off

---