Dec 10 Rotm Winner
---
Now that things are back to normal. Its time get the Rotm going again.
So congratulation to Dutycalls (Mike) on being first into Next years calendar.
FordTough.ca Username: Duty Calls
First Name:Mike
Location:North Bay, Ontario
Year:2000
Model:F350
Engine/Drivetrain Modifications: 5.4 with custom exhaust. Front D60 with 5.38 gears, warn hubs and Eaton Elocker. Rear sterling 10.5 with detroit locker and 5.38 gears
Suspension/Brakes Modifications: 6" Icon all spring lift, Stainless extended brake lines, 44" boggers on 16x12 Mickey Thompson classic lock rims
Exterior Modifications:Bushwacker cut-out flares, Front Alien Patrol bumper with PIAA lights and Mile Marker 12,000 pound winch, Custom rear bumper, dents and scratches
Interior Modifications:none
[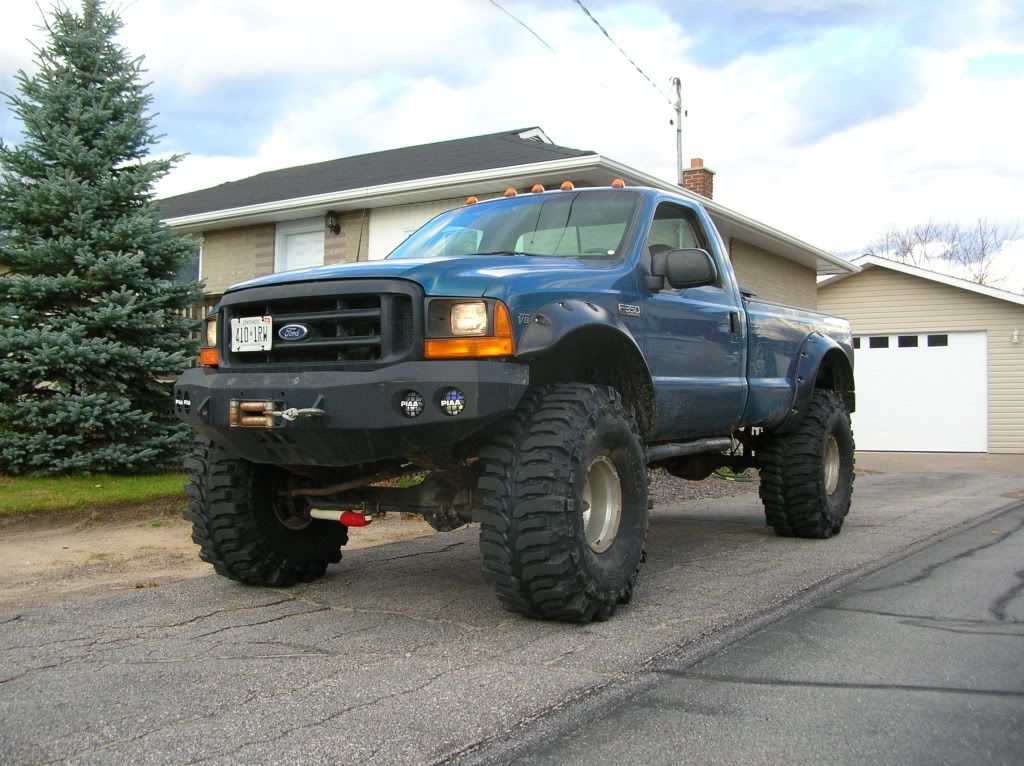 I am still looking for entries for January and February, So get em in folks.
---
---
Nitrous is like a beautiful girl with an STD. You know you want to hit it but you're afraid of the consequences
Join Date: Feb 2009
Location: Kitimat, BC
Posts: 1,079
Awesome SD truck...especially like the "Snowy" picture. Way to go.
---
The Hauler - '05 F-350 4x4 CC Dually 6.0 Powerstroke
The Project - '90 Ford Bronco 4x4
The wife's - '11 Ford Escape
For every minute you are away from work...you can add two minutes to your life!
congrats on rotm,trucks lookin great
---
a moments silence for the shelbyx,i hope her new owner enjoys as much.
it will be well deserved in the excursions once its done as well gonna be a beast congrats again
Join Date: Aug 2010
Location: Port Elgin, Ontario
Posts: 4,741
Congrats Mike! Fordsforever6.0 called it...the snow pic is great. Well done!
---
801A
- 6550 lb bundle of joy
Congrats. That school yard looks familiar. Which school is it? North Bay is my hometown.
---
Whaddya mean I dont pay my bills?? Whydya think I'm broke!!
03 Lariat Crew 4x4 Line-x bedliner, Truxedo Lo-Pro QT Tonneau.
RIP [97 XL 4.2L V6]
Great win Mike..looking forward to next years calendar already.
---
2013 f150 Ecobeast
3.55 E locker
FX4 Screw
SSI tuned!!!!!!!!!!!!!!!!!
Similar Threads
Thread
Thread Starter
Forum
Replies
Last Post
ROTM Contest: Nov & Dec ROTM Winners

jdcrush

R O T M - Voting & Monthly Winners

8

01-20-2011

03:46 PM

Dec 09 ROTM Winner

jdcrush

R O T M - Voting & Monthly Winners

5

12-30-2009

03:01 PM

November 09 ROTM winner

jdcrush

R O T M - Voting & Monthly Winners

8

12-09-2009

10:33 PM

Winner ROTM June 09

jdcrush

R O T M - Voting & Monthly Winners

12

07-06-2009

03:27 PM

Winner ROTM May 09

jdcrush

R O T M - Voting & Monthly Winners

19

06-05-2009

11:54 AM
Posting Rules

You may not post new threads

You may not post replies

You may not post attachments

You may not edit your posts

---

HTML code is Off

---