Join Date: Sep 2008
Location: Spruce Grove, Alberta
Posts: 68
On my 99 Ranger S/C 2WD, I run Michelin X-ice on my old 86 ranger rims with beauty rings and caps.
Night and day in handling, I would never run normal tires in winter again.
i run what i brung. once i can't stop/steer/accellerate. i get new ones. or go to 4 high.
---
2013 f150 Ecobeast
3.55 E locker
FX4 Screw
SSI tuned!!!!!!!!!!!!!!!!!
I have mich x-ice on black steelies, but I wont bother putting them on till middle of next month, unless of course it snows sooner.
http://brantford.kijiji.ca/c-cars-ve...QAdIdZ81750330
im looking at picking these up for the explorer..... probly not the greatest in the hardpacked snow but ill get them sipped before install...... now only if i can get the time with being on nights
if i dont get them then ill just run the michelins that are on the truck... worked good outwest in alot colder temps then here will ever see
The 26's will be comming off real soon. Just waiting for a nice day were I can clean them up before I store them. Hopefully better weather this week.
Winter tires are the stock BFG Rugged trails on 18's but would love to get a set of 285/65R/18 Nitto Terra Grapplers though.
one word... powerball..... works great quick and fast and doest a damn good job
Stock 16" rims with artic alpine tires. no problems for 3 winters now with almost 400HP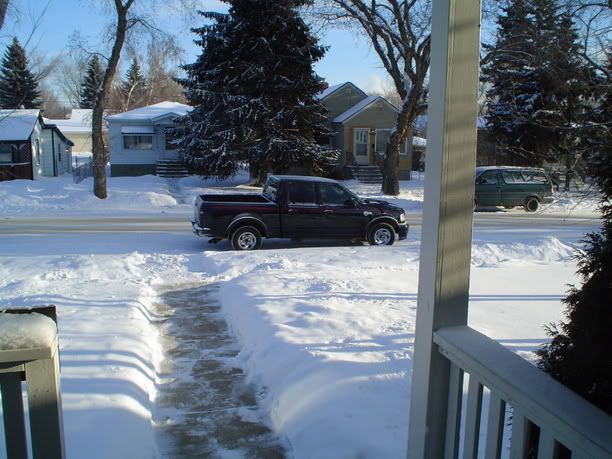 ---

Really? Its the Internet take it easy.
Truck goes to sleep, in the driveway, so I take off the 17" 7 lug custom rims / dueller H/Ls and put the 16" 7 lug OEM chrome steel and Michelin LTX's back on.

Both the Impala and Momma's Patriot have Bridgestone Blizzacks already mounted on steel rims.
My biggest fear is getting ass ended at a stop sign, because the blizzacks stop sooo quick.!!
Have been running these since they came out.....can't be beat and worth every penny.!!
Working on getting the Mickey MTZ's studded just gotta find someone to do it on used tire. Tonnes of tread left, shop is scared of hitting a rock with the stud gun????
---
I only drive in the city, to get out of it!!!
Similar Threads
Thread
Thread Starter
Forum
Replies
Last Post
Winter Rims

SKRWZ

Ranger Forum

4

11-10-2008

08:02 PM

NEED HELP: Winter Weight

Writerz Block

Ranger Forum

31

11-08-2008

03:56 PM

Parking brake shoes

Fordwheeler

Super Duty Forum

7

10-09-2008

04:28 PM

Check out my new shoes!!

4X4 EH

F-150 2004 to 2008 Forum

12

09-05-2008

10:22 PM
Posting Rules

You may not post new threads

You may not post replies

You may not post attachments

You may not edit your posts

---

HTML code is Off

---