Join Date: May 2008
Location: Wroxeter Ontario
Posts: 693
the new bronco
---
brought this bronco to its new home on Fathers day. will definitely have it at the Ford and Mercury truck nationals in August, hopefully with all its bugs worked out, hasn't been used much in the last 6yrs, maybe 1000miles.
was offered to me over 2 yrs ago , but sellers son bought it.
his son is going away to school out of state in the fall and needed the money so he contacted me.
very cool,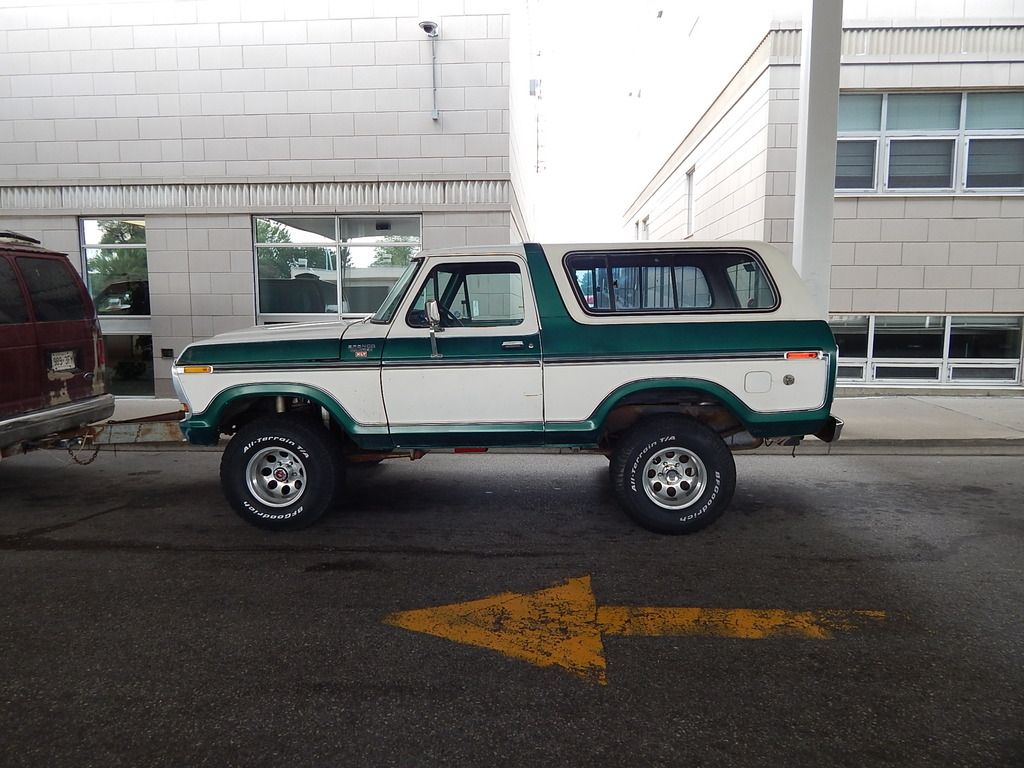 picture taken in front of Canada customs building at Sarnia. June 21/2015
---
[SIGPIC]
summer: RIP 72 Bronc, 68 Merc,
Daily:94 Exp xlt , Barney the PSD CW
projects: all on hold for now
Join Date: Feb 2009
Location: Kitimat, BC
Posts: 1,079
Wow, that is absolutely beautiful! The color combo is awesome, and those wheels look perfect under it. Good catch James.
---
The Hauler - '05 F-350 4x4 CC Dually 6.0 Powerstroke
The Project - '90 Ford Bronco 4x4
The wife's - '11 Ford Escape
For every minute you are away from work...you can add two minutes to your life!
Join Date: Aug 2010
Location: Port Elgin, Ontario
Posts: 4,741
+1 on that, what a sweet looking ride, will definitely need to see more pics of this one, way to go James. Congrats!
---
801A
- 6550 lb bundle of joy
i dig it/.
---

Really? Its the Internet take it easy.
nice
definate score picking that one up
Way Cool. Looks mint.

More pictures please
---
2019 RAM 1500 Big Horn Northern Edition - Patriot Blue Pearl
Tri-Fold Tonneau Cover - Flowmaster 10 Muffler - Tint - Side Steps - Bedrug - 20x9 Fuel Beast Wheels - TrailFX Bull Bar with Light Bar
Join Date: Mar 2010
Location: Stoney Creek, Ontario
Posts: 1,575
Nice!
---
Electrician, powered by Tim Hortons, brought to you by Ford. Java Inside!
The Past - 1976 F-350 Crew Cab 1992 - 2006 RIP
The Past - 1995 F-150 XL Enforcer All Gear Drive 2008 - 2015
The Present - 1993 F-250 XLT Turbo Diesel Super Cab 4x4 2015 - ?
The Future - Who knows?
Very nice. Looks great. Can't wait to see it at Arthur.
---
Nicole - 2004 Ford F-150 Lightning #3573
Emily - 2010 Ford F-150 FX4
Amsoil Independent Dealer
Amsoil Home Page
Join Date: Mar 2008
Location: Saint John, NB
Posts: 1,901
<---- This guy is jealous......Nice find!
---
2014 F150 FX4 | SuperCrew | 5.0L | 4x4 | Sterling Grey Metallic
Join Date: May 2008
Location: Wroxeter Ontario
Posts: 693
it took a lot of patience and a lot of pep talk from the mrs to actually commit to buy it at a time when money was way down. off work since 1st weekend in may, back to work on june29. had to tap inot my shop build fund and looks like no shop this year now.
going to get a canvas garage to keep it in temporarily.
a pic of it in its new home, removing the tow bar, putting the bumper and rear shaft back on.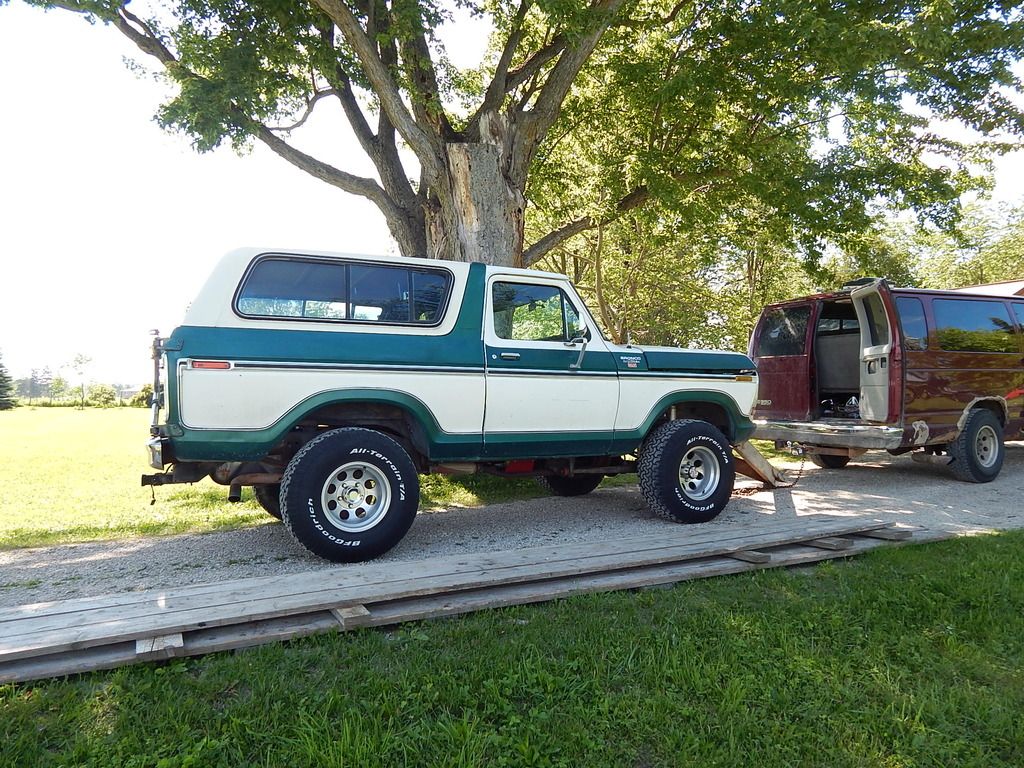 Barney really impressed me, 19.6 mpg and 20.4 hauling it home , empty on the way down got 24.4 and 28.0 mpg. the powerstroke is just getting into its groove, too bad the body is falling off.
---
[SIGPIC]
summer: RIP 72 Bronc, 68 Merc,
Daily:94 Exp xlt , Barney the PSD CW
projects: all on hold for now
Similar Threads
Thread
Thread Starter
Forum
Replies
Last Post
Bronco II exhaust

TRNRBILT

Intake, Exhaust

1

10-02-2013

11:15 AM

Lets see your 66-77 Bronco's

86caprirs

Excursion, Expedition, Navigator, Bronco, Explorer, Escape, Flex, Edge

6

05-09-2009

06:09 PM

Diesel Bronco

blaze42069

Projects and Build-Ups

1

12-05-2007

10:57 AM
Posting Rules

You may not post new threads

You may not post replies

You may not post attachments

You may not edit your posts

---

HTML code is Off

---