Today's project
---
Today was a detailing day for the next upcoming truck show. I could always see the rotors starting to show rust in the areas that the stock rims touch but my American Racing rims do not. So it was a strip the wheels off and paint the rotors up in black and while I was there I figured I'd remove the calipers and give them a but more of a touch up in the red that I have used. While I was on the front I found the spindles to have plenty of rust covering the entire part. So I stripped them down and sprayed them as well.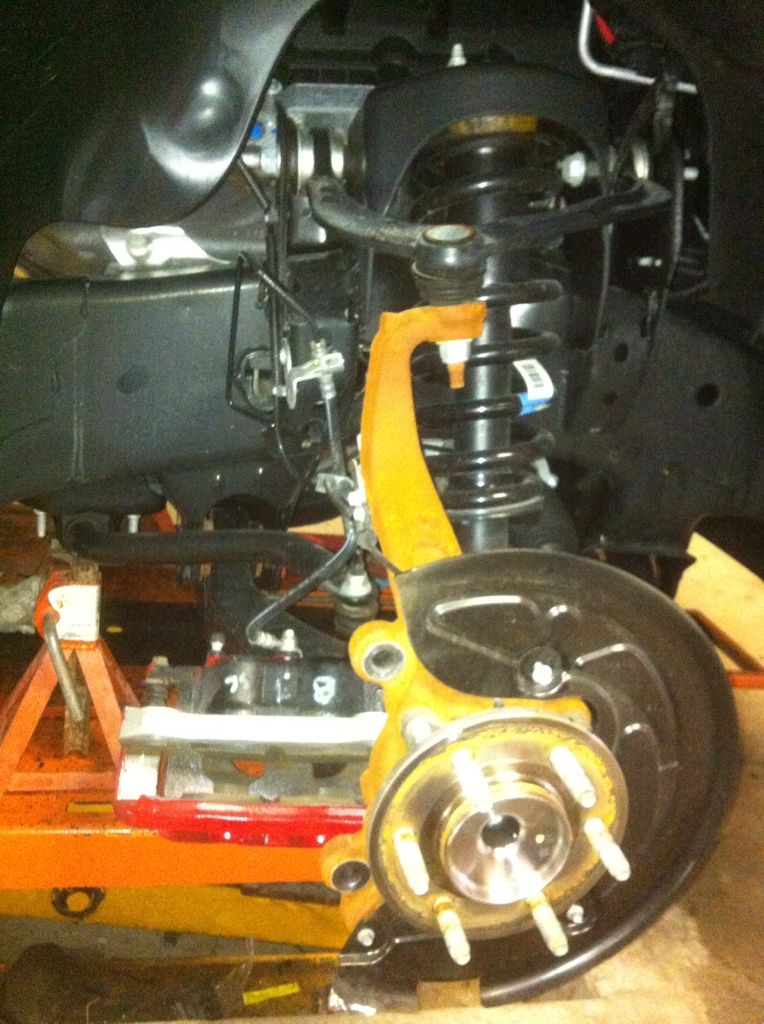 Before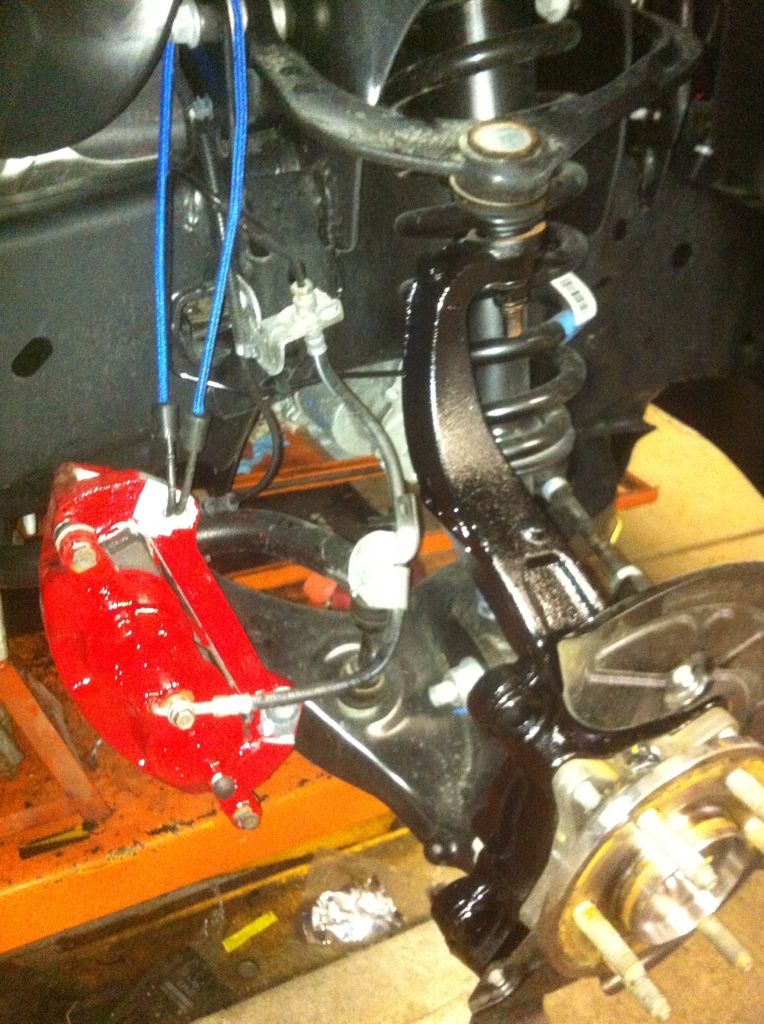 After
---
2012 STX 5.0L Sturgis/Boss 302
---
Nitrous is like a beautiful girl with an STD. You know you want to hit it but you're afraid of the consequences
Nice. Where's the rotor?


Sent from my iPhone using Tapatalk
Bah don't need those. They only slow me down and I got the truck to go fast.
---
2012 STX 5.0L Sturgis/Boss 302
The red on the calipers is a dupli-color brush on caliper paint, it cures up fast and almost feels like plasti-dip, the black i used on the rotors you cant see is the same only in spray, the spindle I just used a rattle can of gloss rust paint, after i stripped everything off the spindles, backing plate, hoses bearings, Only thing I didn't do was split the ball joints and tie rods as I don't have a splitter, so I just taped stuff up and grabbed some cardboard to back it up and went crazy inside the wheel-well.
Any pics with the wheels on?


Sent from my iPhone using Tapatalk
Not yet. Had to wait for paint to dry completely so I could take it for a drive to get the paint off braking surface and now I have to clean paint flakes off the wheels. But it does look better. I'll get them washed up tonight when I get home.
---
2012 STX 5.0L Sturgis/Boss 302
You can't see much in the pics but there's the final (dirty) project
---
2012 STX 5.0L Sturgis/Boss 302
Similar Threads
Thread
Thread Starter
Forum
Replies
Last Post
so another project has started

v8ranger

Photo and Video Gallery - Members Rides

36

02-02-2012

07:39 PM

my 96 project

red_ranger93

Ranger Forum

16

11-13-2010

10:26 PM

Project: Preview

Viper238

Audio and Electronics

17

03-06-2010

11:55 PM

my next project

Henry Ford

F-150 Pre-1997 Forum

0

09-26-2009

09:59 AM

new project

martyF150XTR

F-150 Pre-1997 Forum

10

08-16-2008

09:15 PM
Posting Rules

You may not post new threads

You may not post replies

You may not post attachments

You may not edit your posts

---

HTML code is Off

---