My truck came with floor mats and they are carpet that have NASCAR embroided in them!!!
---
Gordon
Proud owner of 1998 NASCAR special edition F-150
(Celebrates 50 yrs of NASCAR and the F series truck)
My Pictures
Join Date: Oct 2008
Location: Milton
Posts: 73
I ended up being lazy and just getting the Ford mats. I like the look but probably not as functional as the weathertech product.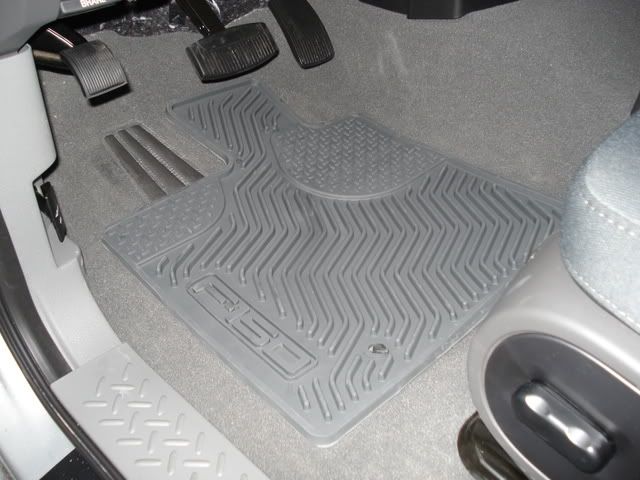 ---
2008 F150 XLT 5.4L 4x4 w/XTR Package
Quote:
I have the husky floor liners in my vehicles, they work awesome and the carpet never gets dirty.
I second the Husky Liners, They also have a mat available to go over the centre hump and for the rear. They are truck specific and molded to fit. If you look over by the door, you can see the side on it that effectively works like a pan trapping all the water.The water pools in a trough near the door (on the ones for Super Duty's) so it freezes overnight. In the morning, when I get in, I just fire the ice block out the door and start over.
Apprentice
Join Date: Dec 2008
Location: Airdrie, Alberta
Posts: 5
could someone post a pic of the weathertech's installed. The Husy's too if you can. Where can I find the Husky's?
Join Date: Jan 2009
Location: Iroquios Ontario Canada
Posts: 16
I also have weather tech floor mats. They protect the carpet realy well. A little pricey but well worth it.
Stock rubbers with the clip that keeps them from moving, and I have a rubber floor mat
---
2008 Ranger FX4
Some lift, some tires, and a winch
Quote:
Does anyone have the Ford rubber mats in their truck? Im debating buying the set of 4 but I'm leary of spending $100 on mats that I havent seen/ heard good things about.
I bought them for my new Ranger because it has the rubber floor but then I found my old Catch-Alls so I haven't gotten around to putting them in yet.
If you're dealing with carpet nothing beats the weather-tech or husky liners; I think the Ford ones are heavy enough to work well with the rubber floor.
i got the good ol' canadian tire ford ones up front and "built ford tough ones in the back.. don't protect anything, but they say ford so i like them
Apprentice
Join Date: Oct 2008
Location: Blenheim
Posts: 7
I've got the Ford rubber mats in my '08 and am happy with them. As a detailing step, once every 3 or 4 washes I spray them tire foam. It brightens them up and helps keep the fine dirt trapped. They're a little slippery for the first couple of days.
Posting Rules

You may not post new threads

You may not post replies

You may not post attachments

You may not edit your posts

---

HTML code is Off

---