Join Date: Apr 2008
Location: BC
Posts: 322
Lightning Question.
---
Hello folks.
A guy on a British Forum has bought a Lightning ..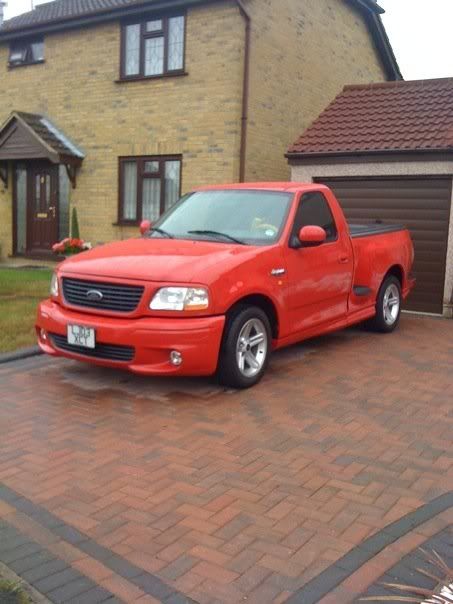 He says it's got the 5.4 in it with Eaton charger?
Did they produce a 5.4 in this truck? I thought it was only the 4.6 with Whipple charger?
Dont wanna question him about it without talking to the experts first.
Dont know the model year.
---
2008 F150 FX4 SCAB : BLUE STREAK

She's gone but never forgotten! Replaced with a blown:

2008 F150 FX4 SCREW : SILVER BULLET
The lightnings all had 5.4's with eaton superchargers. The picture you posted appears to be an 03 or 04. stock they have 380 hp 450 ft/lbs of torque
Yep she looks like an 03 or 04.
---
2016 F150 XLT XTR 4x4 2.7 Ecoboost
Looks to be 03/04, but could easily have swapped out the rims, I changed my 01 rims to 03/04 chromies.

The 03/04 have terribly high rear ends due Ford beefing up the leafs to increase payload.
The rear on that particular truck seems to be lower than your average 03/04. Therefore it could be either 2 things, its a 01/02 model with newer rims or he has installed (or someone did) a set of drop shackles.

Other things to note, if the Eaton blower says Ford SVT beside the snout, it's most likely an 03/04, earlier years (majority at least) has EATON on the blower.

If the rear window surround has a thick black rubber/plastic membrane around it then it is definately an 03/04, 99-02 did not have this piece, Ford added it to fix the leaking window issue.

Ask as many questions as you'd like, this darn truck has been my obsession over the last few years.
---
It's all about the boost!
Join Date: Apr 2008
Location: BC
Posts: 322
Thanks for the Input Guy's .. Dont know where I got the 4.6 from
Anyhow its Ford Fair this weekend .. Biggest Ford show in Europe.
If I see any F150's I will post some pics up
---
2008 F150 FX4 SCAB : BLUE STREAK

She's gone but never forgotten! Replaced with a blown:

2008 F150 FX4 SCREW : SILVER BULLET
Blower #1 on my 01 said Eaton, blower #2 said SVT
---
2001 SVT Lightning F-150 #1976 (SOLD)
2007 Harley Davidson F-150 #3402 (SOLD)
2010 SVT Raptor F-150 / 6.2L
Posting Rules

You may not post new threads

You may not post replies

You may not post attachments

You may not edit your posts

---

HTML code is Off

---