LED Upgrade question
---
LED upgrade question, but not 100% what you would expect.
Considering upgrading the four inch halogens on my garden tractor to LED's, and been doing some research.
I know Travis is pretty busy these days with his Resident Mad Scientist Jr, but I'm guessing he'll be the guy with the answers, and perhaps even the equipment?
So, some basic facts as I know them…..
The John Deere has a 12Vdc system, with a 20A alternator, and I just replaced the 8 year old battery with a 340 CCA Eliminator.
I'm debating between 27W LED's and 48W LED's off Ebay.
Here's the 27W units…

Sellers photo….
48W units look exactly the same, obviously a few more LED's.
The difference comes with the amount of amperage.
27W draw 2.25A, cost with shipping approx $100
48W draw 4.0A. cost with shipping approx $150
Here's the 48W…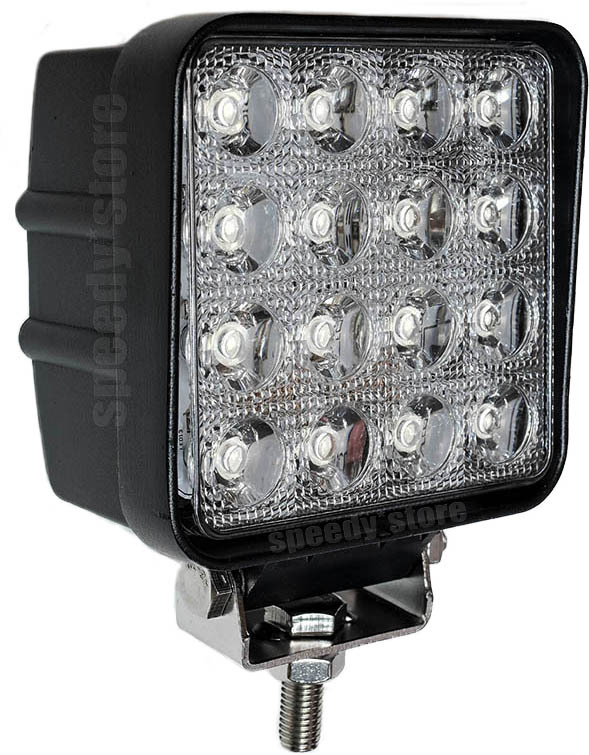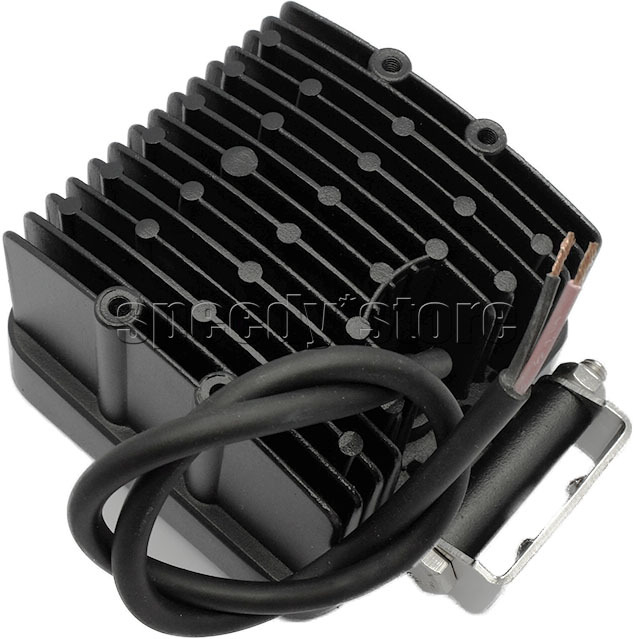 So…the question is, will the 27W be adequate, or get the 48W ?
Don't do a whole lot of clearing snow at night, so it's not like they'd be used extensively, but I like the idea of more light not so much to see, but to BE SEEN by any traffic.
---
801A
- 6550 lb bundle of joy
Join Date: Mar 2008
Location: Saint John, NB
Posts: 1,901
Not really an answer to your question...but if it is more to be seen by traffic, why not install amber strobe LED plow/warning lights. Plenty on eBay. Very reasonable prices too.
---
2014 F150 FX4 | SuperCrew | 5.0L | 4x4 | Sterling Grey Metallic
Meh, rather have the LED's. The halogens work well, but it's just an idea I've been toying with, nothing for certain .

I'd also consider upgrading the 1156's in the headlights and the 193's in the tails to LED, if the opportunity presented itself.
---
801A
- 6550 lb bundle of joy
Join Date: Feb 2009
Location: Kitimat, BC
Posts: 1,079
We've got the LED floods's on our front end loader...six on the front and two in the back. Also have five flashing LED beacons and signal/brake lights. They are awesome, but the thing I like the best, is they don't burn out all the time like the incandescent and halogen bulbs.

The only draw back I can see with these LED lights, is they don't generate any heat. So, I wouldn't use them in the winter for tail lights. Once snow covers them, they are not visible at all. Really notice that with all the "big rig" trailers around here now. They pretty much have all gone to LED's and you can't see their tail lights...pretty dangerous in my mind.
---
The Hauler - '05 F-350 4x4 CC Dually 6.0 Powerstroke
The Project - '90 Ford Bronco 4x4
The wife's - '11 Ford Escape
For every minute you are away from work...you can add two minutes to your life!
Join Date: Mar 2010
Location: Stoney Creek, Ontario
Posts: 1,540
Actually, LED's will generate heat. Most rig lights need to be on all the time and have mud flaps in the right positions. A LED is essentially a short circuit that lights up.
---
Electrician, powered by Tim Hortons, brought to you by Ford. Java Inside!
The Past - 1976 F-350 Crew Cab 1992 - 2006 RIP
The Past - 1995 F-150 XL Enforcer All Gear Drive 2008 - 2015
The Present - 1993 F-250 XLT Turbo Diesel Super Cab 4x4 2015 - ?
The Future - Who knows?
There is more to wattage when your talking LEDs .
What's the optics, spot or flood?
Are they using a current driver to power the LEDs?
What type of LEDs? SMT, superflux, star etc
What brand, or who made the LEDs?
What color or CCT are the LEDs?
Do you have a link to the product?
As for heat, high powered LEDs will create quite a bit of heat.
Heat is actually something that has to be thought through and a plan made. DIY / custom high powered LEDs require heat sinking and possibly fan cooling as well.
Regular cheap 5mm through hole round LEDs won't create much heat if anything at all but their light output is crap for raps vehicles.
As for the transport truck taillights, there is A LOT of led tail lights on the market. The cheaper they are means they won't last as long, also usually the less output of light you can see, which usually is less heat.
LEDs don't like running outside the comfort zone. (Voltage) the more an led is ran outside its comfort zone the less it's life expectancy is.
Most LEDs run on 2-4VDC of power to Vehicles electrical system is 12. But in real life it is 13.6-15vdc .
When your alternator spikes it's killing the LEDs.
Because of the power spikes a power current driver to regulate and power the LEDs a recommended.
The driver will regulate the voltage, keeping a perfect 12 or 9vdc depending on the array of LEDs and how they are wired. But also will boost the current and force additional power thru the LEDs. By doin so they will get warm, and hot and burn up in a matter of minutes as they will need dissipate the heat.
LEDs are not always brighter then halogens. In fact most halogen put out more light output then a lot of LEDs by themselves.
Also LEDs are very directional. Meaning they need a reflector and a lot more leds to compensate.
Because LEDs are very directional, slapping them into Halogen reflector that is based on 360degrees of light to reflect it in a certain direction doesn't work out well. Because LEDs shoot out forward often 70-110 degree a lot of light doesn't hit the reflector. They have started out with these 360degree led bulbs but that still are.
And so on. Lol.
I got more but I'm on my phone. And kids need my attention. Lol
Sent from my iPhone using
Tapatalk
http://www.ebay.ca/itm/2x-27W-12V-24...vxp=mtr&_uhb=1
Quote:
LED Power: 27W(9*3w high intensity Epistar LEDs)
Flood beam
Voltage: 10-30VDC
Current Draw:
[email protected]
/
[email protected]
Color: 6000K
Seal Rating: IP67
Shock resistance: 20G
Operating temp: -40°C to +50°C
Lifespan: >30,000 hours
Dimension (HxWxD): 5.5" x 5.5" x 2.5"
Die-cast aluminum housing
Stainless Steel mounting hardware included
Best I can tell you Travis….see I knew the right guy to ask.
I'm guessing the heat sink is the fins on the back of the housing, air cooled ?
If you've got anything comparable in the Mad Scientist Lab that is workable, we should talk.
Otherwise, it's starting to look like more trouble than it's worth, the sealed beam halogens do a pretty good job, and it's not like they get used a lot.
---
801A
- 6550 lb bundle of joy
LED Upgrade question
---
These are driver based. They have heat sinking because they will generate heat.
They are flood style. Good
They are a generic (cheap) star led. Same most likely for the current driver.
How long they last? Your guess is as good as mine.
For the price tho?!?!.. It's decent.. but I always relate back to you get what you pay for.
In comparsion to a higher quality led flood lights this is 1/2 to 1/3 the price..
My actual concern is the color of the LEDs. They are a 6000k which is a bluish white. When your looking at snow it makes it all bright white and you loose definition and textures. You would want a lower "K".. 3500k is about the color of halogen, or if you can get one in the 4-5000k they will be a lot more useful in the snow.
Sent from my iPhone using
Tapatalk
I've installed these worklights on fracking units, etc. that were being rebuilt and upgraded. I can vouch for the quality and brightness.
http://www.grote.com/product.php?product_number=63601
They draw 1.6 amps (so I guess that would make them around 19.2 watts). Everyone agreed they were a big improvement from the old quartz halogen floodlights. They are very bright, and I'm guessing even one of these might be adequate for your tractor.
If I recall, we got them from Gregg Distributors and they cost around $100 each.
---
If Princess Auto were a real girl, I'd ask her to marry me.
Oops, sorry. I gave you the wrong link. We used floods, not the spot lights:
http://www.grote.com/product.php?product_number=63611
BTW, the back of the housings on these are a big aluminum heatsink. They never seemed to get terribly hot. You could put your hand on it and it would be just slightly warmish, if that.
Dunno if I'd go with the super-bright ones from e-bay. The glare off the snow will blind you!
---
If Princess Auto were a real girl, I'd ask her to marry me.
Posting Rules

You may not post new threads

You may not post replies

You may not post attachments

You may not edit your posts

---

HTML code is Off

---