Join Date: Jun 2008
Posts: 3
Impact Wrench electric or air?
---
(hopefully this is going in the right forum):
I'm looking to buy an impact wrench (or gun depending on what you want to call it). I was wondering what people felt about the electric ones (either plug-in or cordless), and if they are any good (any specific brand/model to get or avoid would be wonderful). I'd like to stay away from the pneumatic ones, and would rather not spend heaps of cash.

Thanks for any suggestions.
I personally would have listed it in the Tech section..
here.. -->
http://www.fordtough.ca/forums/forumdisplay.php?f=16
as for your question..
It will depend on what you plan on using it for.. and if getting into full air tools will benefit you..
I personally own an air compressor with a variety of air tools..
I also own a Mastercraft Maximum 14.4 cordless Impact with 1/4" quick disconnect to put on a sortment of different bits from a square to a 1 1/2" hole cutter.
Now the cordless is lighter but when the battery gets off down a bit I will notice it when I have the hard jobs to do..
Also lumberjack purchased a electric impact.. As well I have used them before..
With them you will get the grunt force for cheaper.. but tend to be heavier because the motors are built in..
also it will depend on the air impact you purchase.. will it have more torque then a cordless.
Air the force comes from the air pressure.. Also a variety of different ones..
but have to have a air compressor to gun..
So what do u plan on using it for?
As well Welcome to the Site!
I've got the electric one from CT and I love it.

Besides the fact that it's a bit heavy and big, there's not much to complain about: it gets the job done and has lots of torque. I've used a battery powered one a few times at work (Dewalt 18.8V) and found it works fine as long as the battery is fully charged, after that that is looses torque really quick. I used to go through at least 2 battery packs (sometimes 3) just to change a set of tires, witch doesn't really makes it worth much IMHO.

The one at CT goes on sale 2 or 3 times a year @ half price... so if you're not in a hurry I'd say wait and keep an eye on your CT flyer! :icon_wink:
Took the words right out of mouth Johnathan I to have one from canadian tire and it
works great and at half price you can't go wrong.
---
Load It Like A Railcar........................... Drive It Like A Stockcar..........................
gonna have to say air you can get more torque
---
MAKE: Ford, MODEL:Ranger, YEAR: 1993, MODS:4inch body lift, 32 11.5 15 M/T's, push bar chrome, rollbar black,4 off road light JVC CD deck,2 12' mtx subs, 1000watt mtx amp,blue neon
Join Date: Jun 2008
Posts: 3
(yah, this section does make more sense...didn't see it before)
It'll be used mainly for tire changes and dealing with rusted nuts and bolts. I was already leaning away from cordless (I'd rather lug a cord then a worn out battery). I don't mind a little extra weight, so electric does sound like the way to go. Which CT one do you guys have, the 7.5A Mastercraft one?
Join Date: Apr 2008
Location: BC
Posts: 322
Well I use CP "Windy-Guns" When I have Air.
If not then DEWALT 18V Are the best.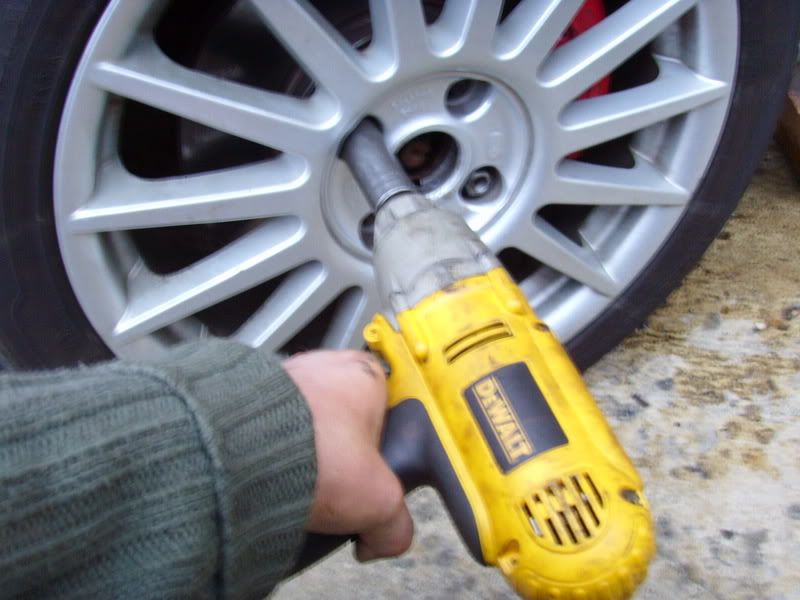 Ross
---
2008 F150 FX4 SCAB : BLUE STREAK

She's gone but never forgotten! Replaced with a blown:

2008 F150 FX4 SCREW : SILVER BULLET
Quote:
Which CT one do you guys have, the 7.5A Mastercraft one?
Yup... it's perfect to change tires and do the odd job once in a while!
Join Date: Jun 2008
Posts: 3
Talk about timing: $99 for the Mastercraft 7.5A Impact Gun & 49 piece Maximum Socket Set Combo!
Posting Rules

You may not post new threads

You may not post replies

You may not post attachments

You may not edit your posts

---

HTML code is Off

---