Join Date: Jul 2008
Posts: 37
HOW-TO: smoke tailights
---
So i Decided to "Smoke" or tint my tailights... i kinda made a how to
1) Remove The lights you wish to tint
( you will need an 8mm socket for the tailights, and a philips screw driver if tinting 3rd Brakelight)
2) Make sure You have the Fallowing:
- Tint
(I used VHT Night shades)
- Masking tape
(tape off areas that you dont want overspray)
- Scissors
(cut tape, and sandpaper)
- 500 grit sandpaper
(this is for the initial roughing)
- 1500 grit sandpaper
(this is for a finer roughing)
- 2000 grit wetsand-paper
(this is for smoothing it out after paint is applied)
- Rubbing alcohal
(this is for cleaning the lense before paint)
- Patience
(they are key for any project)
3) I wasant sure how the spray applied so i used a piece opf scrap plexi-glass to practice

Sanded with 500 grit, then 1500 before sprayed
as you can see my technique got better by the third block
4) Now that youve practiced, take your lenses, and sand them first with 500 grit sandpaper.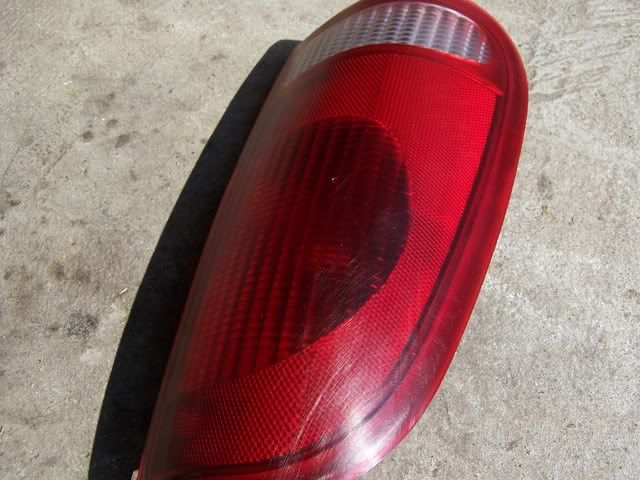 5) after you have "roughed" the lense, wipe it off with a clean rag, and sand with 1500 grit sandpaper
(this will smooth out the finish and make the tint stick)
(notice how dull the lense is)
6) Take a clean rag and apply the rubbing alcohal, this cleans the lense well.
7) Now apply thin, even coats.
( i did 4)
8 ) Once you have your desired tint level. let the lenses cure for about 4 hours
(overnight is best)
9) Using a Mixture of soap and water
(just use enough soap to barely make bubbles)
wetsand the lense till dull when dry, dont apply too much pressure or take too much paint off!
10) dry the lense, then once again clean the lense with rubbing alcohal
11) by this time you think you just fu**ed up your lense!
12) using a fine cut rubbing compound, buff the lenses with a soft rag
(easiest if you re-install lights on truck)
13) enjoy your lights!
That looks awsome. Thanks for the writeup, I just might try it. Can you get the VHT Nightshades at CT?
---
1997 F-150 xl
1984 Honda XR200R (the toy)
2007 Honda CRF100f (the spare toy)
2005 Jayco Baja 10Y (the home away from home)
Not the one here in Langley but they are a VHT dealer. I've had my spare set of tails for about a month now but havn't gotten around to doing it. You've definatley liut the fire under my ass to get this done but finding Niteshades is a ***** here in BC.
Join Date: Jul 2008
Posts: 37
i spent about a month trying to find VHT... a place in sarnia ontario called Pure Power sells it....
there will also be a HOW-TO: repair a tinted tailight since i got in a minor accident
Join Date: May 2008
Location: calgary alberta
Posts: 73
order off ebay
i have ordered 2 cans.
Quote:
order off ebay
i have ordered 2 cans.
I searched all of e-bay and found nothing.
Could you out up a link from the auction you got your cans from.?
Wow, another project for me as well I see... Thanks for the write-up....
---
99 Ford Ranger X-Cab 4x4. 3L V6. 5 Spd.. Mods -Michelin 31x10.5x15 XRadial Tires, Proformance Venom II Chip, Cold Air Intake, Window Visors, Euro Marker and Tail Lights, LED Front Corners, 05 Ranger Side Mirrors, 6000k HID Headlamps, Stock Cass/CD Stereo(taken from a Windstar), Interior Dome/Map(taken from a Taurus), White/Blue Glow Instruments, Stainless Steel Bezel...
i still have my stock heads and tails from the 05 150. thanx to you guys that posted these how-to's. great write-ups. might have to try these.
---
2013 f150 Ecobeast
3.55 E locker
FX4 Screw
SSI tuned!!!!!!!!!!!!!!!!!
Posting Rules

You may not post new threads

You may not post replies

You may not post attachments

You may not edit your posts

---

HTML code is Off

---