3 weeks into our 2011 Ecoboost
---
So…here I am, in week three of a 4 year lease on an '11 Egoboost XLT. Got the max tow & off road pkgs, side steps and rear tailgate step (love 'em both!), XTR (as can be seen in the pics at the end) and the 6 and a half foot bed. I see no point to the shorties, can't even throw bikes back there with the dog and a BBQ for camping…waste of an otherwise perfectly good truck. IMO. If it was just the 2 of us I'd probably be ok with the smaller bed. But then I'd want it connected to a Raptor. Shoot, then I could care less about the dog and bikes too…love the Raptor, useless in real life as it may be, it's the cat's meow. But I digress…
So, how do I like it you ask. I mean we traded in our leased '08 early ("bought it out", traded it in sorta deal – think I did ok) to get this so we could break it in before our trip to BC. Want to pull the camper and figured great! It's got tow haul, anti sway…it'll actually downshift to maintain speed…and all that torque from that turbo 6 should make mountain passes easy as pie! So we went for it.
So far…I'm kinda in the "mixed feelings" dept. I like it, but wonder sometimes if I should've gone with the 5.0 or just kept mine and supercharged it.
Couple of things. I liked my '08. It was a nice truck, and I kept it like that for the entire (almost) 3 years we had it. Clean as the day it came off the dealer lot. Never really liked the seats, but my wife did, and you know, even after 6 hrs in them I was never uncomfortable getting out. So maybe they weren't so bad after all. The '11 I think is even nicer, but my wife hates the seats. Guess we'll find out on a long trip if my initial impressions are wrong too and if I'm pining for the '08.
Power is ample to say the least. The 5.4 was never a power house over anything past 35-40 mph. Down low, I'd bet money on the 5.4 to beat the EcoB off the line, I mean it can spin the tires at will from a dead stop – the EB has to spool up for a second or two…after that though, hang on 'cause this puppy can hunt! Where the 08 might make it to 30 quicker (might)...after that, it'd be at 35 and the EB will be shooting past 60 heading for 100 (mph) and could make it back down to 0 before the '08 probably even hit 60. (Sorry, I'm still stuck in 0-60 mph terms) My word something this large should not be this fast! It's like a tornado whoosh of sound (no V-8 soundtrack – more like a black hole sucking everything in its path out of its way) and POW! You're gone like the wind. Wanna pass someone? Half throttle will get you around in a hurry where the '08 needed twice the time and sounded like it was putting out 400% more effort (lots of noise, no go). It's like a tsunami of torque…my eyes have to get used to the fact I'm moving that fast that quickly. Can't focus! Hahaha…
Mileage…aint no better than the '08. "Wait for the break in miles" they say (could be anywhere from 3000 to 10000 km depending on who you listen to – the '08 had 43,000 on it and I guess it never broke in because it never got better). 2 tanks I've checked averaged out to 18 and 16.5 Imp mpg. Need to run a few more through I suppose in fairness, and it's hard to tell because we just got done winter (or have we? It's June and 10° outside!) so comparisons to the '08 are a little hard right now. I don't recall exactly what mpg was in summer (I seem to recall 17ish) but winter was 14's. Putting in the 3rd tank tonight or tomorrow, will check again then.
What I do have is 100 km towing the camper from Wpg to home, and it was sucking gas down like Norm from Cheers does beer. 8.2 US mpg…EEEK!! Last year on the way to Minneapolis in a head wind from hell we were getting 10-11 mpg, on the way home got almost 14 by shifting into OD on the down hills and nary any wind. I had maybe 30-50kmh side winds on Saturday, no hills (Mb after all), and I was getting barely 10 Imp mpg…yeesh. And since you can't get the big tank on the E/B you're left with wow…a whole 3 hrs worth of driving time at an indicated 28l/100 km. Shoot I'll be stopping for gas 7 times to get to Regina. Could take 6 days just to hit the Rockies…then have to turn around and head home so I have time to fill 'er up every 12 miles. Kinda p's me off about the tank thing. But…some guy on Cdn Driver…I mean Autos.ca already posted a link to a place that makes a 50 gallon tank for '11 F150's (not sure that includes the Ecoboost) – now that would give some range, at the expense of $200 fill ups (never mind the 800 or so bucks for the tank). Yeah that won't hurt.
Guys claiming they're getting better mpg pulling their trailers are lying. I will never lie to you. If I wanted to dish out BS numbers, then I'll just post along with "those guys" my best ever empty l/100km…which was 8.9. Yup, 31 Imp mpg…amazing!! That's what my truck gets! (I won't bother with the "it was for all of 10 miles, at 110 kmh, with a tailwind, a good tailwind" or that "then I turned left and it dropped to 14-15l/100 (around 20 mpg)" 'cause hey, my truck does 31 mpg!)
What else…washed it at the car wash – like to do it myself instead of the drive through. Too dirty to do it by hand with a cloth and bucket. Windows all leak worse than my 11 yr old Taurus. Which doesn't at all. Every window was wet on the inside. Water running down like I left them open. Nice.
Cruise doesn't shut off like any other Ford I've had – you know, a light tap on the brake pedal with the top of your foot/leg. You have to deliberately hit it now, which activates the extremely sensitive brakes meaning you're head always gets that bob forward motion. Fine if you're the driver, annoying as hell if you're the passengers. Must have sourced that part from GM. The Resume button also acts as a Cancel button so you can just press it and it'll come down smooth, but I like to warn the drivers behind me with that little tap so my brake lights go on for a split and then they know…he's coming off cruise…or about to brake…I'm one of those guys who actually pays attention to what's behind me…now it's either I annoy the family or I annoy the guy behind me. Good thing our highways are mostly empty.
Speaking of the brakes, I don't recall the '08 being as sensitive…but these things must've come out of something really big. They haul it down fast and in only the first couple cm's (or less) of pedal travel too. Maybe they just need to break in more. First time I drove it and then got back in my car I thought I had no brakes in the car. Almost ran through 3 intersections before my brain and legs could figure out how to stop again. Every time I get in the truck I almost throw the wife into the dashboard. Need to learn to modulate better I guess.
Have the basic stereo. It's ok, if you like tinny sound. The 08 had the subwoofer, which makes this one even worse. We don't listen much anyway so we'll live. Sync is kinda cool once you figure it out. Nice to be able to hit the ph button and tell it to call home, and it just does (so long as your ph is in the truck at least). Nice and clear in the truck too. Probably because it's as quiet as it is.
Noticed a vibration in the driveline when the trailer was hooked up. I noticed it when it was empty when I test drove it but thought it was the wind (it's been so windy here so long and so often I'm surprised all the rain we have had has even hit the ground – stupid strong winds all the frickin' time) or the traction control, or maybe just the way a turbo engine felt. Pulling the trailer you (and by that I mean "I" because no one else did) could really notice what felt like an out of balance wheel or driveshaft…or maybe even fly wheel (though that would be highly unlikely). Towing it again next weekend, will see if it was just an anomaly or if there's something there. Oh, and anyone who says "I can't even feel that it's there!" is also full of chit. My trailer's barely over 5000lbs, and damn straight you can tell it's there. Still not convinced it's any better than the '08 there either. I mean everything points to "it has to be" but it still felt like I was towing a trailer, and that the little engine that could still had to do all it could to do it, all the while pushing even more gas through than the old truck because I'm sure those turbos like to eat. (And they smell hot after no time too…phew! Something burning under there? Good thing they use plastic pipes 'cause they won't ever melt. At least not under test conditions.) It wiggled and waggled worse than the '08 too (so much for anti-sway...hahaha...got you on another one!!), but that may be due to a higher bumper? It did appear the trailer was leaning back a bit, but my hitch is already at its lowest setting...so don't know. Car sick kid thought it was worse. At speed it never downshifted out of 6th – the '08 you couldn't drive in OD or you'd probably have melted the trans. But even in 3rd, how is it that it did better on gas or the same (no, it was better) than this thing does in 6th? I put it in 5th, thinking maybe it was working too hard, and 5th might bring the revs up a bit more into the power band…and no, not a good idea, mpg dropped even more. I think we'll just let Tow Haul decide what gear to be in. Plus the droning (now I know what they were talking about) in 5th at 100-110kmh – I'd get out and beat the truck after a while, or bang my head on the highway. Ick.
Did I mention it goes like hell?
Could be addictive. Good thing it's not
MY
daily driver. I'd be looking for people to pass, and I never see more than 2 cars on my way to work, or home for that matter.
Kinda wondering about pulling the trailer to BC…mileage being as poor as it will surely be, might be better off staying in hotels. And then we don't have to look for campgrounds or try to book ahead when who knows where you'll be on what day. Maybe we like it "here" for 4 days instead of 3.
Part II
Rear seat area is HUGE! I think, besides the extra 6" of cab they added in '09, they must've also shortened the dash board (sure feels like it) and moved the front seats up a few inches. You could shoot Corner Gas back there, it's almost as big as Sask and just as flat. We got the power pedals this time too, and I thought they'd be great because I'd finally be able to move them far enough away from the seat so I'd be even more comfy, but you can't. Therein lies why I think they moved the seats up – you can't get the pedals down or back far enough – and I'm only 6' – to the point where you don't have to lift your entire bloody leg off the floor to put it on the brake pedal. If I move the seat further back, the steering wheel is at full stretch of the arms. Also not comfy, or safe. Needs a telescoping wheel...can't believe I'm saying that. I was hoping it'd be more like the car, just barely having to lift my foot/leg, almost leave your heel on the floor and just switch from gas to brake. My leg actually hurts in front – almost like shin splints – from driving in the city. Maybe I'm out of shape (round is a shape? No?).
Overall we/I like it. Definite improvement over the '08, but all the hype about the improved mileage is just that. Hype. Until it gets better that's what I'm calling it. If I suddenly notice a change I'll come back and share my new found findings. 'til then, all things being equal, it's a ton more truck, and a lot more power so if I see it that way instead of actually believing I was going to save the money on gas to cover the extra $ on the lease payment, then I'm miles ahead. Because now I can probably blow away just about anything on the road short of a Mustang/Camaro etc. Power don't come free I guess.
Can't recall at this moment if there was more, so on with the pics.
Window sticker (noticed Ford actually dropped the prices online as I can't get it to match anymore. It's about $1500 less now, which explains why they knocked the rebates off plus an additional $1500 or so from the sticker. Not sure I could have done any better...never know now.
And the truck...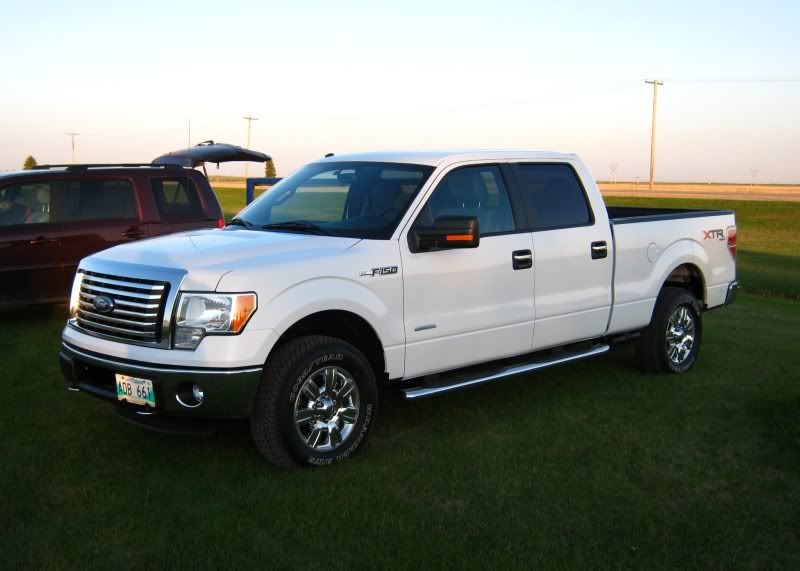 Bye bye '08...someone's gonna get a smoking clean truck.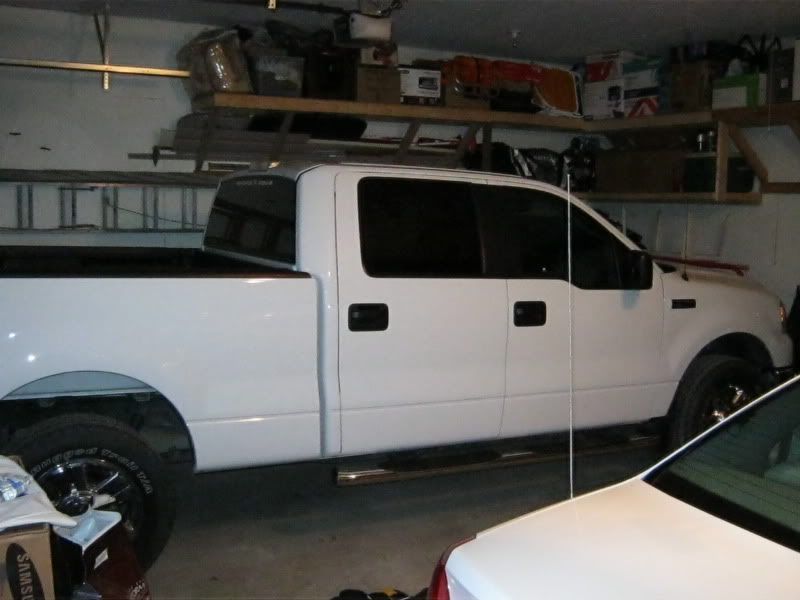 Fabulous review!
thanks for taking the time to put that down..

So was it me or are you getting better then advertised mileage on your sticker?

My '09 F150 with 5.4L has way more go then then my '05 with 5.4 or '06 with 4.6..
and mileage not pulling is way better.
With a superchips programmer. currently on my read-out I'm averagin 23 US MPG = 10.2L/100km = 27.7 IMP MPG
which is my best as of yet. but it usually works out to the 11.5-12.5L/100km.. currently this spring/summer.
Sweet review an nice looking truck man
Quote:
So was it me or are you getting better then advertised mileage on your sticker?
No where near advertised...that was a one time thing, with wind for about 10 miles. Just filled up, and with 100 km of towing on this tank...got 14.8 Imperial mpg.
that's bad, real bad.
Are you calculating the IMP mpg? or is there a setting on the newer trucks to show you that?

My '09 will show me the US mpg or l/100kms.

currently my latest driving has been on highway.. No cruise.. keeping the truck out of load as much as possible. slowing down going up hills and speeding back up going down. keep the speed around the 100 kms/hr. have about 250km on the tank. averagin 22.8 US MPG = 10.3 L/100kms = 27.38 IMP MPG on the dash.
No, mines the same as yours, but as we're Cdn I don't like US mpg, it's meaningless to me, as is l/100km, so I report in Imperial...though I guess if I think metric I can figure out that I can drive around 3-350 km pulling the camper at 28l/100 km as I have the small 98l tank. Not thrilled about it, but I guess I can always throw 2 20l jerry cans in the back eh?
I got that link for the extra capacity fuel tanks if anyone is interested. Assuming it can be used on my truck, it'd be $872...also assuming that's US dollars, which surprisingly still matches ours.
http://transferflow.com/Ford_replacement_tank.html
50 gallons would give me some distance at least. Major pain at the pumps though.
Join Date: Aug 2010
Location: Port Elgin, Ontario
Posts: 4,741
Nice review, congrats on the new XLT and welcome to fordtough.ca. Got a great bunch of Ford owners here, and a great site.
---
801A
- 6550 lb bundle of joy
Hey there Redstuff kinda funny how your handle here has nothing to do with your white truck ( lol ) and by the looks of your trucks you like white. Have you tried your local wreckers for the bigger fuel tank, as I'm sure someone some where has wrecked a new truck. Sorry to here your truck gets crappy gas mileage.
---
Lumberjack
2010 F150 Supercrew 4X4
Forum Newbie
Join Date: Jun 2011
Location: Maple Ridge
Posts: 2
You're scaring me. How much do you tow? I am going to be towing 6500lbs soaking wet. Just picked up my EB today.
Posting Rules

You may not post new threads

You may not post replies

You may not post attachments

You may not edit your posts

---

HTML code is Off

---