Tire Options
---
So now that I have a 2" Auto Spring kit in trasit. I'll be looking for tire options next.
What is a good kind of tire out there that works well with this truck for all 4 seasons in Southern Ont. I personaly like the BFG M/t's But maybe this time I will not go so aggresive. I would like to keep my stock 20" rims and not go higher than a 34" tire.
So post away with pic's so I can see what they look like for a side view and the tire tread.
tia
Gerry
edit: the 2" kit is now in Vancover.
---
Last edited by 2MUCH; 10-29-2012 at

10:30 PM

.
Question.. Is your kit just the front lift or front and rear?
---
Lumberjack
2010 F150 Supercrew 4X4
I've got the Cooper Zeon LTZ's & love them. Pics are in my album.
Another good option would be the Nitto Terra Grapplers, Toyo Open Country A/T, Hankook ATM RF10 or Goodyear Duratracs.
If you want to go more aggressive....I hear great things about the Nitto Trail Grapplers...not sure how they fair in our winters though.
---
2010 Ford F-150 Harley Davidson AWD Tuxedo Black
Not for all 4 seasons, but maybe 3 seasons...I would suggest the Bridgestone Dueller Revo 2's...had them on my Silverado before it got jacked and loved the tires and the look.

I'm a believe in winter tires though, if you want to cover all four seasons.
Ok so thanks for the info from all of you. From searching the web with your options. I don't like the Bridgestone Dueller Revo, Toyo Open Country A/T, Hankook ATM RF10. Those 3 are 2 boring looking and they don't look to be that good for the snow,sand,mud.

Now the Cooper Zeon LTZ's look cool and I will look into them.

Now I like the Nitto Terra Grapplers, Nitto Trail Grapplers and the Goodyear Wrangler DuraTrac and the BF Goodrich MT KM2
Here's mine with a 2" Autospring and 275/65R20 (34") BFG All Terrain TA KO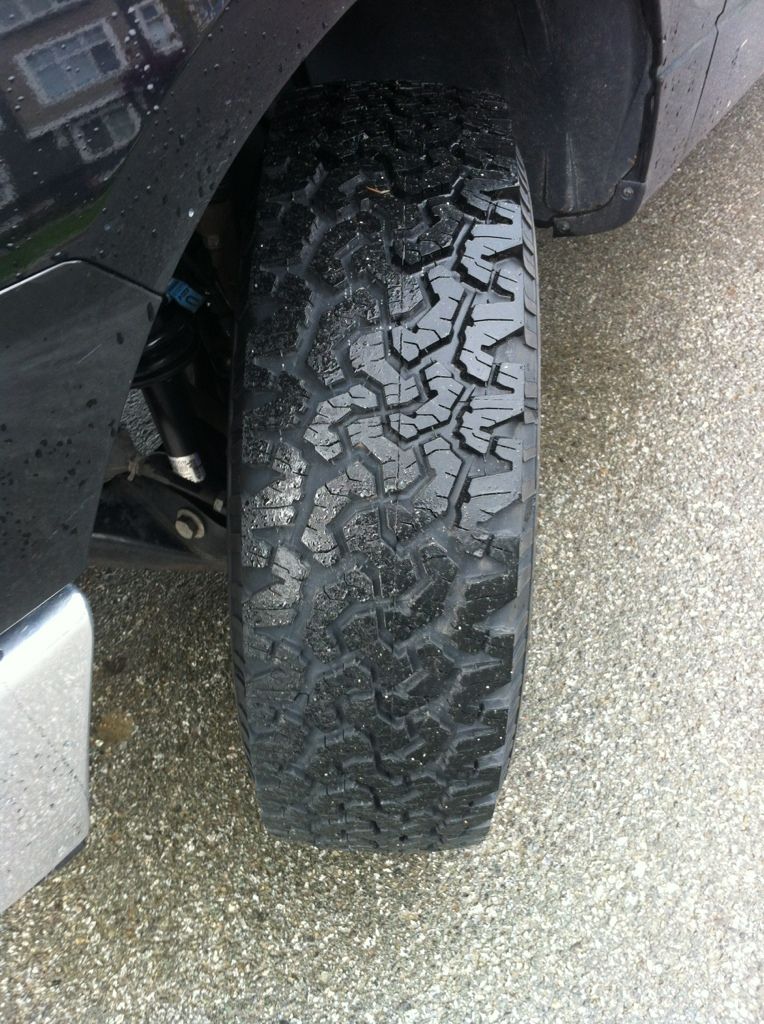 ---
2009 F150 XLT 4X4 5.4 / 2" Autospring Lift / 275/65R20 BFG All Terrains (34.1)
Make sure you're looking at the Revo2's, not the Revo's or some other Dueller line. The Revo 2's may not be your cup of java, but boring they are not.
These are mine with the KMC rims I had...
Also...just a tip...you really have to see them in real to judge them. For some the pictures don't do the tires justice until you see them in real. I too was considering the Zeon LTZ's before I got the Revo2's, but once I saw them in real, I did not like them. The Revo2's I didn't like in the pictures, but happen to see them at Costco one day and was surprised how much different they looked in person. Same with the Toyo A/T...didn't like them till I saw them...the guy I bought the rims for the Silverado in the above picture had the Toyo's and they looked great in real.

Remember, especially if you're looking for a year round tire, looks shouldn't be your first criteria.

If you go winter/summer, then you can get a lot more picky on looks for the summer.
Posting Rules

You may not post new threads

You may not post replies

You may not post attachments

You may not edit your posts

---

HTML code is Off

---