Picked up new addition to the fleet....
---
Just picked up a 2010 XLT XTR last week... Loving it.. We just had another baby a month ago, and that made 3 kids... So we had been using our Jeep JKU mostly for trips and stuff, and the Expedition was just my run back and forth to work truck... Needed something the size of the Expy, but a little newer and a little more reliable and mpg friendly.. The Expy was getting around 9-12 mpg's..
So here is our new F150.... 2010 XTR. Has the 5.4. Tuxedo Black Metallic that has so much gold flake in it that it looks like a starry night in the sun... I Love it. I'm trying to figure out the lift.. Looks like a 1 inch block in the back, and a 2.5 inch level in the front. 285/65/20 BFG AT's... U-Guard Bull Bar, Tonneau cover... And a monster amount of room inside... Only had 60,000 kms on it. Must have been in a garage all its life, cuz everyone thinks it's brand new... Even up close..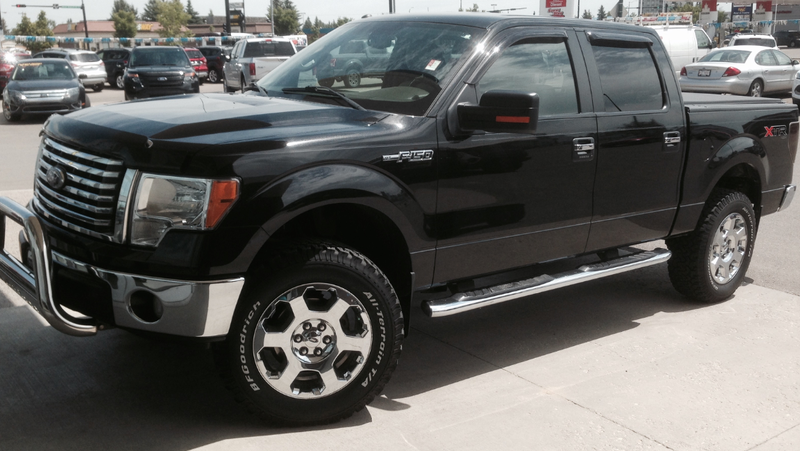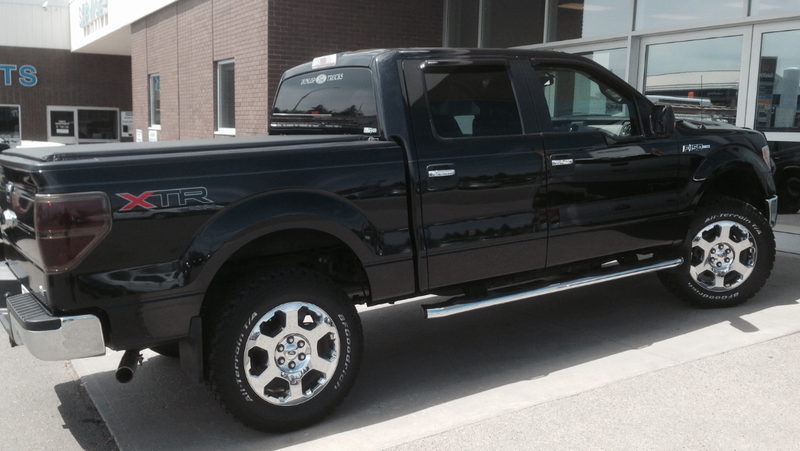 My Expy, and the Ford Vader.... Not a big difference, considering the 5 inch lift and 35's on the Expedition..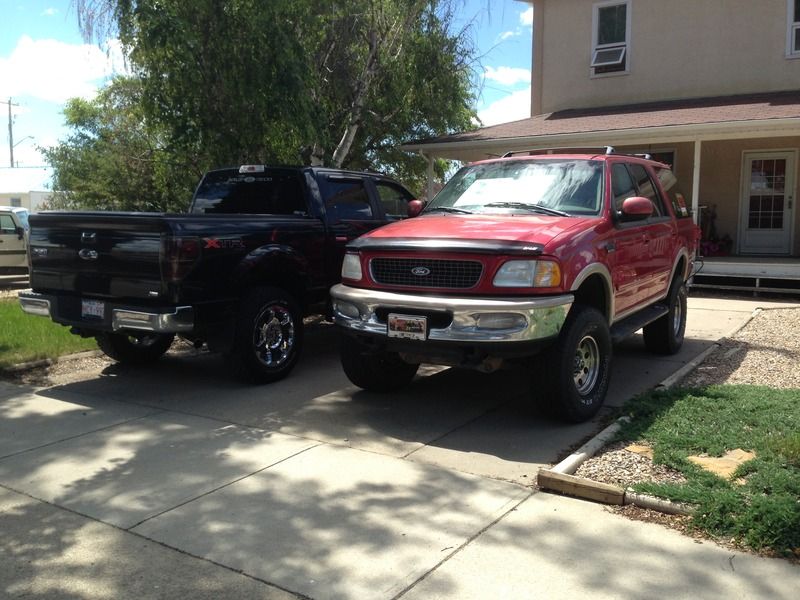 And the whole crew.. My 2011 Jeep Wrangler, My 98 Ex, my sons 07 Compass, and Ford Vader....
So I'll be spending most of my time in the F150 section now I guess instead of the Suv section...
---
98 Eddie Bauer Expedition 5.4L - 5 Inch Lift - 315/75/16 Hankook AT/M's
2010 F150 XLT XTR 5.4L Tuxedo Black Metallic.. 285/65/20 BFG At's
Join Date: Feb 2009
Location: Kitimat, BC
Posts: 1,079
Nice truck...looks like new!
---
The Hauler - '05 F-350 4x4 CC Dually 6.0 Powerstroke
The Project - '90 Ford Bronco 4x4
The wife's - '11 Ford Escape
For every minute you are away from work...you can add two minutes to your life!
Looks great!
---
Nicole - 2004 Ford F-150 Lightning #3573
Emily - 2010 Ford F-150 FX4
Amsoil Independent Dealer
Amsoil Home Page
Join Date: Oct 2012
Location: Burlington, Ontario
Posts: 69
Congrates!!!!! Nice looking truck .
Similar Threads
Thread
Thread Starter
Forum
Replies
Last Post
Pic Heavy My Fleet

xllxll_VIPER_llxllx

Photo and Video Gallery - Members Rides

6

03-12-2012

08:59 AM

My Fleet

Ol Skool

Photo and Video Gallery - Members Rides

27

02-04-2012

11:06 PM

Welcome Bullet into the fleet

Ol Skool

F-150 1997 to 2003 /04 Heritage Forum

9

02-02-2012

04:40 PM

best addition

2088bob

F-150 1997 to 2003 /04 Heritage Forum

6

04-22-2009

08:50 PM
Posting Rules

You may not post new threads

You may not post replies

You may not post attachments

You may not edit your posts

---

HTML code is Off

---