New FX2 F150 Pics...
---
A Couple shots of the new FX2 F150, I like the regular cab option, makes it look alittle more like a sport truck and gotta love its being powered by the 6.2l V8!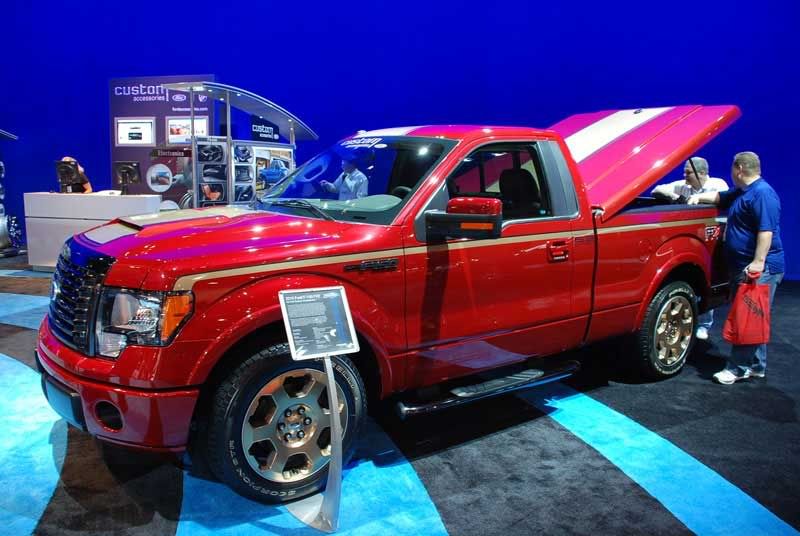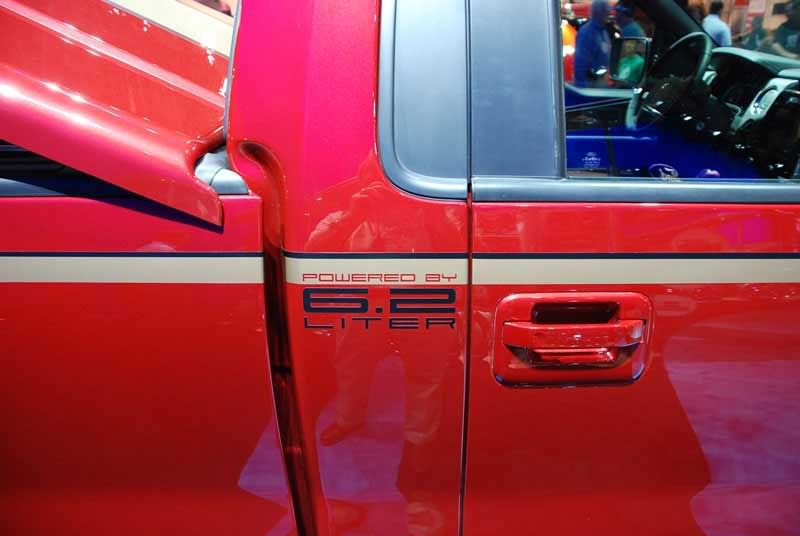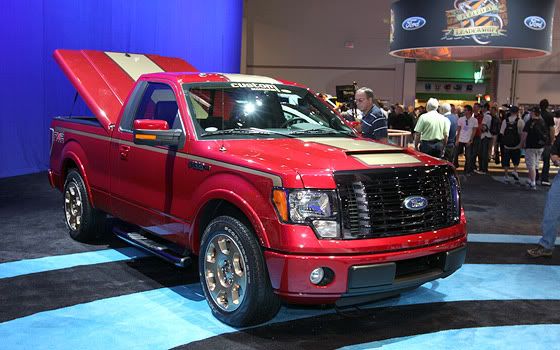 That thing looks pretty good, love the back end and nothing beats that 6.2. I'm just not so sure about the grille, looks kinda out of place to me. I think it needs a more paint to match grille or something the chrome doesn't really fit.
---
2016 F150 XLT XTR 4x4 2.7 Ecoboost
The rims look funny to me too - are they gold centre with a silver rim?

Also, I wonder how many people wacked their shins on the trailer hitch...
Overall I like the looks of it and realy love the power under the hood!!!

BUT....I am not sure about the grille or the style of those wheels!!!!
---
Gordon
Proud owner of 1998 NASCAR special edition F-150
(Celebrates 50 yrs of NASCAR and the F series truck)
My Pictures
---
Nitrous is like a beautiful girl with an STD. You know you want to hit it but you're afraid of the consequences
Not liking all the sticker or the wheels myself
remove the side stripe and black rear on the tailgate wouldnt be to bad... front grill is different could be body colour and look alot better... and lose those gold rims looks like something from 8mile


its got alot of "stickers" it could lose
---
2007 F350 6.0L Ext cab short box 4x4
2000 F150 5.4L Reg cab short box 2wd
?? always looking for a new ford project !
its a nice looking truck the grill does look weird and the rims are to flat for me.
---
MAKE: Ford, MODEL:Ranger, YEAR: 1993, MODS:4inch body lift, 32 11.5 15 M/T's, push bar chrome, rollbar black,4 off road light JVC CD deck,2 12' mtx subs, 1000watt mtx amp,blue neon
i like the hood,can't see in the pics if the scoop is functional.
---
a moments silence for the shelbyx,i hope her new owner enjoys as much.
The truck has had alittle work done to it... Definetly custom paint work body/wheels, exhaust, hood scoop, and that is the new Harley Grill they put on the front of it.
I would love to see that truck straight black with some nice 22" aftermarket wheels with that Harley grill and Lightning style exhaust with no stickers on it!
Similar Threads
Thread
Thread Starter
Forum
Replies
Last Post
07 kingrach f150 pics

pats07kingranch

Photo and Video Gallery - Members Rides

6

12-07-2009

09:34 AM

FX2 grille.

Black Ice

Exterior

0

03-19-2009

12:18 PM

2007 FX2

TRUKNUT

F-150 2004 to 2008 Forum

0

03-09-2009

04:54 PM

NEED HELP: With 2007 FX2 audio upgrades?

04STXHERITAGE

Audio and Electronics

6

11-13-2008

01:54 AM
Posting Rules

You may not post new threads

You may not post replies

You may not post attachments

You may not edit your posts

---

HTML code is Off

---