My new to me 08 f150
---
hear are some pics of the new to me 08 f150 2wd reg cab shortbox it is a automatic an has a 5.4
pics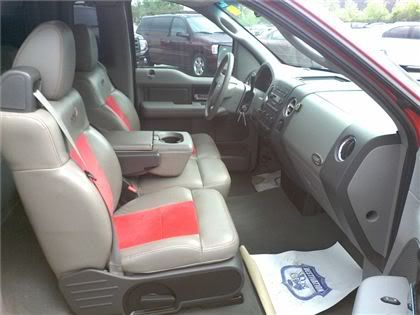 Hey Matt you for got to tell everyone what kind of truck it is, and what edition it is ( 1-100 ) something like that. But she's a very sharp truck and I like it, so whats first on the mod list ? SCT programmer ? or you gonna use the Superchips this time ?
---
Lumberjack
2010 F150 Supercrew 4X4
Wow sweet shortbox i like it

any plans to mod it a little?
---
Reg cab shortbox + 5.4L = fun
---
2016 F150 XLT XTR 4x4 2.7 Ecoboost
Sharp looking ride Matt....congrats!!
What's the emblem on the front quarter panels??
I'm guessing it's relevant to the trim package, but can't place it.
The interior looks sweet with the molten orange inserts (yah yah I'm biased about molten orange inserts lol) , dual exhaust out the back with some chrome tips, tinted glass looks great with the red paint, billet grille fits right in with the look, nice chrome wheels with what appears to be some serious rubber, and a great overall stance.....I like it! More info please!!!
You need a shorty antennae though.
---
801A
- 6550 lb bundle of joy
Nice, Red suits the truck.
---
The Ultimate Off Road vehicle is 64 Tons, Tan/Green, has a 120MM Cannon , a crew of 4 and can make popcorn.
It's a LEOPARD TANK
My new one 2003 Larit FX4, 5.4.
nice looking truck man not many reg cab short boxes done up
---
2007 F350 6.0L Ext cab short box 4x4
2000 F150 5.4L Reg cab short box 2wd
?? always looking for a new ford project !
Thanks for the comments an its a number 10 of 50 boyd coddington eddition f150s it has the duals an now a cold air intake programer is a must as well hope to wake her up some ill take some better pics this weekend of the motor an rest of the truck
Hey Matt I didn't get to hear your truck sit and idle, so just wondering hows it sound compared to my truck being we both have the muffler delete ( lol ). Does your truck have the H.I.D's in it and any plans to upgrade to them ?
---
Lumberjack
2010 F150 Supercrew 4X4
Its got a rumbel at idel an really wakes up when your hard on the pedal. The truck has projectors in it now not sure if ill. swap to hids or not grant. Im gonna add a bit of power then go from their
Similar Threads
Thread
Thread Starter
Forum
Replies
Last Post
2010 F150 or 2011 F150

benyl

F-150 2009 to 2014 Forum

29

09-18-2010

10:06 AM
Posting Rules

You may not post new threads

You may not post replies

You may not post attachments

You may not edit your posts

---

HTML code is Off

---