this is what ill be beating up on at the track next year
---
Hey guys my brother in law is a huge chevy fan an he went out an bought a 2001 chevy extreme blazer wich is a 190hp 250 torque 4.3 with a 5spd he is gonna add exhaust headers cold air intake programer under drive pulleys efan to beat up on mine an the wifes litte rangers so should be a fun year next year hear are a couple pics of it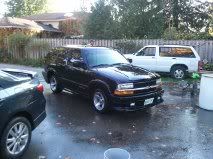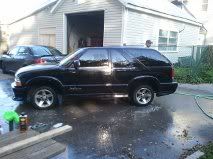 the view im told ill be seeing lots of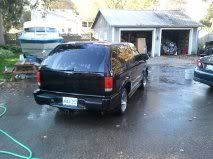 Its a Chevy. He'll probably be seeing alot of this...
---
2016 F150 XLT XTR 4x4 2.7 Ecoboost
lol my old man brought it home behind his 08 superduty on a trailer i asked if he had any pics of that as i was rubbing it in a ford had to tow a chevy
Those 4.3s are a dog, gutless in those blazers lol I'm sure that won't be any problem for the 86
not a whole 190 HP look out

he needs to drop a v8 in that thing/
---

Really? Its the Internet take it easy.
the wifes ranger is only rated for 160 hp lol sucks a dog i was being a smart a$$ i no the 86 will walk all over his truck but the other ranger we now have might not have a chance
Quote:
not a whole 190 HP look out

he needs to drop a v8 in that thing/
he has a 89 2 door blazer that hes dropping a lt1 in its a lighter truck then the extreme it should work real well
Blazer is running strong now we need to get warm weather an my beater will have its race yeah lol
Posting Rules

You may not post new threads

You may not post replies

You may not post attachments

You may not edit your posts

---

HTML code is Off

---