More adventures in the Great White North!!!
---
Well I have been away for a while had a few adventures to speak of still missing allot of pic's but I will add them as I find or get them...lol
Same truck as mine just a stock 2 wheel drive had to take a pic
From a job down south, sings like this all over the place because the love us sooooo much!
I wasn't driving but safe to say I was after this little incident. we were about 100km in a back road truck didn't make the hill and we started sliding backwards until the trailer and truck were end for end in the ditch. Grader came pulled us out just in time for a loaded transport to come around the corner. My red F250 was in the shop for this one
That's me at the bottom of the hill in the first pic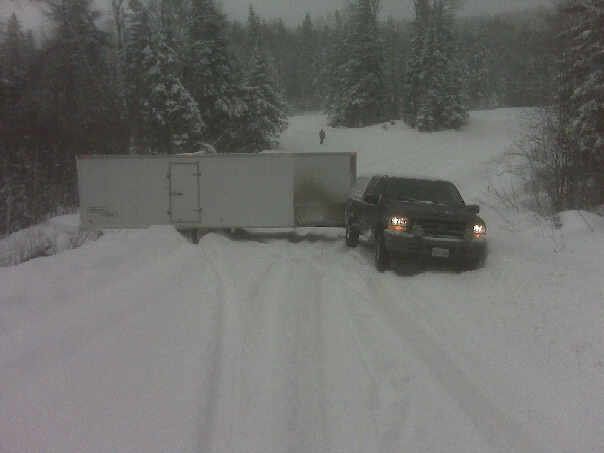 Installed some Smoked Recon clearance lights wired into my running lights. Look in the next pic's for snowy day time shots...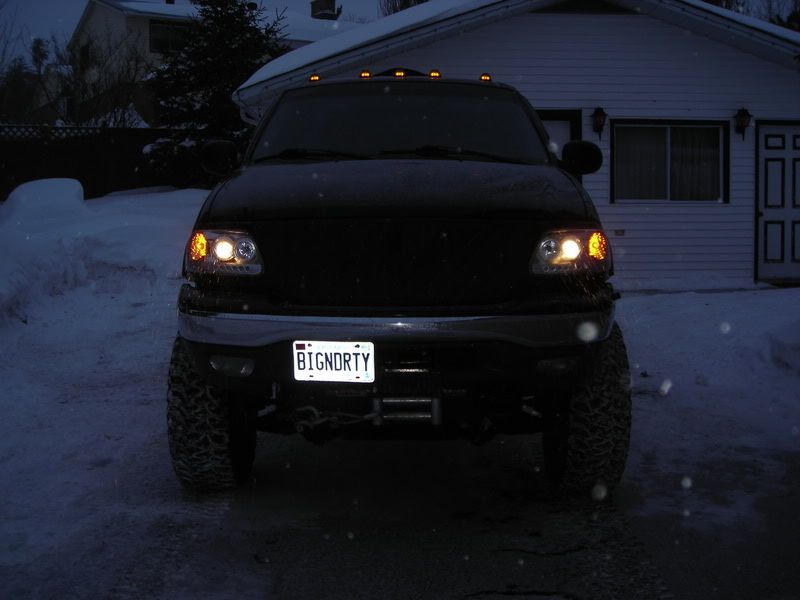 And one of my fav's this was Last Friday coming home from a week of camp part of the road hasn't been plowed for a few weeks and we got a pile of snow while at the camp. This was about 2 feet of fresh snow and some parts had 3 foot drifts, the ruts in front of my truck are from me backing up to rescue the Chevy I had to break the trail out for him, he was towing a small trailer though..... You get a better idea of the snow by looking at the buried stock Chevy...lol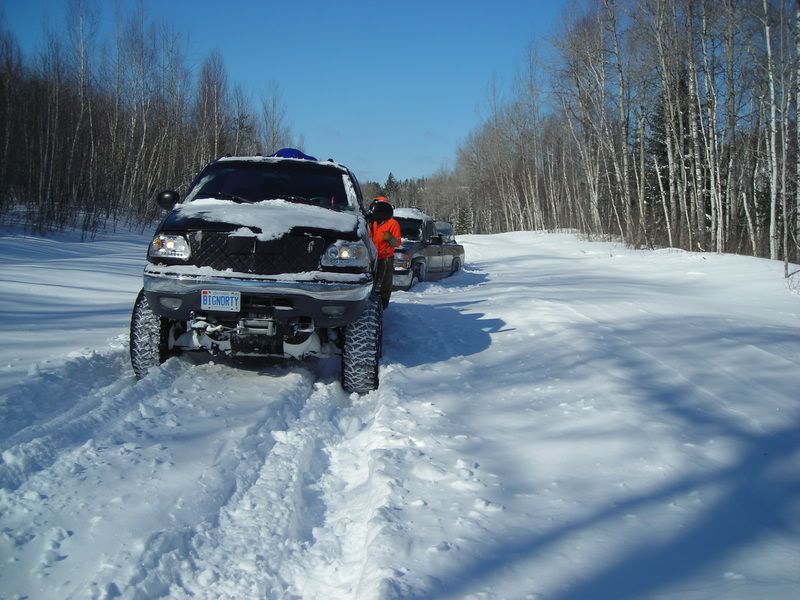 The after math of that snowy adventure is going to cost me a new Throttle Position Sensor and a little while picking out the snow from everything...lol This was my filter after that ride I guess I need to put in those gap guards some day....lol
---
I only drive in the city, to get out of it!!!
Haha..great shots...love that filter shot...and the $hit eating grin.
---
2013 f150 Ecobeast
3.55 E locker
FX4 Screw
SSI tuned!!!!!!!!!!!!!!!!!
Quote:
Originally Posted by
Northern Supercrew
View Post
Haha..great shots...love that filter shot...and the $hit eating grin.
That grin was the Chevy drivers because he knew he wouldn't hear the end of it for a few weeks....lol
---
I only drive in the city, to get out of it!!!
lol sweet pics !! let em have it on the stuck comments lol
had to pull another explorer out friday night a chebby just couldnt yank it out hook the mighty exploder up and out she came
---
2007 F350 6.0L Ext cab short box 4x4
2000 F150 5.4L Reg cab short box 2wd
?? always looking for a new ford project !
Now that's a "Cold Air Intake"
---
2009 F150 XLT 4X4 5.4 / 2" Autospring Lift / 275/65R20 BFG All Terrains (34.1)
Awesome pics, all that fresh snow would be fun to play in
---
2011 Ford F150 SCREW XTR 5.0 Golden Bronze Metallic
2002 Ford F350 Super Duty(Sold)
1977 Ford Early Bronco
2009 Victory Jackpot
Sweet pics.
---
1997 F-150 xl
1984 Honda XR200R (the toy)
2007 Honda CRF100f (the spare toy)
2005 Jayco Baja 10Y (the home away from home)
Great photos Gab and looks like you had some interesting time, that must have felt great have to pull pit a stuck Chevy!!!!!
---
Gordon
Proud owner of 1998 NASCAR special edition F-150
(Celebrates 50 yrs of NASCAR and the F series truck)
My Pictures
Posting Rules

You may not post new threads

You may not post replies

You may not post attachments

You may not edit your posts

---

HTML code is Off

---