Show off your pre-97 truck
---
Join Date: Dec 2007
Posts: 104
OK so I have 2 pre 97's
The newest one is a 1995 150 sc it was a one owner truck before me. I work with over 400 car dealers so I often get some sweet deals. I picked this one up for $3500 and I use it a lot I drive this almost as much as my 2004 Mercedes there is just something about a nice older truck.
Join Date: Dec 2007
Posts: 104
the other truck is the 67 prostreet
drive way shot with the rx7 vert in front of the truck they fight for attension
Join Date: Dec 2007
Posts: 104
I am up to 7 done out cars now and I dont seem to be able to stop. I have 2 more projects I am buying parts for now a 1940 ford coupe and a 70 maverick Grabber I dont have the cars just but that is the easy part finding and building power trains is a huge expense so I take it one step at a time. My collection is mostly ford 2 mazda rx7's a lincoln mark 5 a 04 supercharged Mercedes and a 90 Chev 4x4
Join Date: Dec 2007
Posts: 104
they will be a long time coming but I figure if I buy power trains and buy them bit by bit the sting doesnt hurt so bad. When I built my convertible I bought a few different cars along the way and stripped them to get the parts I wanted they were all running good cars with lots of add ons some were project cars that guys ran out of money that sort of thing.
I bought a fox body that was a fine car it had a nice motor and diff so thats what I took for the Maverick project. a buddy had a 6 point cage sitting in his shop I bought the cage for the foxbody and dropped it in then sold the car as a project for a back half drag car. The long story short I got a nitrous system a fresh diff and a nice 5.0 for $2000
Apprentice
Join Date: Dec 2007
Location: Colborne Ont.
Posts: 13
I have three, a 93 Flareside 4x4 with a 6 inch lift, 35" BFG Mud T/A's, 4.56 gears, Mac ceramic coated headers, true duals with glass packs and high flow cats and a rebuilt 306. Iv had the truck for about 4 years and bought it from a buddy that bought when it was 2 years old.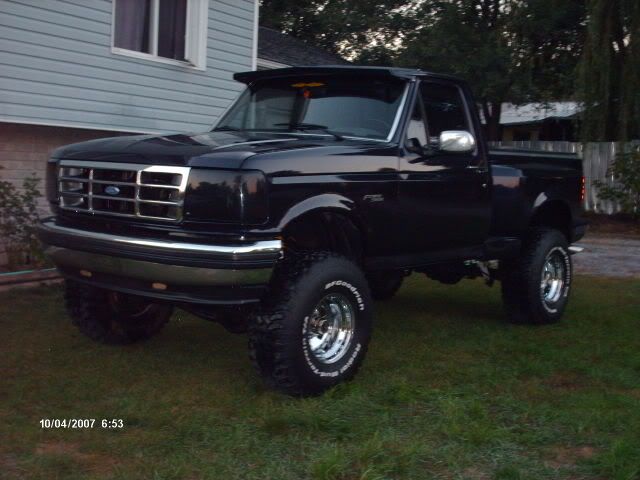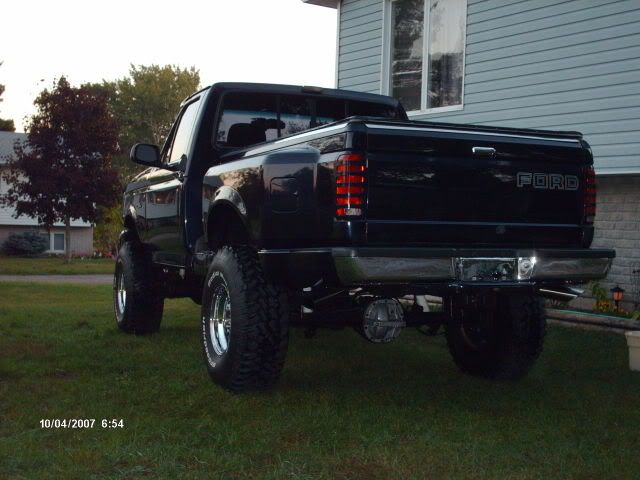 And a 95 extended cab short box 2 wheel drive with a 302 and 4spd auto that I bought about 2 months ago for a DD, it is original paint and very clean. It has Ford Motorsport plug wires, an Accel coil and a K&N filter. Headers, dual exhaust and a 3.73 posi will be done by spring.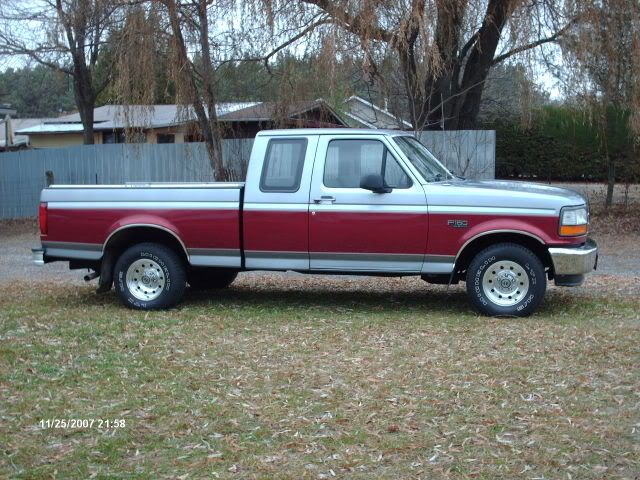 I also have a 94 lightning project truck that I bought about 8 years ago with collision damage that is sitting in my garage awaiting finishing (there always seems to be somewere else to spend any extra cash LOL) I dont have any pics of it yet but ill try to post some later.
Join Date: Dec 2007
Location: Ottawa
Posts: 21
Those are some nice trucks! ...Which makes me not want to show mine so much.
But it was a decent deal and I needed one then and there basically.
Of course the striping will come off soon..as well as new fenders and box likely...of course followed by paint.
Having said that, I'm gonna keep my eyes open next summer for a decent 4x4 of the same model...just to get that much farther back into the bush
But for now anyway..this is my rig.
Feast your eyes...
---
1994 F-150 supercab 2x4 300-L6
1994 Bronco XLT 4x4 302-V8
Posting Rules

You may not post new threads

You may not post replies

You may not post attachments

You may not edit your posts

---

HTML code is Off

---