Join Date: Aug 2008
Posts: 18
Newbie
---
Hi Guys...I am a new Canadian...lol..been here 2 years. i bought a late model 95/96 F150 4.6 V8 triton super cab just as a get me to work truck.
she has just gone over the 400000 mark and started to throw up these codes..0171-0174-303-305-455.........I have no idea what this means because things run so much more different than in England...i am a hands on guy who used to play well with V8 engines years ago in England but over the years i guess things have changed. I did check my MFI and plan to change the fuel filter because it looked real rusty under there....she runs great on the highway but when you stop at lights/junction she drops the rpm and shudders.....from what I can see under the chassis there are no signs of any sort of exhaust leaks..looking for black sooty marks....did plan on doing the plugs but reading about the chance they may strip the thread has made me a little cautious....I was thinking that both the cats could be screwed up if they been on so long....and if so how are these changed? i went down to my local shop..I live in the bonnies...and had him reset the ecm..then drove home 4 km but nothing has come on yet.....he wont touch fords any more because he hates em.
i really would like some knowledge so i can try and get her running good....can`t afford to spend out because I have had my foot screwed together and only getting company disability pay at the moment. All help appreciated.
Welcome to the site, and to Canada, I'm not familiar with the 4.6, but I'm sure there will be loads of advice/help/hints coming shortly.
---
Join Date: Jul 2007
Posts: 186
Not 100% sure on these but

P0171 System too Lean (Bank 1)
P0174 System too Lean (Bank 2)
P0303 Cylinder 3 Misfire Detected
P0305 Cylinder 5 Misfire Detected
P0455 Evaporative Emission Control System Leak Detected (gross leak)
Join Date: Aug 2008
Posts: 18
thanks for the welcome....my family and I consider it an Honour to be here, despite the long hard mountains of paper work and thousands in fees.....well worth the wait.

thanks for the replies.....the one that concerns me is the.....P0455 Evaporative Emission Control System Leak Detected (gross leak)...what does this mean? and what is the fix? and how much will this effect the overall running of my machine.

appreciate the replies
P0455 OBD-II Trouble Code
Technical Description
Evaporative Emission Control System Leak Detected (no purge flow or large leak)
What does that mean?
This indicates a fuel vapor leak or lack of purge flow in the EVAP control system. It means a large leak has been detected. The (EVAP) emission control system prevents the escape of fuel vapors from a vehicle's fuel system. Fuel vapors are routed by hoses to a charcoal canister for storage. Later, when the engine is running a purge control valve opens allowing intake vacuum to siphon the fuel vapors into the engine.
Symptoms
You likely won't notice any drivability problems.
Causes
A code p0455 most likely means one or more of the following has happened:
A loose or improperly affixed gas cap
A non-conforming gas cap (i.e. not factory/original brand)
Other leak or damaged piece in EVAP system
Possible Solutions
With a p0455, the most common repair is to:
Remove and reinstall the gas cap, clear the codes, and drive for a day and see if the codes come back.
Otherwise, replace the gas cap, and/or
Inspect the EVAP system for cuts/holes in tubes/hoses (you may hear a vacuum noise or smell fuel), repair if necessary
100% free webcam site! | Awesome chicks and it is absolutely free! | Watch free live sex cam - easy as 1-2-3
Join Date: Aug 2008
Posts: 18
thanks for reply White Pearl
as you mentioned a slight noise i have posted 2 pics.....the 1st being a place i hear a noise after a shut down....a slight sort of hiss.....the next pic is where a friend says i may also have a problem...the 2 circular pots look the same and i believe yesterday i could smell gas....thought it may have had some thing todo with the miss fires on 3 and 5.
Quote: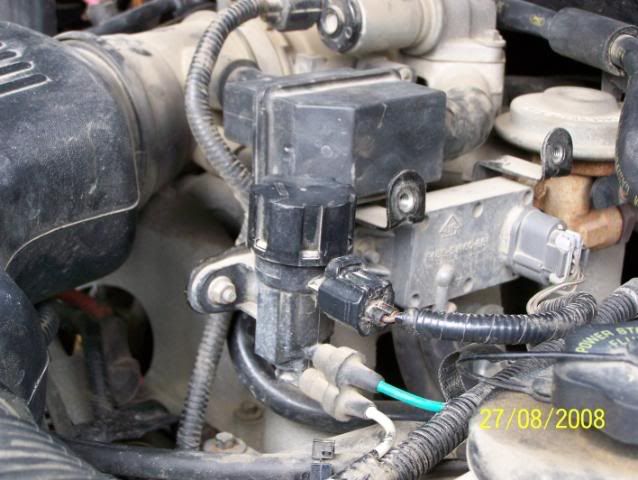 A P0171 and P0174 are lean codes I would check for vaccum leakes for these codes


Air leaks after the MAF.

-Vacuum leaks (vacuum lines and gaskets).

-Restricted air inlet.

-PCV system.

-Fuel purge system.

-Improperly seated engine oil dipstick.

EGR System

-- leaking gasket.

-- Stuck open EGR valve.

-- Leaking diaphragm.

also check the rubber elbow on he pcv hose these are known to crack and cause a vacum leak




as for the p0303 and p0305 is the engine running rough?
---
Join Date: Aug 2008
Posts: 18
thanks so much for this...it will give me a few weeks work because i know not what most of these are...lol..i can find out though.....i wouldn`t say the ingine is running rough....when i start her up it runs up at 1500 then after a few seconds she comes down to 900..sound nice..until the darn codes come up..

shall have a tinker about in the morning.....appreciate the help.....i know she is a rather old truck..but i think there is a lot of life left in her yet with the right care.
---
Nitrous is like a beautiful girl with an STD. You know you want to hit it but you're afraid of the consequences
Similar Threads
Thread
Thread Starter
Forum
Replies
Last Post
hello, newbie here

arboc

New Members Introductions

12

06-29-2008

11:06 PM

Yet another newbie

Stoogefan

New Members Introductions

15

04-04-2008

09:13 PM

Newbie......

1white08fx2

New Members Introductions

51

04-04-2008

10:25 AM

newbie

sal 17

New Members Introductions

16

03-27-2008

11:36 PM

Another Newbie!

69FordGirl

New Members Introductions

21

03-16-2008

05:31 PM
Posting Rules

You may not post new threads

You may not post replies

You may not post attachments

You may not edit your posts

---

HTML code is Off

---