Apprentice
Join Date: May 2010
Location: Bay Fortune, PE
Posts: 5
A Long Term Project
---
Good Evening Ladies and Gents.
This is my baby and never ending project. The truck is a 1979 Ford 1/2 ton long wheel base 2WD. I purchased the truck when I was 14 from an old farmer for 400 dollars (CDN). The truck really was not rusted all that bad on the body but the frame was in very poor shape. I then bought a second truck as a donor for a few parts, and managed to find an almost rust free frame for my base. My goals for the truck are pretty big and I know I'll realize them someday, I'm just not sure when. I currently have a few mods done to it. I have the roof chopped 2 1/2 inches in the rear and 2 3/4 inches in the front, the truck has a 1972 Crown Victoria IFS grafted onto the frame, and the tailights and stake holes are filled. I have not worked on the truck for about 6 years due to going back to school and now trying to pay for it. I've since purchased a 4-link rear suspension and some tires for it so I can start to figure out what back spacing I'll require for my wheels so I can set up the suspension. I've also got a set of suicide hinges for the old girl as well.
A few pictures to get you started on what I'm up against.
when I got her home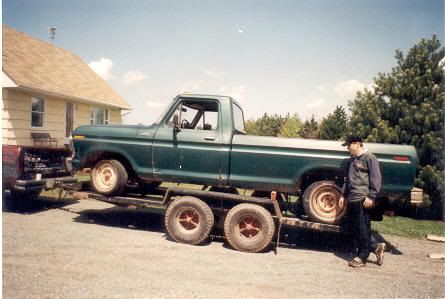 going into storage
as it sits now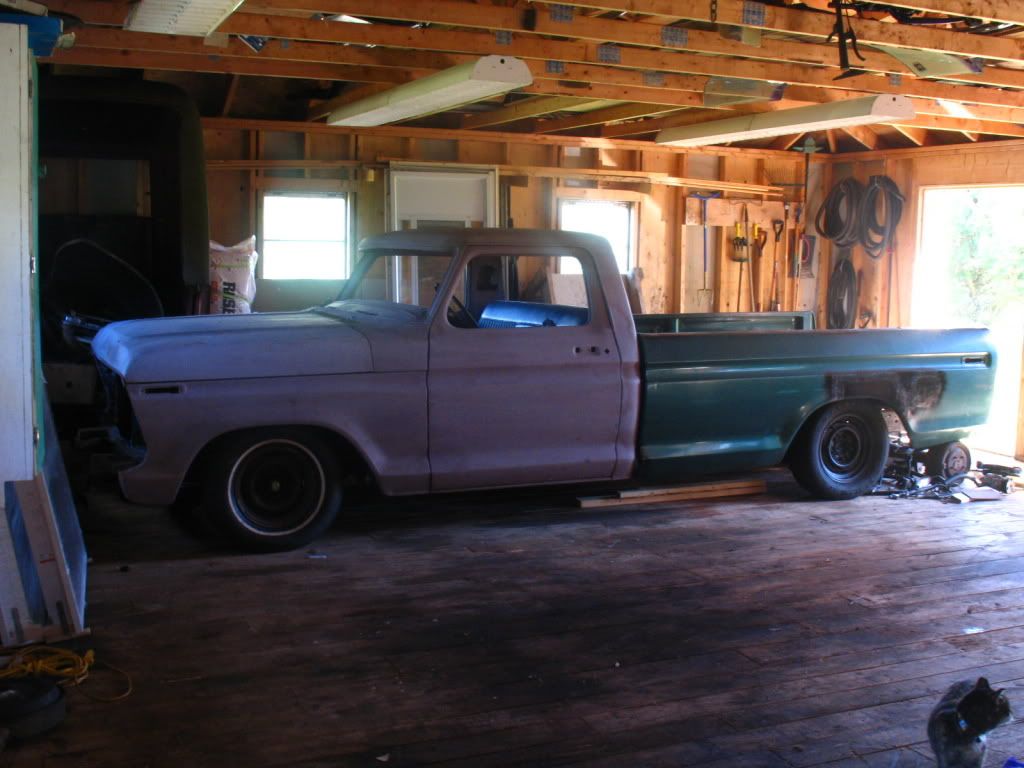 few pictures from along the way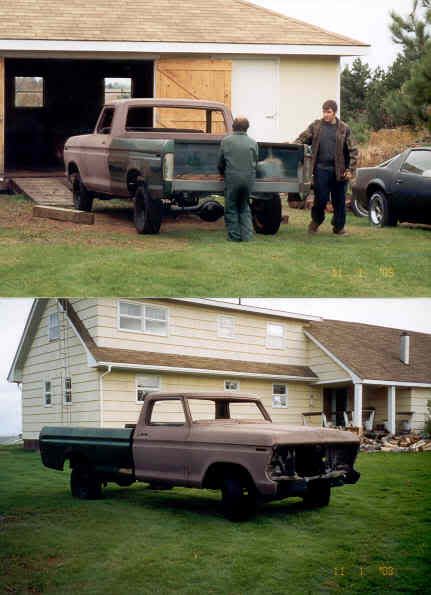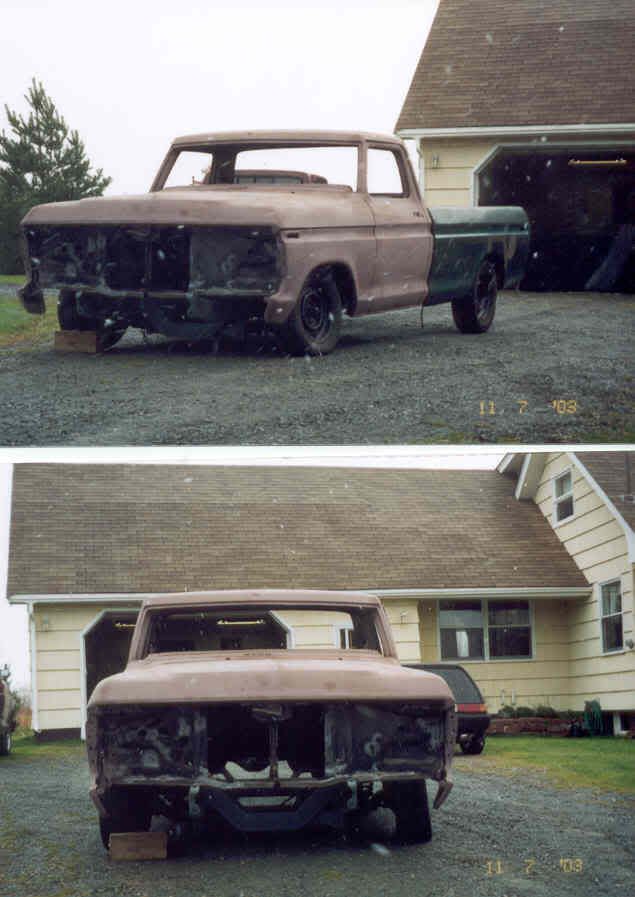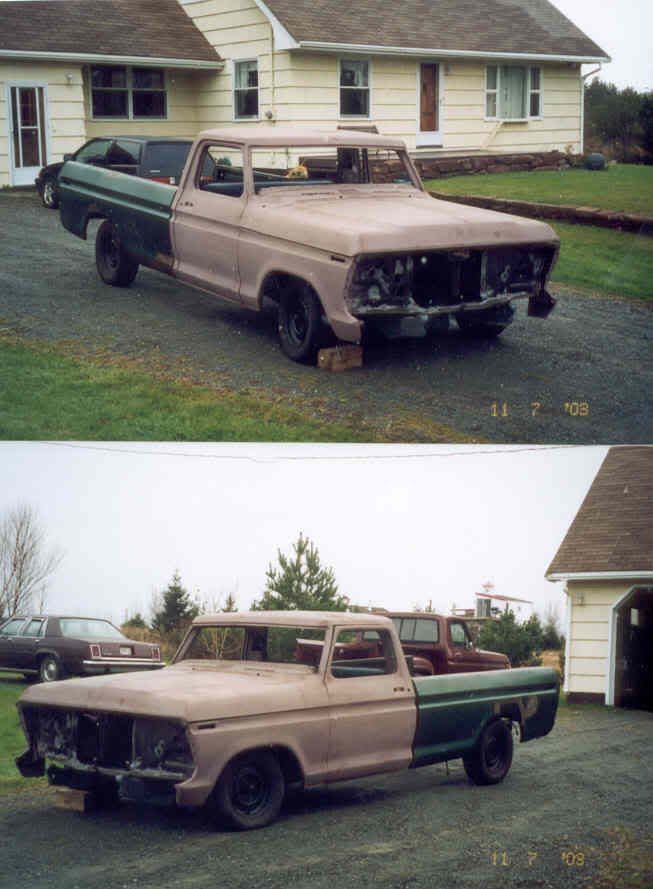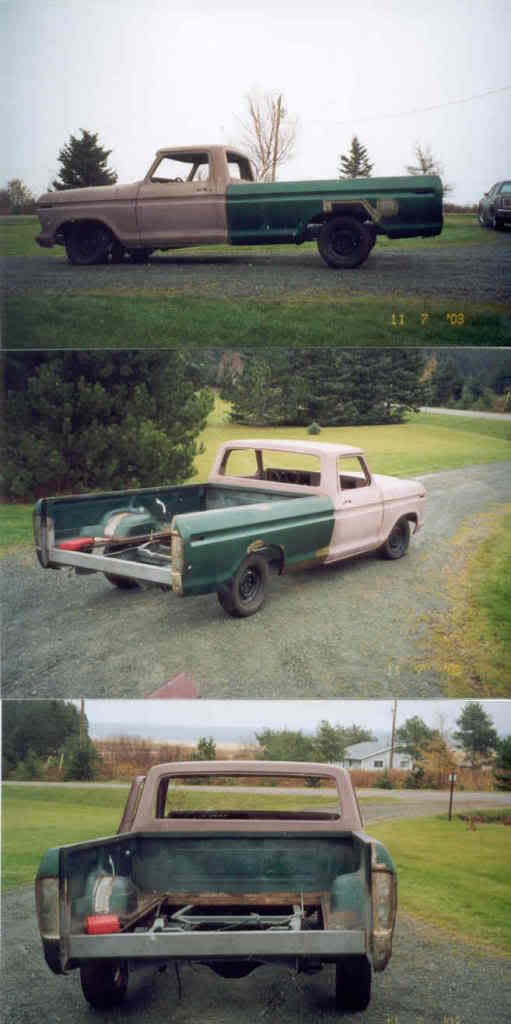 beside dads 75 for roof comparison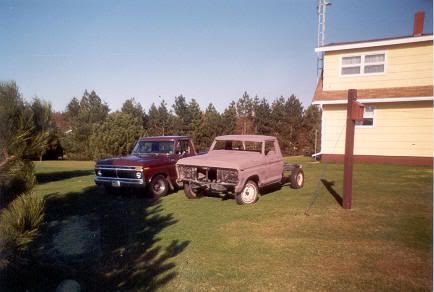 Fresh after the chop and prime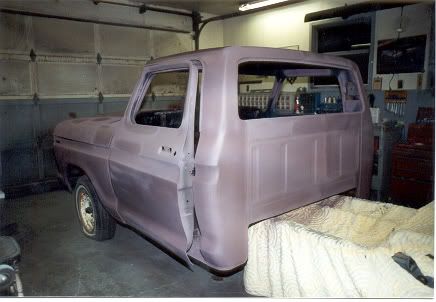 the frame before IFS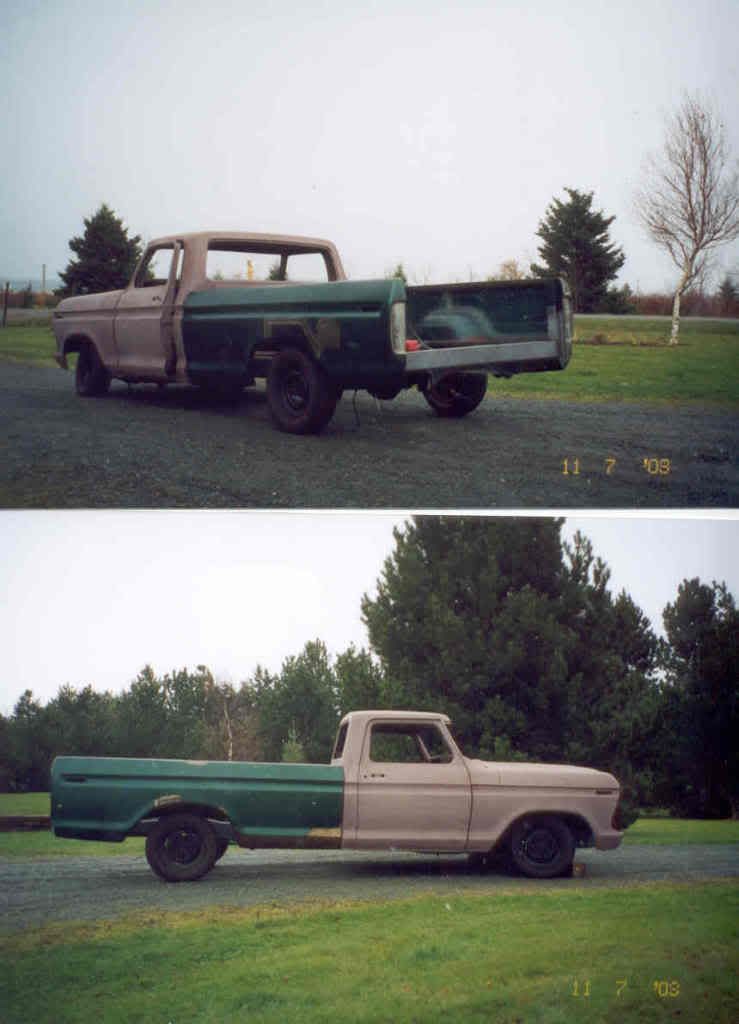 While my style may not be everyone's style it is my own and I have a vision in my head for this truck. Please don't come in here telling me you hate lowered trucks, or that 2wd trucks are useless. I love hearing ideas and comments from other people regardless of their personal preferences.
Questions and comments welcome.
-TAG
Looks like it will be a cool ride. What are your plans for a drive line ?
The IFS is that so you can bag it or just for handling?
That's going to look nice when it's done!
---
If Princess Auto were a real girl, I'd ask her to marry me.
Apprentice
Join Date: May 2010
Location: Bay Fortune, PE
Posts: 5
Quote:
Looks like it will be a cool ride. What are your plans for a drive line ?
The IFS is that so you can bag it or just for handling?
Drive train is a 351 W right now. I have the whole engine ready for assembly, but may consider something fuel infected when the time comes around. I have a c6 and a c4 and I have not decided on either one yet. I may make it into a cruiser and search for an AOD for it so I don't break the bank on long drives. I have 355 posi gears for the 9" .
The IFS is strictly for handling and ride quality. She's seen her last days of hauling heavy loads. I don't plan on bagging it, running coil-overs in the rear and most likely just shortened stock coils in the front depending on how she sits when the engine is in it.
Posting Rules

You may not post new threads

You may not post replies

You may not post attachments

You may not edit your posts

---

HTML code is Off

---