2017 Ranger & 2020 Bronco
---
http://blog.caranddriver.com/new-for...ems-to-say-so/



"As officials from Ford and the UAW continue to hammer out the details of their latest labor contract, a few details regarding future Ford products have begun to bubble to the surface. As we've previously reported, Ford will move production of the Focus and C-Max from its Michigan Assembly Plant in 2018, leaving a hole that, according to both the Detroit Free Press and Automotive News, will be filled with production of a couple of familiar nameplates: Bronco and Ranger

Although Ford pulled the plug on the domestic Ranger back in 2011 after nearly 30 years of production, a modernized Ranger continues to sell overseas in markets where small pickups are preferred. Ford has long maintained that the current Global Ranger is too close in dimensions to its full-size F-series trucks to make a business case for its return, but two recent developments could cause Ford to revisit the decision. First, the new GMC Canyon and Chevrolet Colorado mid-size trucks have been a runaway success, with GM officials telling C/D that demand has surpassed their estimates. Second, the new, aluminum-bodied F-150 is a very modern vehicle, and while its success is undeniable, there are likely plenty of buyers–think fleets and service industries–whose needs could be easily met with a slightly smaller and (presumably) less expensive vehicle like the Ranger.

The details regarding Bronco, another beloved and storied nameplate from Ford's recent past, aren't as clear. Traditionally built on the same chassis as the F-150 pickup, the previous, full-size Bronco bowed out in 1996, its full-size, two-door configuration outmoded by the Explorer on one side and the Expedition on the other. Since then, Ford has toyed with the Bronco idea on several occasions, offering a sweet Bronco concept in 2004 and more recently with the rough and ready Troller T4 SUV produced by Ford-owned Troller for the Brazilian market.

Seeing as the current unnamed sources indicate the Bronco would be built alongside the Ranger, it's entirely feasible that the new Bronco would be derived from the new Ranger, essentially revisiting the formula that brought us the Ranger-based Bronco II that Ford sold from 1983 to 1990. The public's love of the full-size Bronco is a strong and irrational one, however (one fan's desire for a modern Bronco was so extreme that he created his own by mounting a vintage Bronco body on contemporary Raptor running gear), and the idea of an aluminum-bodied, two-door SUV is intriguing. The question is, would buyers pay for what would essentially amount to a two-door Expedition?

However Ford decides to play it, the reports say the Ranger will go into production first, with the Bronco following shortly thereafter and no later than 2020.
"
---
2014 F150 FX4 | SuperCrew | 5.0L | 4x4 | Sterling Grey Metallic
bring back the original little bronco idea or stay the XXXX home
Join Date: May 2008
Location: Wroxeter Ontario
Posts: 693
this pic sure looks an awful lot like the discontinued sportrac........................
the bronco concept vehicle was interesting but reusing the nameplate probably wouldn't have worked.
everybody has their own opinion anyhow.
---
[SIGPIC]
summer: RIP 72 Bronc, 68 Merc,
Daily:94 Exp xlt , Barney the PSD CW
projects: all on hold for now
Quote:
Originally Posted by
68Mercury250Ranger
View Post
this pic sure looks an awful lot like the discontinued sportrac........................
Agreed !!! Although my girlfriend likes the look of it
Join Date: Aug 2010
Location: Port Elgin, Ontario
Posts: 4,741
Anyone remember the full size Bronco rumours a couple of years ago, Raptor photoshop?
---
801A
- 6550 lb bundle of joy
Sorry Ford, I've already moved on to the Ranger's big brother, the F150 and a new Ranger model won't make me switch back.

Wait a minute - isn't the profit margin on the F150 better than on the Ranger? I was set up. LOL.
Forum Newbie
Join Date: Feb 2016
Location: Edmonton
Posts: 3
About time Ford came back to its senses this whole episode illustrates the corporate and executive disconnect with its customers. The plan was that ranger customers would move to a car like the focus or be upsold into a f150, well what if people buy compact trucks for legitimate reasons? There's a reason why Rangers are so common on the landscape in Canada. Ford should stop telling customers what they want and instead give them what they need.
Ford was selling 65000 rangers a year on an outdated but proven and simple platform when they walked away from the compact market. By comparison Honda sells around 25000 ridgelines a year but stay in the market. Of course Toyota has stayed in with over 100000 in yearly sales and continues to dominate the segment. So now a truck company like Ford needs GM to tell it what the truck market wants? I get the notion that the ranger pricing was too close to the entry level f150 but a lot of customers like myself specifically wanted the smaller size, it's still a very useful, affordable and practical vehicle regardless of what the talking heads in the automotive media said about its comparative deficiencies.
Hopefully the new ranger will be affordable, simple and smaller. That's where the untapped market is. Otherwise why would a customer spend 35k+ on a truck that's 90% the size of an f150 without buying an f150?
Some new renderings are out, I don't think they are close to official but look pretty decent IMO.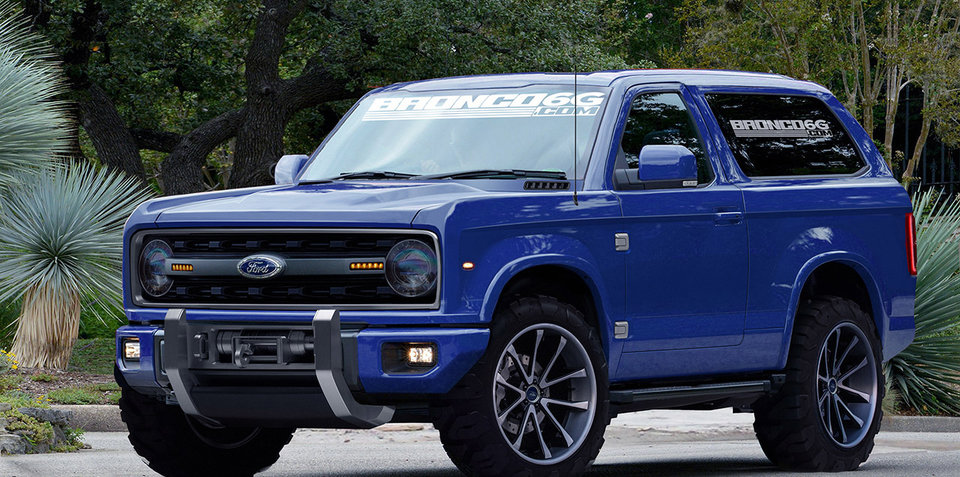 ---
Nicole - 2004 Ford F-150 Lightning #3573
Emily - 2010 Ford F-150 FX4
Amsoil Independent Dealer
Amsoil Home Page
I'd buy that in a heartbeat ... if the price isn't stupid .. and if the motor's worth having

two really BIG IF's though aren't they
Join Date: Mar 2008
Location: Saint John, NB
Posts: 1,901
Sign me up for the white one!
---
2014 F150 FX4 | SuperCrew | 5.0L | 4x4 | Sterling Grey Metallic
Similar Threads
Thread
Thread Starter
Forum
Replies
Last Post
2017 Raptor Supercrew spotted

SVT4MT

Raptor, Harley-Davidson, Limited, King Ranch, 60th Anniversary, Platinum

11

12-04-2015

11:57 PM

2017 Raptor

joeyg

Raptor, Harley-Davidson, Limited, King Ranch, 60th Anniversary, Platinum

18

02-28-2015

09:04 AM

09 Ranger - Cold & OD

Blue Oval

Driveline and Transmission

8

02-04-2010

09:37 PM
Posting Rules

You may not post new threads

You may not post replies

You may not post attachments

You may not edit your posts

---

HTML code is Off

---