Couple recent shots of my '09 FX4
---
Trying to make a 3/4 ton out of a 1/4 ton me thinks...
-Firestone sport-rite sleeved airbags, 1 cfm 1/2 gal tank OBA setup for it (can fill tires as well if needed).
-31x10.5R15 BFG KM2s on 15x7 black steelies.
-front receiver mounted Warn M8000 winch.
-interior's basically stock except that the jump seats are gone and its loaded with a storage tote for tools and recovery gear, mapbooks galore, 12v cooler, 750w inverter, Garmin Nuvi 255w with Garmin western Canada topos in it, Icom VHF, handheld CB, FRS radios. Leather seats and vinyl floors.
-Yellow top Optima.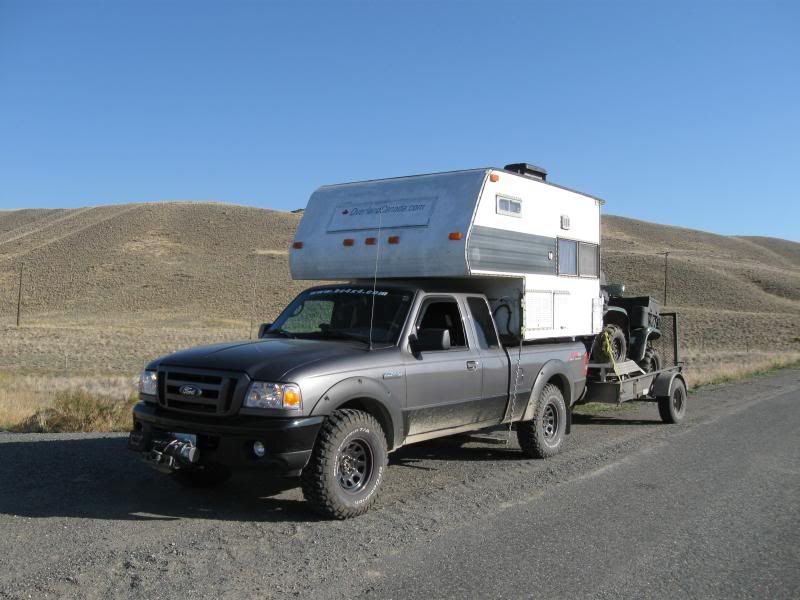 The camper's a 1972 vintage, fairly decent shape and it doesn't leak. Not the prettiest setup but I also don't mind dragging it through the trees either. Very comfy inside.
-8200 BTu propane furnace.
-1100w microwave.
-6.5' long bed, very comfy.
-Dometic fridge that works surprisingly.
-3 burner propane stove that I want to convert to a hibachi-style stove top
-2000w Honeywell interver gen'y.
-Exide purplehaze battery.
-120v fan for circulation.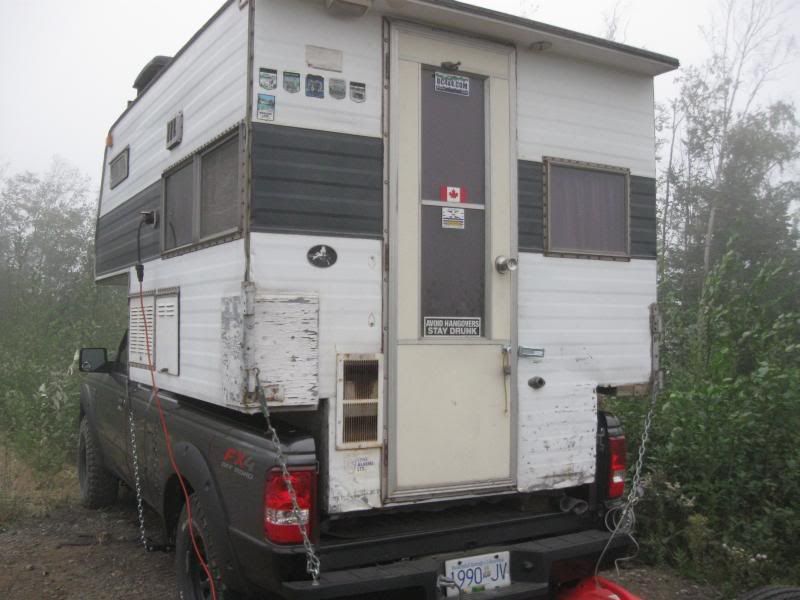 Thats about all I've been up to with it so far. Just turned 4 months old, 13,200 km on the odo, and lots of scratches, dents, and a crunched in front bumper so far... good thing its not leased! Averaging 12-14 mpg with the ATV trailer behind it (keeping it around 80 km/h), 15-16 mpg with just the camper. LR
---
Matt T.
'09 Ford Ranger FX4 with a mean owner
man you got a lot on that truck an still not getting to bad of fuel milage your really working it nice job
The airbags are AMAZING and I try to keep it around 80 km/h, takes a lot of patience but my pocket book thanks me! It'll do 90 fine but you're starting to push a lot of air at that speed. I just don't get in a rush with it. Last scale I crossed it weighed in at 7,800 lbs in those shots!!! Thats a lot of weight for a little truck, but it handles it like a champ.
http://overlandcanada.com/forum/showthread.php?t=332
Here's a road trip I did with it last week, roughly 2000k logged (about 500 km offroad/FSRs) in 4.5 days. Was a great trip and some ok scenery shots. LR
---
Matt T.
'09 Ford Ranger FX4 with a mean owner
right on!they all don't have to be hot rods or rock crawlers,great idea with the jump seats(there only usefull if you carry smurfs with you anyways
)
---
a moments silence for the shelbyx,i hope her new owner enjoys as much.
Great setup! The trip pictures are really good. The mineshaft looks pretty scary.
Haven't heard of that forum before.
---
If Princess Auto were a real girl, I'd ask her to marry me.
OverlandCanada's pretty new, BC based and its pretty low key. Seems to be pretty tight knit, family orientated which I like. I'm not into partying too much anymore, just like my beers around the fire. Its also my style of 'wheeling - mostly back highways, FSRs, and some occasional side trails. I'm into the views and the places to go, not whether or not I can climb a rock thats simple enough to drive around in the first place. LR
---
Matt T.
'09 Ford Ranger FX4 with a mean owner
Join Date: Mar 2008
Location: Ontario
Posts: 17
Looks like a good time man! Keep it up. Would love to see more photos!

Sean
Awsome setup, looks like fun.
---
1997 F-150 xl
1984 Honda XR200R (the toy)
2007 Honda CRF100f (the spare toy)
2005 Jayco Baja 10Y (the home away from home)
Posting Rules

You may not post new threads

You may not post replies

You may not post attachments

You may not edit your posts

---

HTML code is Off

---