Joined the 33" club
---
Traded a guy today, my 31x10.5 BFG KM2s for his 33x10.5 BFG ATs. I cranked the t-bars a while ago about an inch or two, and run the rear airbags around 30 psi to keep them from bottoming out when hitting large potholes or bumps in the road (bumpstops were extended 2" so it doesn't take as much to hit them). Anyways, I'm happy - they run much better on the truck, and they agree with the 4.10 gears a lot more than the 31s. They should wear a lot better too.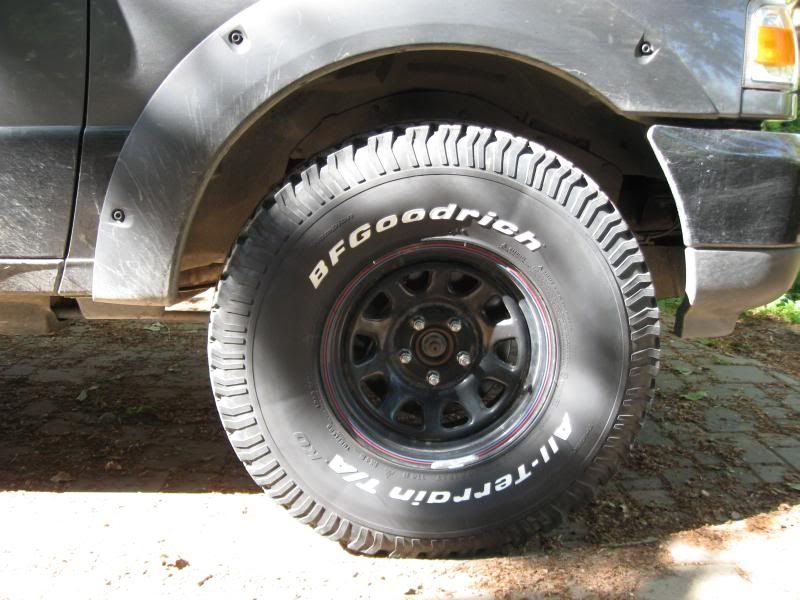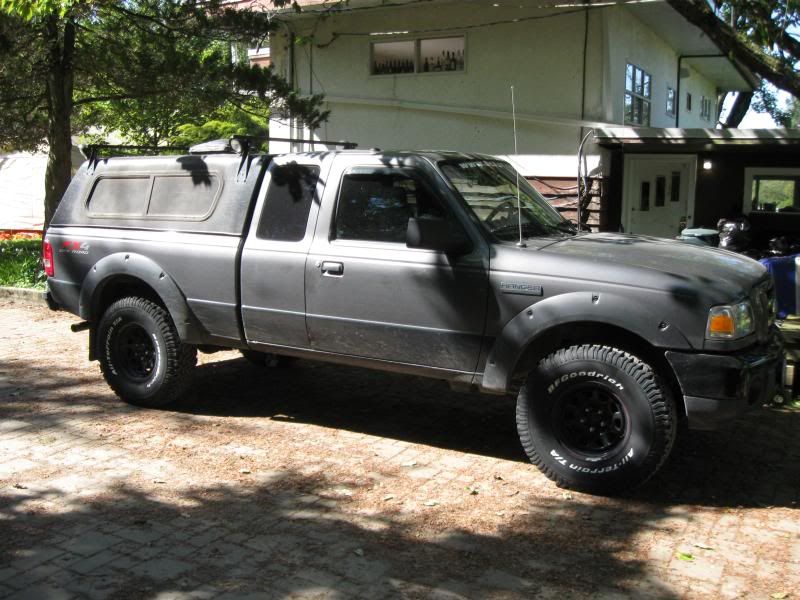 ---
Matt T.
'09 Ford Ranger FX4 with a mean owner
Why would you assume they would wear better?
Looks good, gotta love a Ranger on 33's...

Good trade!
---
Just some dude from BC...
That looks really good. Looks nice and meaty on the 15" black rims.
So you're able to do that with just a torsion bar twist? Do the front wheels rub when you turn?
---
If Princess Auto were a real girl, I'd ask her to marry me.
Because the ATs wear phenomenally better than the KM2s. I knew that when I bought them, but the KM2s were the cheapest of the bunch at the time for me [tire shop had them on display, got a good deal on them]. I'm also tired of the terrible wet/icy traction with the KM2s as well.

They touch a bit lock to lock, I imagine a fair bit more offroad, but its nothing major. Thats why I went with the 10.5s, they fit better, easier on the truck, and they don't suck the fuel back like 12.5s. LR
---
Matt T.
'09 Ford Ranger FX4 with a mean owner
---
Last edited by Lone Ranger; 05-15-2010 at

08:24 PM

.
That looks good. did you also change shackles in the back or just airbags? I'm waiting to receive my airbags and pondering if I should install the shackles I already bought. Just wondering how much this will affect my warranty but need the airbags to haul my quad.
Just bags. Since 30 psi lifts it to the point of having shackles I never bothered installing them, and you're still limited to the bag's travel which is quite a bit less than the suspension's travel. As a word of advice, install the 2" bumpstops that should come in the package, you will need them. LR
---
Matt T.
'09 Ford Ranger FX4 with a mean owner
Similar Threads
Thread
Thread Starter
Forum
Replies
Last Post
Just joined

J.P. (Mount hope)

New Members Introductions

16

10-16-2008

10:07 PM

Just joined up

94 Ranger 4x4

New Members Introductions

10

09-24-2008

12:20 PM

Just Joined

Rangerfied

New Members Introductions

16

09-09-2008

09:48 PM

just joined

2007fx4+

New Members Introductions

12

03-24-2008

08:49 AM
Posting Rules

You may not post new threads

You may not post replies

You may not post attachments

You may not edit your posts

---

HTML code is Off

---