Lift, what do you...............
---
Join Date: May 2007
Posts: 366
i have the procomp 6 and 3 lift. tomorrow i am adding 3.5 inches in the rear via add a leaf and shims. with rancho 9000 adjustables . then on the front i am gonna TRY and put in the 2.5" levelling kit on top of my 6" lift. nobody can answer me if it can be done... sooo im gonna do it and see what ahppens.. than im off too buy 37"s...
i got 4 midgets holding up each corner... youd be suprised how fast those little guys run. its a pretty rough ride, the one on the rear left corner has a club foot.
UPDATED!!!!!!
I have a 6" Skyjacker lift blocks at the back , with Hydro shocks, Dual Steering Dampers
17" Thunder rims with 35" Mickey Thompson MTZ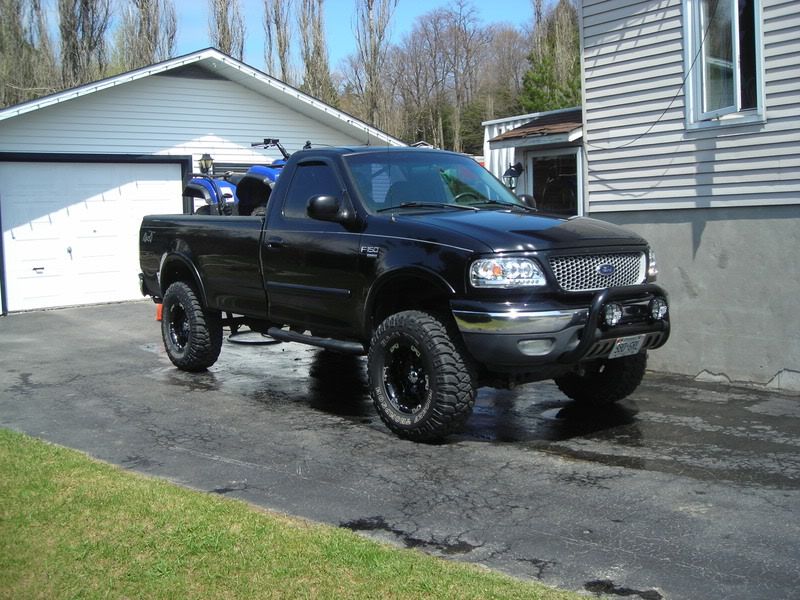 ---
I only drive in the city, to get out of it!!!
---
Last edited by Bush_aholic; 06-13-2008 at

01:18 AM

.
I have a -3" ground force lift with bilstein shocks on all 4 corners
Join Date: Dec 2007
Posts: 506
Basically when i'm done i want my truck to look like this.
It is a RANCHO 4" lift.
...a can of kokanee in 3 minute intervals....
---
2011 Chevrolet Camaro RS2SS
2007 Pontiac Grand Prix GXP
2007 Ford Crown Victoria P71


I am running a 6" Donahoe Racing lift, with 6" Deaver rear springs and a 3" P/A body lift on Parnelli Jones Dirt Grip's on 17x 10" centerline rims with Bilstien shocks all around I like it the ride is great and the suspension "works" beautiful
---
Join Date: Sep 2007
Posts: 88
6" fabtech , 3" body lift , rear air bag . blah blah blah.lol
Posting Rules

You may not post new threads

You may not post replies

You may not post attachments

You may not edit your posts

---

HTML code is Off

---