Drivers Door Keypads are they really secure .....
---
Ok getting real tired now last night was the 4th time my 08 F150 was broken into in my driveway in the past 8 months while it was locked and aftermarket alarm was armed. From what the officer is telling me is there able to get into most vehicles that have a driver's side door keypad.
I got these guys on surveillance cameras yup after the 2nd time spent the money to wire up a CCTV system here. Hard to see exactly how they're getting in but 6 seconds was all it took. I have changed the keypad security code more than once so somehow there able to open the vehicle with the keypad which also disarms the alarm system.
I don't leave anything in the truck anymore so last night they walked away empty handed but there still on my most wanted list.
---
2014 SVT Raptor Super Crew
The door lock cylinder and keypad can easily be punched into the door giving access to the lock rods. Have you figured out how they are getting into the truck? After my ranger got broken into the second time I started leaving the glovebox open, console open, windows down and doors unlocked. I never got 'broken' into again. Jimmi jammer makes a plate for both the lock cylinder and the keypad. They are a little spendy though.
---
VMP and 5-Star tuned no more

Buy a hybrid my truck needs your gas
Join Date: Feb 2009
Location: Kitimat, BC
Posts: 1,079
So, are they getting in "electronically"? Or they physically damaging something? Either way sucks for truck owner. I put Jimmi-Jammers on my Super Duty to help thwart thieves. I hope you catch the bastards and give them something they deserve.
---
The Hauler - '05 F-350 4x4 CC Dually 6.0 Powerstroke
The Project - '90 Ford Bronco 4x4
The wife's - '11 Ford Escape
For every minute you are away from work...you can add two minutes to your life!
Join Date: Dec 2009
Location: Alberta
Posts: 291
Can you disable the keypad and go old school? Or disconnect the link between the keypad and the alarm system?

Dave
---
2010 Ford Ranger FX4
Armaguard sprayed on bed liner
Truxedo Low Pro QT tonneau cover
Studded General Altimax Arctic P245/75-16 winter tires on black steelies
Join Date: Jul 2010
Location: Nova Scotia
Posts: 127
I just did a bit of reading about this via Google....

it seems like it's super easy to break into these trucks because of the plastic door handles. They just bend them up (sometimes they don't even break or scratch the surrounding paint) and are able to unlock it in seconds. I don't understand why your alarm isn't going off tho.

this has been a real eye-opener for me.... I'm going to double-check my insurance policy now.
Yeah, I hardly think they're "hacking" the electronic keypad. These punks aren't MI5. More likely, they're just prying up the bezel with a big screwdriver and manipulating the door lock rods inside.

A $30 filing cabinet probably has better quality locks and security than a $50,000 vehicle. Personally, I wish they'd spend less R&D money on useless crap like cars that update your Facebook page and send "tweets" -- and just give me door locks that are worth more than $1.47 and can't be opened with a plastic butterknife. How about that?

The problem with alarms is they only go off after the damage is done. It's better to stop them before they even come near your stuff. I don't know what your parking situation is, but at my house, the best bang for the buck is my motion detector security lights. They're 250 watt quartz halogen units that are mounted high on the outside of my garage. When they light up, it's like you've been cought trying to escape over the Berlin Wall.

They'll move on to someplace more comfortable for them.
---
If Princess Auto were a real girl, I'd ask her to marry me.
Funny thing is there is no visible damage at all and I really think they must be "hacking" the electronic keypad which is what the officer tells me is happening to other vehicles.
I have also installed 2 500 watt quartz halogen units which light up everything when there is motion in the driveway and that does not phase them at all. The CAMERA also seems to not scare them off. They have hoody's on so I can't make out there facial features and they like to park their car at my neighbors house and walk over as my camera picks up there headlights...they don't even drive by the house but rather reverse there vehicle when they leave.
Here are a few pics I notice there is a space under the chrome molding which looks like some sort of access point unless this is damage....looks like it's part of the mold though to me and non of the other door handles have this space.
At this pint Im going to ask my alarm guy if we can disable the keypad but still be able to use my hey fob and alarm.
---
2014 SVT Raptor Super Crew
Just found some more info what a joke...
Possibly found your factory key code on your first break-in ???
Googled it...
If you have good eyes, you dont even need tools.
1. Take the fuse panel cover off.
This is located at the floor board on the passenger side.
2. Take the plastic corner molding off, it just pulls out but be careful not to break it.
3. Look behind the SJB for the 5-digit code.
If you can't see it. Removing the two 7mm bolts which will allow you to move the SJB out enough to see it better.
Step 1. Fuse Panel location: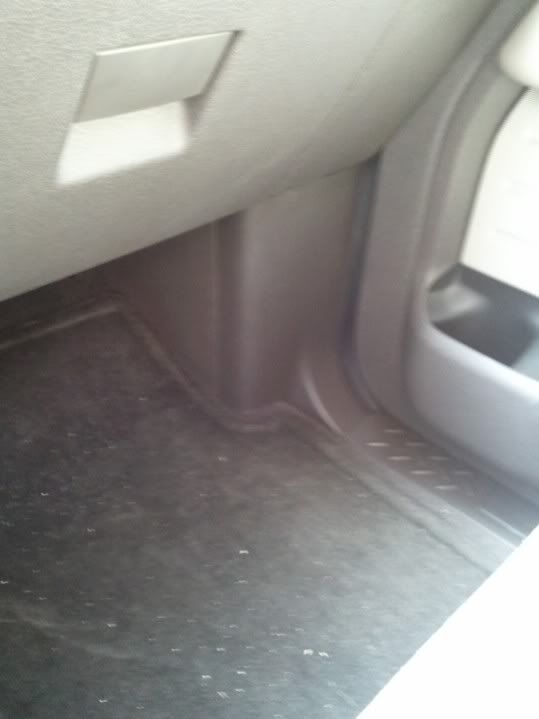 Step 2. Remove the plastic corner piece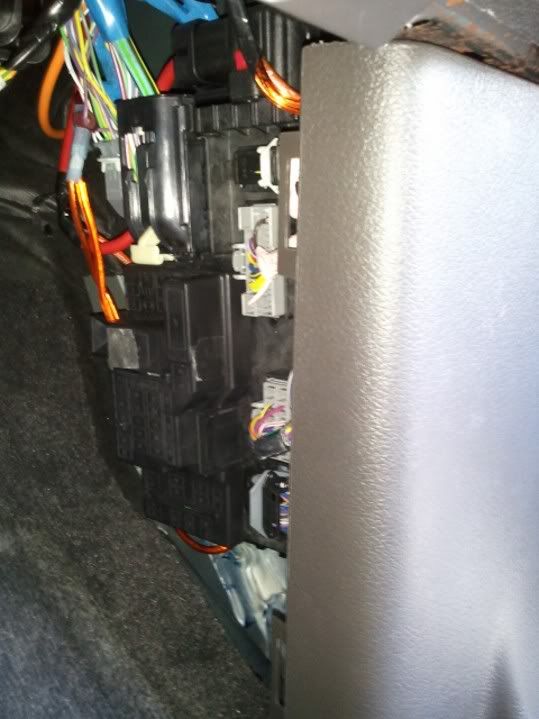 Step 3: Look behind the SJB on the white label for the 5-digit code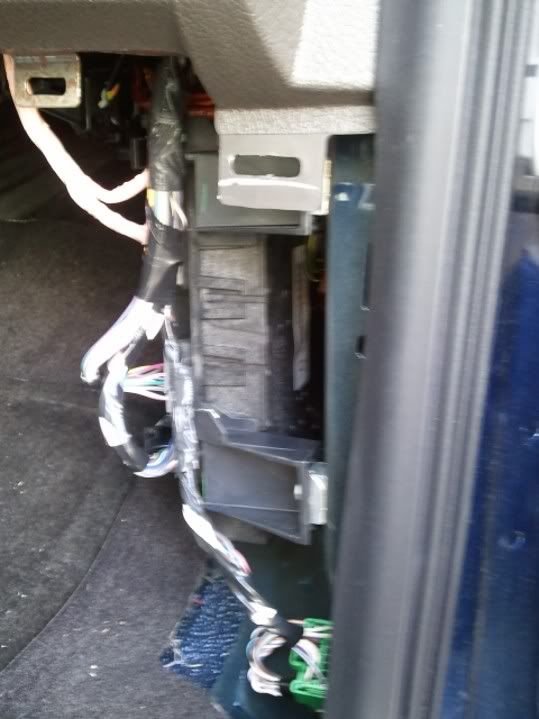 Step 4: If you can't see it, loosen two 7mm bolts so you will have a better view.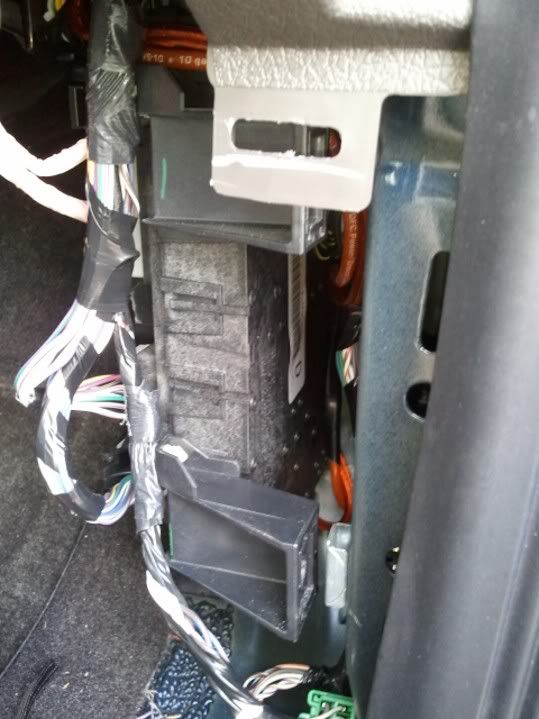 5. Move the SJB out a little so you have a better view of the white label to find the 5-digit code. Mine was in the area highlighted in red below.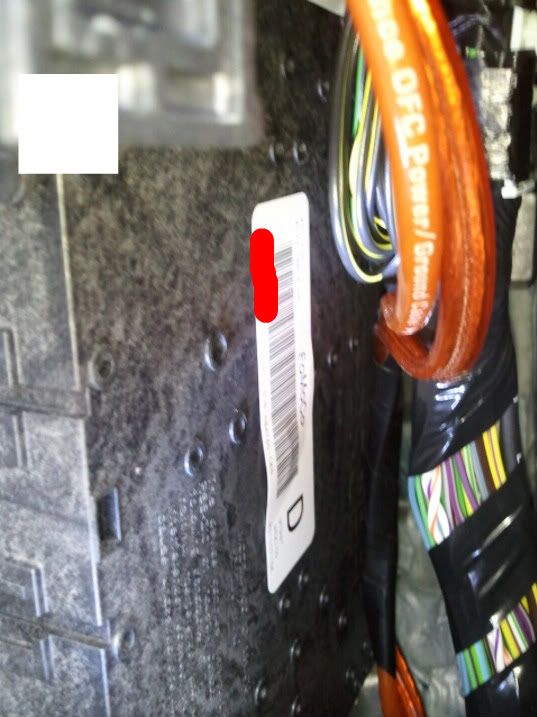 ---
2014 SVT Raptor Super Crew
Just got on the thread,
shitty deal..

Was gunna say thats how you can find out the OEM code that comes with the vehicle on the card.
You can change your personal code, but it won't matter.. I don't believe you can change the oem code.. however.. I think you can physically unplug the keypad inside the door.
So.. it is inactive.. No code for them.

That about the only way to defeit that.
As for the camera.. pick up a wireless baby monitor, or wifi network security camera.. one with a motion detector that runs on 12 volts.. hook it up to your vehicle. .. have it record to your computer.. when they do get in and open the door.
"Say Cheese" biotch!
Similar Threads
Thread
Thread Starter
Forum
Replies
Last Post
Blend Door

LayinHp

Super Duty Forum

4

12-20-2010

09:58 AM

NEED HELP: DOOR HINGES

big-papa

F-150 Pre-1997 Forum

3

06-01-2010

02:38 AM

Door Hinges

JimyB

Sticky Tech/How to Section

14

04-09-2010

12:12 AM

Fuel door

funhog

F-150 2004 to 2008 Forum

4

05-17-2009

04:54 PM

Crossover box - how to secure?

Slim

Truck/SUV Talk

9

02-10-2009

02:17 AM
Posting Rules

You may not post new threads

You may not post replies

You may not post attachments

You may not edit your posts

---

HTML code is Off

---