Join Date: Jul 2010
Location: Nova Scotia
Posts: 127
Roush I/C S/C & Programmer
---
I got a deal on a Roush intercooled supercharger for my '04 5.4L that I simply couldn't pass up.

I have an Xcal-2 but I always thought the Edge Evo or Gryphon would be the ultimate so you can switch between tunes quickly and on the fly and also be able to monitor temps, etc.. I wonder if that is the case with a supercharger or if there is a better tuner suited for it...

I thought I'd get a 91 Performance, a 91 economy and a 91 tow eventually with the Edge however I wonder how much economy I'm going to be getting with the s/c - maybe it's foolish to think there is any such thing as an economy tune with one. Perhaps I'd only find any use with one tune in which case the XCal-2 would fit the bill well for a tuner less it's monitoring capabilities.

I'll probably try to get PHP or Troyer to get me a custom tune either way instead of going to Roush when I install it.

maybe this is a stupid question. Does anyone have an opinion about it?
why would you need to change tunes on the fly?
you basically need a summer tune. winter tune and tow tune if you need that.
if you already have the xcal2 save the cash and put it towards other go fast goodies.
i have an xcal 2 with 3 tunes summer, winter, track. Tuned by a professional tuner that knows supercharged f150s out of America.
If you want to mintor some stuff. get an aeroforce interceptor Gauge. It plugs into your ODb2 port and reads everything the new tuner would. You can also put add ons on the interceptor which you will need.
You will need a wideband air/fuel gauge and possible a fuel gauge. boost gauge?
I have dual interceptor with the wideband/ fuel pressure/ boost and oil pressure add ons.
So these 2 gauges read everything.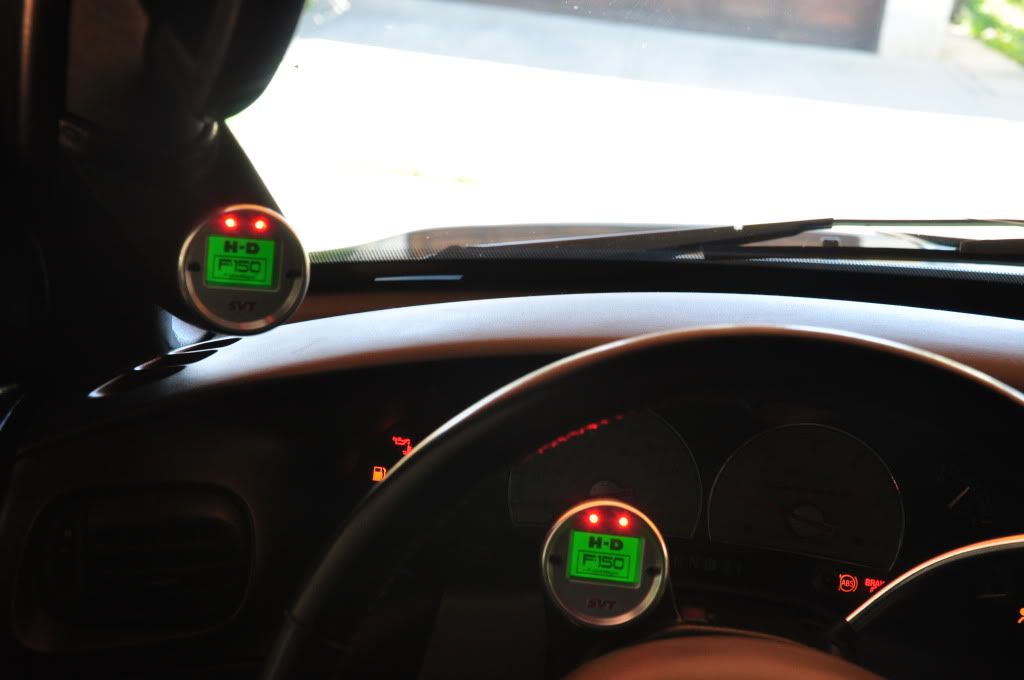 ---

Really? Its the Internet take it easy.
Join Date: Jul 2010
Location: Nova Scotia
Posts: 127
those gauges look pretty neat. $400 for the dual gauges tho... ouch!

Part of the reason for my question is partially because i'm not sure what to expect of the Supercharger as well as the differences in fuel economy and performance between tunes. I realize one tune won't make a 450HP V8 get the fuel economy of a Prius....

I'm not so much looking to change tunes every stop sign but the X-Cal seems a bit of a pain to hook up - I've never used it but according to what I've read you have to disconnect the fuel pump fuse before you hook it up. That's why I was thinking somethin like the Edge as it's always connected. So if I'm planning to go on a long highway trip where it'd be nice to save some fuel dollars I could use the economy tune vs. if I'm going off-roading or hemi huntin I can use the performance tune (j/k I'm not into racing or anything).

I would like to have a boost gauge for sure....

I never thought about summer vs winter tunes. Maybe that would make more sense. What would the differences be between those tunes? Like I said earlier, I can't imagine there being much difference in fuel economy between perf and econo tunes on a blown V8... that probably depends more on the position of the skinny pedal... but I really wouldn't know. Based on your response, I'm guessing you agree it's be pointless to have an econo tune - correct?

thank you for your input!!
Not sure if the edge can get an aftermarket blower tune..?? I've always seen tuners use SCT.

Pretty sure there is more tuners for Xcal/SCT then edge. I've swapped between tunes on a 2010 and it isn't too difficult. I havent seen having to pull the fuel pump fuse. Mite be different on 04-08 with a blower.

Usually the econo mode is more trans shifting and timing. If you do a bit of driving mite be worth switching in the long run. The truck will produce more low end power so won't need to downshift as soon when hitting an incline.


Sent from my iPhone using Tapatalk
I've never pulled the fuse to change tune. Which I've changed many times. In winter it way more dangerous with a supercharger. Air is denser. U need to tune down for winter. Also wideband is the most important gauge u will need

I run 15lbs boost in summer with 94 octane. I run 6 lbs in the winter with 91 octane.
---

Really? Its the Internet take it easy.
Join Date: Apr 2008
Location: BC
Posts: 322
Iam going for a SCT handheld & Tune but I wouldn't go with Troyer if you want it sharpish.

I've Been talking to JDM and they offer a great package.

Have you got the complete Roush kit?
---
2008 F150 FX4 SCAB : BLUE STREAK

She's gone but never forgotten! Replaced with a blown:

2008 F150 FX4 SCREW : SILVER BULLET
Join Date: Jul 2010
Location: Nova Scotia
Posts: 127
that's good to know about the fuse, Blairtruck.... for whatever reason the papers that came with the Xcal-2 say to unplug fuel and e-fan fuses.... so does that mean you can leave it plugged in all the time? I'm going to try to read up on how they work.

any more suggestions about where to get tunes? I'm thinking I'd like an unlocked tune so if I ever get on a dyno it can be adjusted.

I think (hope) I have the complete kit.... blower, intercooler, intake box, fuel rails, injectors & pulleys. Just need a tune and new plugs (too bad I just put new motorcraft ones in!!) Can anyone recommend a good plug for this setup? I'm reading about Brisk... but I never heard of 'em. I think perhaps I'll change the oil in the s/c too.

I'm actually a bit reluctant to install it with 3.73 gears and 35's. the plan is to eventually get to 37's and 4.88s. In the meantime I'm going to have to be pretty gentle with her I'm thinkin.... gentle and supercharger probably aren't often used in the same sentence. Might add a Troyer valve body to my wish list too if I have a tranny left after all this....

I wasn't planning to get the s/c - the next step was supposed to be new gears but this was a deal I just couln't pass up.
Join Date: Apr 2008
Location: BC
Posts: 322
I imagine you have the install manual?

If not its still on Roush' site. I have the one for the 04 as its a different install.

You need to double check and compair parts.
---
2008 F150 FX4 SCAB : BLUE STREAK

She's gone but never forgotten! Replaced with a blown:

2008 F150 FX4 SCREW : SILVER BULLET
if you have an xcal 2 it will hold 3 tunes at one time. You can have it unlocked so you can change shift points and timing and stuff like that.
If you get a mail tune. and then go to a dyno i imagine they would create there one file and not work with someone elses work. or vice versa.
I use JJ from Westerh Motorsports in america to do my tuning. (i think mjg drove to him for his tuning) I datalog on the laptop using the xcal 2 and then email him the file and he sends me back a tune. Its lifetime revisions for like 200$

he is one of the top Ford Truck tuners. i would use him or Johnny @ johnny lightning performance. he has the fastest lightning on the planet and also the fastest 09+ f150 also.
Jim Sr @ JDM is good but more expensive all around for everything from parts to tunes.


I wouldn't trust anyone in western Canada to tune my Harley. Let alone anyone in Nova Scotia. Sure they have tuned a few Mustangs but trucks are different.
Im all about data log tuning. you plug your xcal2 into odb2 port. then usb from xcal to Laptop running SCT software to datalog. software is free on SCT site.
It shows real world effects on your vehicle like wind and road resistance. on a dyno your just spinning the wheels on rollers imo
---

Really? Its the Internet take it easy.
Join Date: Jul 2010
Location: Nova Scotia
Posts: 127
yeah Ross I do have the manual... it is for the '04. Seems to be complete. What's your setup?

Thanks again BlairTruck. That explains alot!

I appreciate the help.
Posting Rules

You may not post new threads

You may not post replies

You may not post attachments

You may not edit your posts

---

HTML code is Off

---