Scary Stuff!!!
---
Well this was the final straw for this truck, it is now retired as a grocery getter/camp truck.
She went into the shop 2 times on the same job in Kakabeka Falls and the on the way home the wheel fell off 10 minutes from home....He was towing a big ass trailer with 4 quads a canoe and a bike trailer plus a bunch of small gear.
No one got hurt but the old lady in oncoming traffic had a good scare when the tire flew by 2 feet away from her car at 100km/h....lol
2 different Ford dealers serviced the truck that month and the first had taken the wheels off for sure but we don't know about the second. Either way all the lugs snapped off because they over tighten them, one of the dealers fault....
Second time she got towed in Kakabeka, bearly fit's on there
And the wheel falls off! That's my truck at the back!!!!!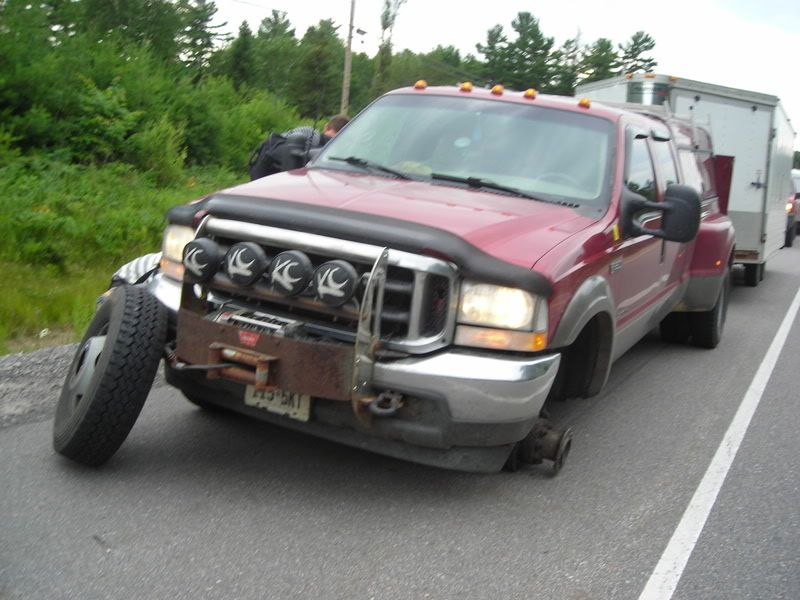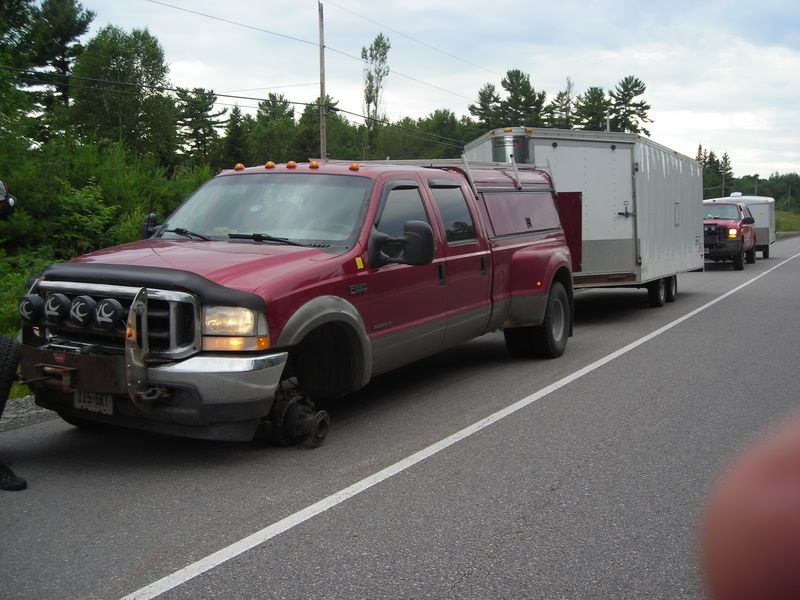 Glad I wasn't driving, had to go dig out the tire 200m in the bush..Good groove in the pavement from the router too, it's still there.
---
I only drive in the city, to get out of it!!!
Join Date: Mar 2008
Location: Saint John, NB
Posts: 1,901
Damn lucky that no one was hurt.
Pretty big "grocery getter" now....lol
---
2014 F150 FX4 | SuperCrew | 5.0L | 4x4 | Sterling Grey Metallic
That's just scary when the dealer overtightens the lugs. the price we pay when we go there, we should get better service. i know they're not all like this, but still.....
---
2013 f150 Ecobeast
3.55 E locker
FX4 Screw
SSI tuned!!!!!!!!!!!!!!!!!
i've had that happen to me twice, both times it was the rear set of duals.quite a ride
Huh... anyone every tell you guys trucks don't drive so well without tires
good to hear no one was hurt! LR
---
Matt T.
'09 Ford Ranger FX4 with a mean owner
Wow and it was the steering axle too that makes it 10 times worse. I had my one rear tire fall off on my old truck and that was scary. Glad no one was hurt.
---
2006 PSD CC FX4 Sport SRW S/B
SCT with custom tunes by Quick tricks, Grand Rock turbo back dual 6" Miter cut stacks,
Xenon Fender flares,Tinted factory tails, Recon white lightning L.E.D. light bar, Glasstite topper
Join Date: Jul 2008
Posts: 16
thats insane! never seen an over torque like that! usualy its the rears getting loose. i work at a dealer and we have to make sure all the lug nuts turn freely of there washers and apply 1 drop of oil between to washer to nut for them to torque properly. Then torque to spec, and then the customer is notified they have to have retorques at set kms, ie : 160km then again at 500km.
Yeah Torquing is a must. Over torquing is um..well, see above for results. In my trade, Aviation systems Technician, on CF-18s in the Canadian Forces, We torque everything to spec. What it takes 5 more minutes to properly torque lug nuts....otherwise your spending how long waiting for a tow truck, and lucky not in this case, an ambulance.

If i don't do my job properly, ie torque to spec..pilots DIE. I am accountable for my actions, mechanics should be held accountable, for thier work. Sorry just voicing my 2 cents.
Thank god I do my own wheels. Good to see no one was hurt. I'm going to Ontario soon towing a 24 foot car hauler with my furniture and seeing that pic makes me nervous.
Posting Rules

You may not post new threads

You may not post replies

You may not post attachments

You may not edit your posts

---

HTML code is Off

---