New Rubber Finally Installed (PICS)
---
Well, just got home a few minutes ago and took some pictures of the new tires that were installed today. My buddy and I also installed an extra leaf spring on the rear.
I ended up choosing 305/65/18's BFG All-Terrains (White Letter Out)
Love the look of the tires, was well worth the wait.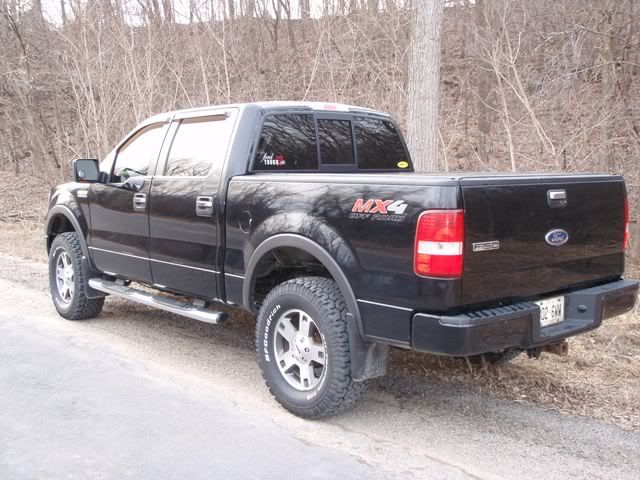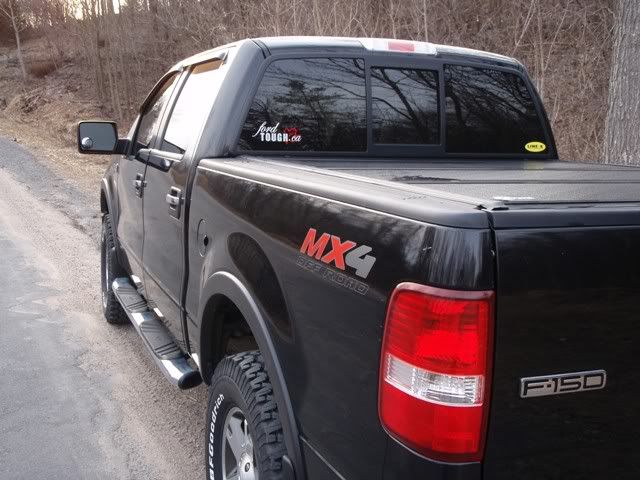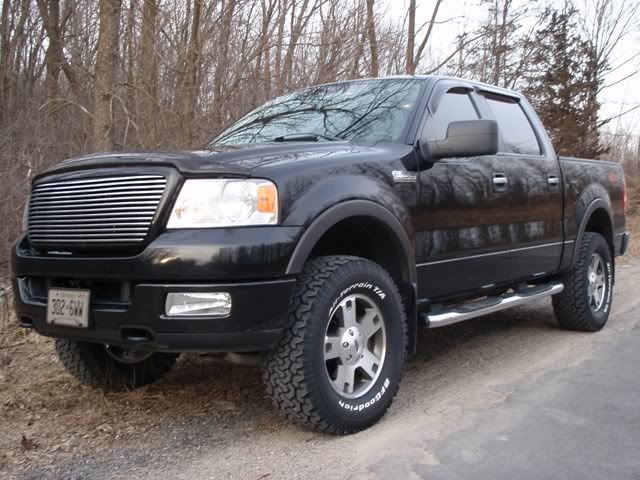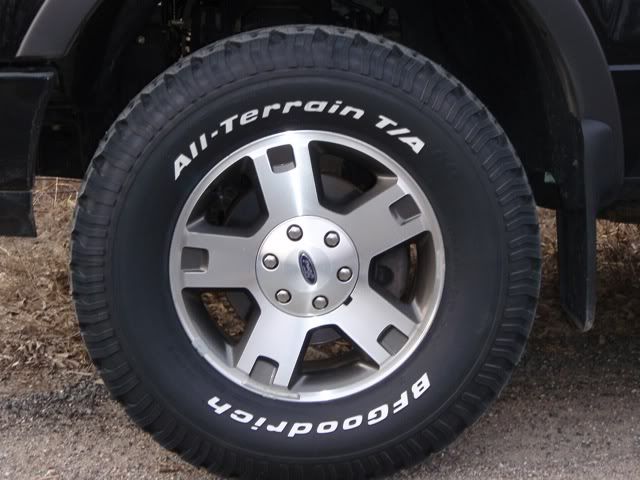 Looking good
---
VMP and 5-Star tuned no more

Buy a hybrid my truck needs your gas
They look great!! I have to ask how much per tire? Im looking to buy new one as well
and am trying to decide...
---
Nice, my dad has the same ones on his Chevy. Kinda off topic but, I've never heard of the MX4 F150? Is it a real model or do you just have custom made decals?
---
Whaddya mean I dont pay my bills?? Whydya think I'm broke!!
03 Lariat Crew 4x4 Line-x bedliner, Truxedo Lo-Pro QT Tonneau.
RIP [97 XL 4.2L V6]
Looking good. I think those might be my choice for my next set of tires. And nice grille, I know a guy who has one just like it.
---
2016 F150 XLT XTR 4x4 2.7 Ecoboost
Yeah, that's just a custom sticker. Wasn't me though, the original dealer that the truck came from put these stickers on their trucks. I guess the "M" stand's for "Mod" as they put the leveling kit, larger rims and tires etc. etc. on the truck when they were new.

Yeah, I like the tires. I also took some pics of the new "Cabela's" truck today too and posted them also.... Nice truck indeed.
---
Last edited by BluByu1986; 03-29-2009 at

01:59 AM

.
If you love the look, you're going to love the performance!

T/As make just about every vehicle look better.
Looks good, I just dont know why you would want 2 sets of a/s tires?
Well, I thought about the Mud's but I only really go off-road about 5% of the time. And for the Yokahama's that I got, that was really a bonus and just happened to be at the right place at the right time. I only paid $500 for all 4 tires and they still had the nubs on them (got original receipt from the guy and he paid $1400. He had them on his truck for 1 month and said he didn't like the ride). So, I put them on black steel rims and told myself to use them for the winter, as I new that I was going to be getting a set of 305's or larger for the summer.

Was talking with another friend of mine tonight and he said COSTCO is selling these tires right now (305/65/18's) for $328 installed per tire + tax. And, I think for the month of April you can get an additional $40 off a set of 4.

I ordered mine thru my buddy at Bence and we installed them plus the extra leaf spring.
Posting Rules

You may not post new threads

You may not post replies

You may not post attachments

You may not edit your posts

---

HTML code is Off

---