2007 Lariat - Clarion NX501 And Tailgate Emblem Camera Install.
---
Now - for many of you, the installation of a Clarion head unit and tailgate camera would be a pretty ho-hum project - but not for me - ha ha!
This kind of thing I would have left to an installer - but after reading about others doing their own installs on this, and other sites - I was intrigued enough to want to try it myself.
Besides, I had a few ideas I wanted to incorporate that a "get it in - get it out" installer might not have done.
I did a fair amount of online research before settling on the Clarion NX501 to replace the factory head unit in my truck.
Clarion NX501
Not that there was anything wrong with the factory unit (an MP3 capable, 6 disk changer hooked up to the audiophile system) - but I was looking for a touch screen navigation unit - and the Clarion had some of the best reviews of the many, many, many I read on Crutchfield, Amazon, and other sites that compile user reviews.
I did some more reading, and added a third party bypass unit - so my passenger can watch DVDs and make changes to the navigation without my having to engage the parking brake (and apparently these newer units have sophisticated enough "safeties", that jumping the supplied parking brake wire to ground isn't enough, anymore!).
I also added a Metra Axxess steering wheel control interface so I could keep my steering wheel controls - a Scoche wiring harness (FDK11B - which is specifically for the audiophile system) and a Metra Double-Din mounting kit.
I purchased everything except the Clarion unit on Ebay - but I'm very pleased to say that I found the NX501 being retailed by a small Canadian outfit for $30 more than the very best price I could find out of the states (that is taking into account exchange, shipper brokerage, duty and taxes). As an additional bonus - the Canadian outfit is an approved Clarion retailer (which means the warranty will be honored by Clarion - which is not the case with many of the outfits selling on Ebay - make sure you ask!).
I'm not sure what the rules are regarding mentioning non-supporting retailers on this site - so I won't mention the name, but feel free to PM me and I'll provide the name and the price I paid.
The other item I found on Ebay was the second part of me install - a new Ford tailgate emblem camera. I could have gone with a $40 back-up camera - but I really wanted one of these emblem cameras - ha ha!
I wired up the harnesses first.
I used solder, heat shrink tubing, and finally tape - to make my connections. Its probably over-kill, but not having a project like this under my belt, I really wanted to do it right.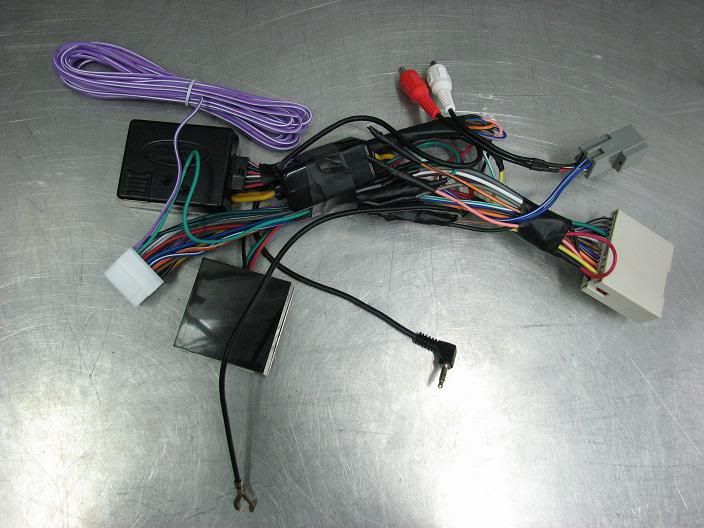 As my system has the factory subwoofer - I soldered a 1500 ohm resister between the "amp on" wire and the subwoofer connects. I tried it first without - and there was a very loud "POP!" when powering up the unit. After the resister was inline, the pop is very much quieter - but not completely gone. Makes me wonder if I might have soldered it in backwards or used the wrong type or strength of resister? Does anybody that knows about these things have any idea?
I made a mistake in my wiring, by wiring the "phone mute" wire from the unit to the four "mute" wires from the harness. I thought it muted the speakers when there was an incoming phone call - but I thought wrong - ha ha! All it did was mute all four speakers - but was an easy fix!
So, after reading through some head unit install threads - I pulled off the bezel and parts of the console.
I had read that with many installs, the GPS antennae was mounted inside the dash - but living on Van Isle, with its precipitous hills and tall trees - I wanted to mount it with it's best view of the sky. A little 3M double-sided tape and its out of the way and has nearly instant connectivity with the GPS satellites.
The unit had only one USB port - and with connectivity being the name of the game - I added a USB hub, so I could run extra cables.
Then I drilled a hole in the forward end of my console box (I was going to use the glove box - but mine is much more crowded than my console!) and ran a ipod/iphone/ipad connector, a mini USB and a full sized USB into the box (I like to have options - ha ha!).
Lastly, in regard to the head unit, I dug around in the wiring under the kick panel running along the driver's door sill, and found the reverse light power wire. A word to the wise - it runs out through the rubber grommet, so don't bother looking farther back than that (I spent a long time looking before I figured that out!). This is the wire that will bring up the camera image automatically when the truck is put into reverse.
Next up was the camera. Obviously, my 2007 wasn't designed for an emblem camera - so some "body work" was needed!
I removed the tailgate and then the emblem (heat gun and fishing line) - then drilled a hole to accommodate the camera body. A 1 3/4'' hole cutter made one the perfect size.
I then did some reading about the pigtail that came with the camera - so I would know which wires to run where.
Most of the info out there pertains to the 2009 camera, it seems - and I believe this is a brand new one.
There was a great deal of trial and error (and when I say "great deal" - I mean the good part of a day! ) - but I eventually got it figured.
If this is a project that appeals to you, and you source one of these emblem cameras from Ebay (and I believe there is only one source for them) - I'll save you some time.
At the terminal end connector that you will be cutting off:
#1 is 12+ (prp/brn)
#2 is Video + (wht/grn)
#3 is 12- (brn/prp)
#5 is Video - (blk/grn)
Ignore the other two - you don't need them. Interestingly, one of them is a shielded, thick, single strand wire which I was absolutely positive was Video + and screwed me up for hours!
To these wires I soldered in a 24' RCA video wire I picked up from Future Shop (the shielded inner wire is the Video+, the outer mesh under the outer plastic skin is Video-) and added extension wires to the 12+ and 12- - made sure everything was secure and tested for correct operation - then I fished them through the tailgate with a wire coat hanger.
I wrapped the wires in an old rubber sheath I had kicking around, wrapped it well with tape, then ran it through the access hole at the bottom of the right side of the tailgate - and into the corresponding hold in the rear of the bed.
It works perfectly - but I can no longer remove the tailgate. However, I've been driving pick-ups for 15 or so years - and I've not once removed the tailgate on any of them - so no big deal for me.
Conventional wisdom dictated that the camera power be drwn from the reverse light - but I can switch my head unit to the camera screen at any time - so I wired it to the small trailer connector light 12+ and ground (my truck has the tow package, so has the small and large trailer connection).
This gives power to the camera anytime the lights are on - and I always drive with the heads on, so is perfect for me.
I ran the wires up the driver's side frame rail -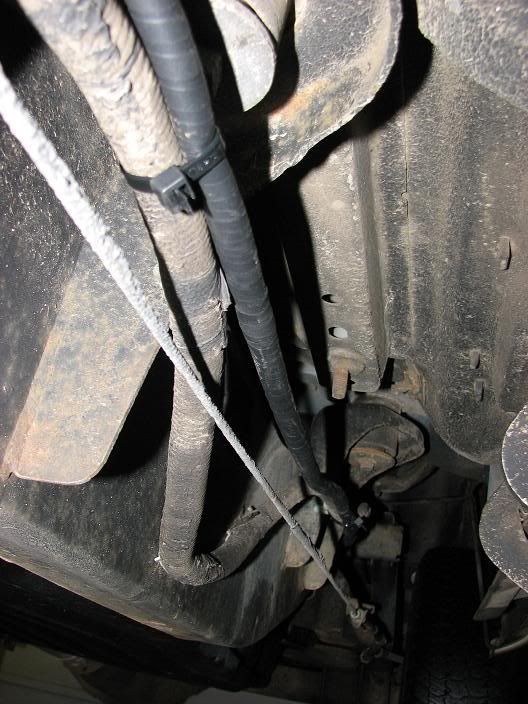 - then ran the RCA cable up through the grommet under the driver's floor pan (I cut a small X in the grommet, ran the cable through - then sealed it in with silicon).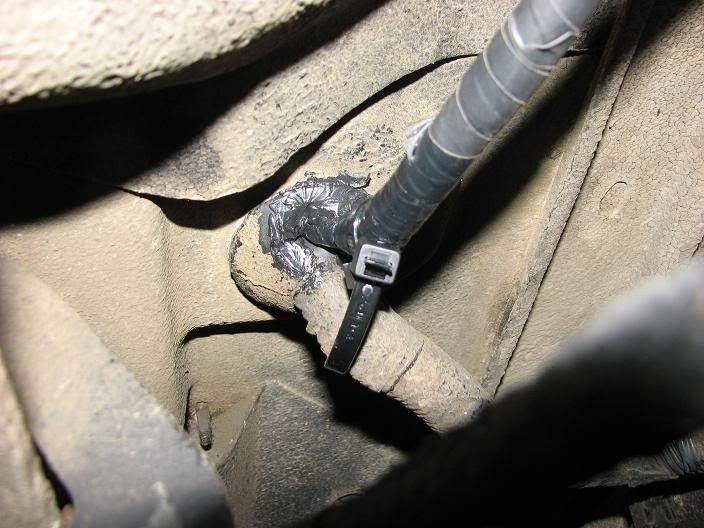 Then under the mat and into the Clarion.
It works perfectly!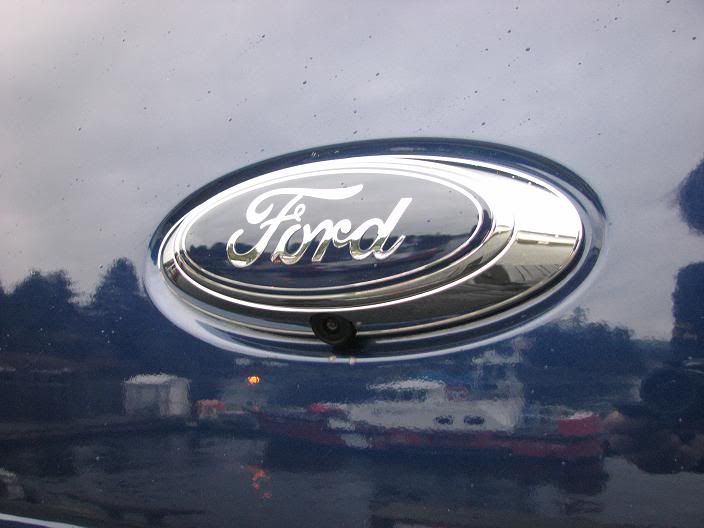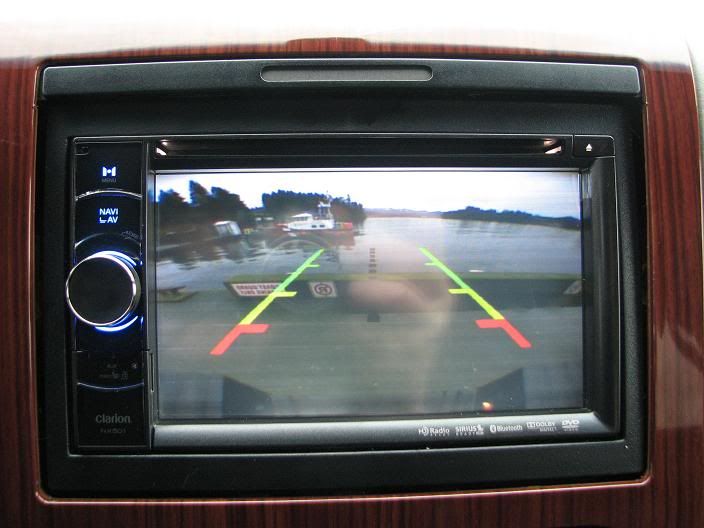 I've only had the unit in the truck for a few days - but so far I'm very, very impressed. The sound is much better (imho) than from the stock unit (and I love being able to control the subwoofer level) - and the navigation is very, very good!
It shows elevation in 3 dimensions in the "look ahead" mode - which is awesome. I use a GPS plotter in my work - and wish it had a few of the features that this software has!
This picture was taken at night, showing the "look ahead" mode and night colors (which it switches to automatically after dark (because it knows when sunset is at your current coordinates).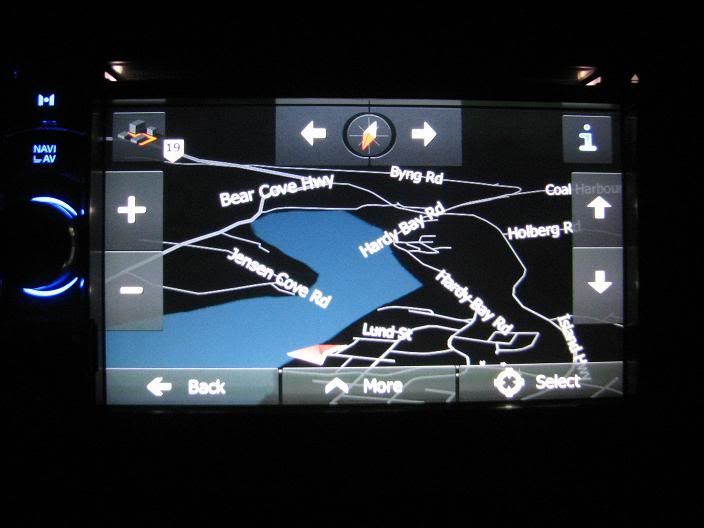 The bluetooth will have to wait until my shift is over and I get home - as I don't use a cell, but my Lady does.
Anyway - I hope you enjoyed the write-up, and that it inspires a few that - like me - feel as though they might not be able to do something like this. When one does it themselves - you get it exactly how you want it, and learn a ton along the way!
A couple of more shots of recent upgrades.
I ordered these LED bulbs from a retailer in China for a grand total of about 15 bucks (two map lights and a globe light) on Ebay.
Well worth it - I like the bright, white light and no longer lose anything on the floor at my feet - ha ha!
The other recent upgrade was a Dee Zee bush bumper. I drive a lot of remote roads on the northern end of Vancouver Island, where there are a lot of Elk, Deer and Bears. Hitting one of those without a little extra protection will take out your radiator and tranny cooler - and leave you sitting on the side of the highway.
I'm hoping this will make the difference, should it ever come to that!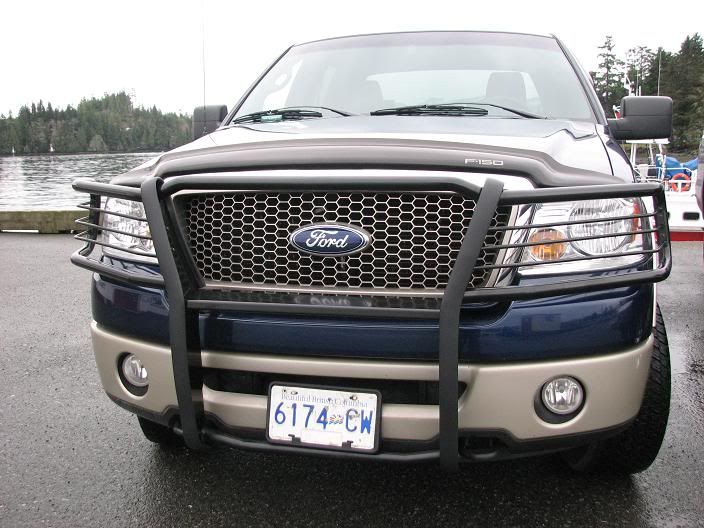 ---
Last edited by Doubletap; 11-27-2011 at

10:34 AM

.
pretty good work man nicely done how ya like it so far
Thanks guys.
Quote:
pretty good work man nicely done how ya like it so far
I really do think it was a worthwhile addition. Heres a couple more screen shots: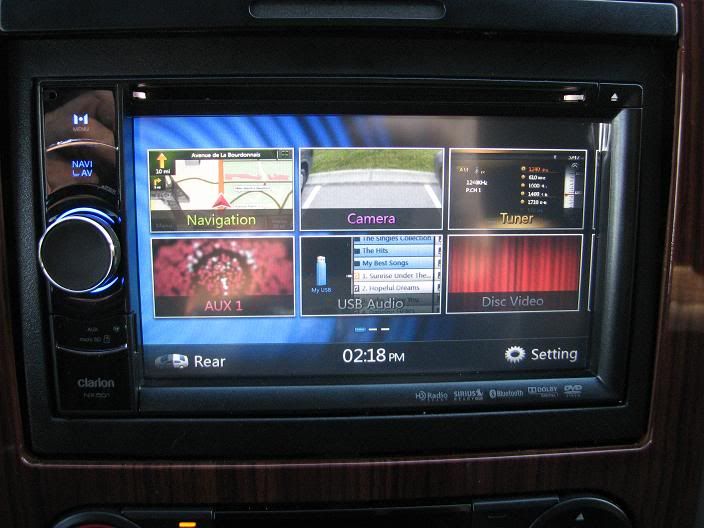 User interface with some of the available options - there are two and a half pages of these! I like the iphone type "swipe" to change pages.
Daytime routing screen. Touch either of the upcoming turn symbols in the upper left corner - and they will be announced by intersecting road name and distance. Notice the route distance - 242km. The software allows you to input your trucks mileage (in miles per gallon, or L per 100km) both city and highway - the average price of gas in your area - and it'll figure out what it'll cost to drive to your destination (at the speed limit).
Just don't show any Prius drivers how much CO2 you're producing! Holy smokes - literally!
i like this might have to install one in the f150
Sharp looking unit and a great tech write up...should definitely save some time for anyone looking to do the same mod. Well done, and the new bush bar looks great.
---
801A
- 6550 lb bundle of joy
Any future plans to add extra lights to the bush bar ? and what kind of light you gonna go with.
---
Lumberjack
2010 F150 Supercrew 4X4
Looks pretty slick!
Quote:
Makes me wonder if I might have soldered it in backwards or used the wrong type or strength of resister? Does anybody that knows about these things have any idea?
A resistor is a "non-polarized" device. You can't put it in backward.
I'm not super-familiar with this kind of stuff, but if it's just a trigger line to sense a voltage signal from the radio, used to switch on the power amp (i.e. not supplying the actual power to the amp), you could trying increasing the resistance by trial and error.
If you have a package of these 1.5K resistors, try adding them in series until you determine how many you need to make the "thump" go away when you apply power. It shouldn't hurt anything. The worst that'll happen is you might add too much resistance, and then the amp simply won't switch on.
If you have different values of resistors handy, try some bigger ones instead, until you find the highest value that still allows the amp to switch on, but reduces the "thump" to a reasonable level, or eliminates it.
BTW, don't count on that brush bar to save your front end from a bigger animal like a deer. It looks good, and I'm certain it'll keep branches and stuff from hitting your grille, but I've hit a dear at < 50 km/h, and it took out most of the body work on my front end, including my bumper. The deer walked away, of course.
Those brush bars are just bolted on with 2 stamped metal brackets, and they've got a lot of leverage against them. Body shops love them.
I've even seen super-heavy, properly welded off-road bumpers get pretzeled by a moose. And bumpers are usually welded right to the frame and heavily reinforced. They also cost 10X what brush bar costs. You just can't win!
The best way that bar can help is to use it to mount the biggest goddamn off-road headlights/flamethrowers you can find. Best defence is to use your eyes, IMO.
She's lookin' good, though!
---
If Princess Auto were a real girl, I'd ask her to marry me.
Quote:
Any future plans to add extra lights to the bush bar ? and what kind of light you gonna go with.
I'd like to - but I need a bed cover first. I've been looking at LEDs, though.
I see you have a Recon lightbar - how do you like it?
Quote:
A resistor is a "non-polarized" device. You can't put it in backward.
Good to know, and good suggestion about trying a higher limit resistor. I think I'll need to give it a try, as the Pop seems to be getting louder.
And good call on the bush bar. It has pretty robust mounts at the bottom (alongside the tow shackles) - but the upper mounts are pretty flimsy.
I'm hoping it will spread any impact it takes more evenly than the smaller surface area a deer's shoulder or haunch offers. I once hit a Coon in my girlfriend's 84 Civic (20 odd years ago) at 140. At the last second, it turned to face the vehicle and stood up on it's hind legs - and went right through the bumper and took out the rad.
It was a long (and very quiet!) tow home - ha ha!
The impact will no doubt collapse the upper brackets - but hopefully the upper bumper spreading the impact out over the headlights and grill might spare the radiator and let me limp home down whichever remote logging road I'm traveling.
Thats my hope,anyway - reality might be a bit of a wake up call, as you suggest - ha ha!
Of course - if I run into this fella at 80, theres not much thats going to help me!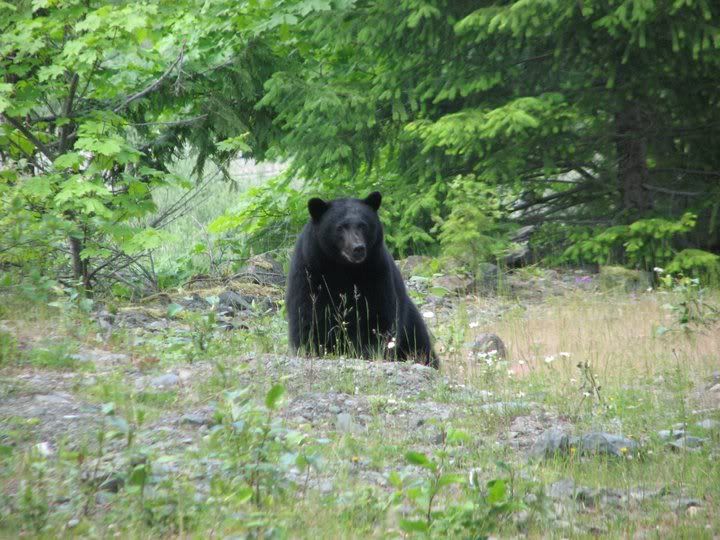 I see you have a Recon lightbar - how do you like it?
I love the recon fire & ice light bar, was a easy install and sure lets people behind you know which way your turning or if you have brakes on, plus it lights up in reverse. I have been looking at L.E.D lights for the front of my truck also but I just have to figure out what will work best with my 8000K H.I.D head lights, as my truck doesn't have factory fogs in the bumper.
---
Lumberjack
2010 F150 Supercrew 4X4
Posting Rules

You may not post new threads

You may not post replies

You may not post attachments

You may not edit your posts

---

HTML code is Off

---