Some Mods I have been up to
---
Last year when I re geared my truck to 4.56's and put the Detroit locker in I noticed the one of my axles had a wear mark on it from the bearing so I priced out axles from ford and they were too much up here so I found some Yukon axles from Complete off road
http://www.completeoffroad.com/
(I can tell you these guys are unbelievable to deal with too)that are 25% stronger then stock and are made from 1541H steel, then the wheels started turning and I always wanted to do a rear disc brake swap Go figure I have a 1998 truck and Ford started putting rear disc's on in the 1999 model year
so the fun begun.....
So, first I ordered my axles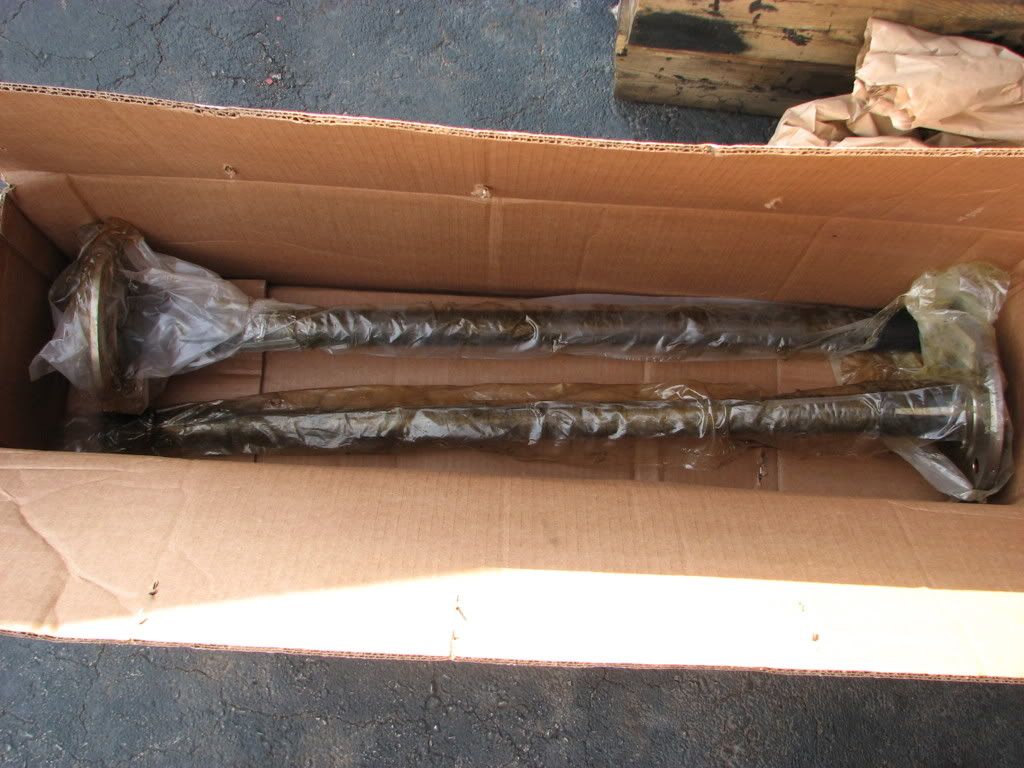 and was happy to take these off and get some good brakes finally
and when trying figure out if I could just swap the drums and use the ford set up I discovered there were 3 different bolt pattern's on the axle flange ... so I decided to order a kit from TSM manufacturing
http://www.tsmmfg.com/
and be sure the then was going to bolt up but if any of you know me well, lets just say I wanted more, so I decided to swap out the brake booster from my '98 and put in one from a '03 F 150
notice the difference here the 97,98 vacuum booster is about half the size if the 99 + up booster and the piston in the master is 1+1/16 on the 97, 98 vs 1+1 3/16 on the 99+ booster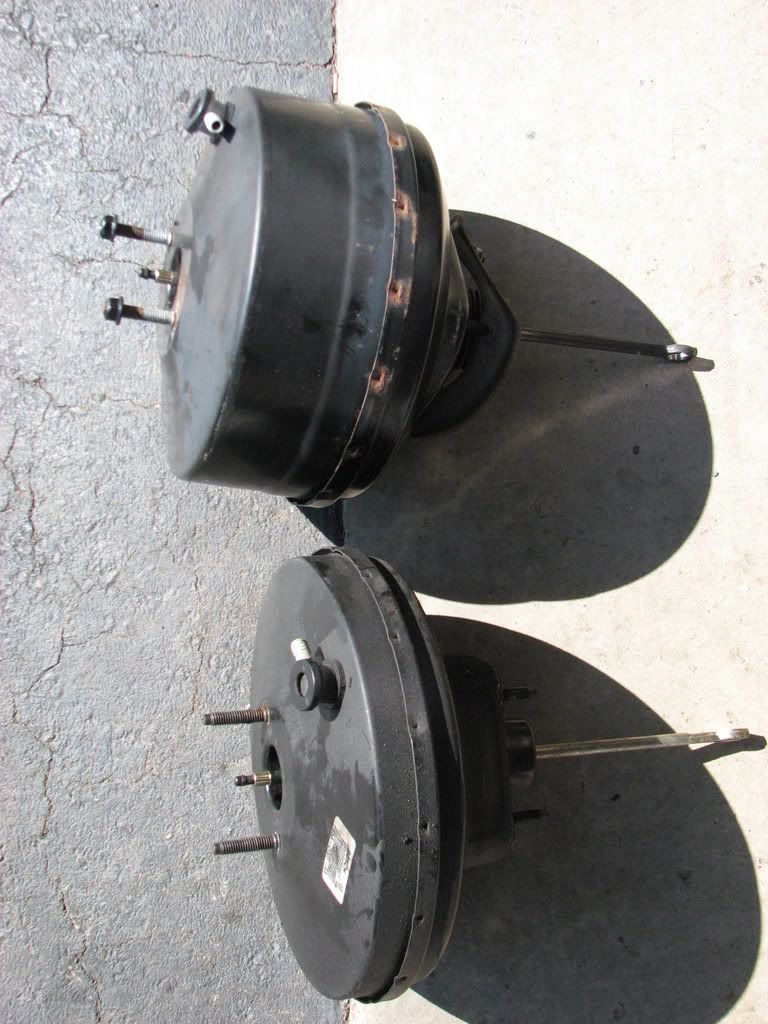 a better pic of the 2003 booster and master Cylinder I used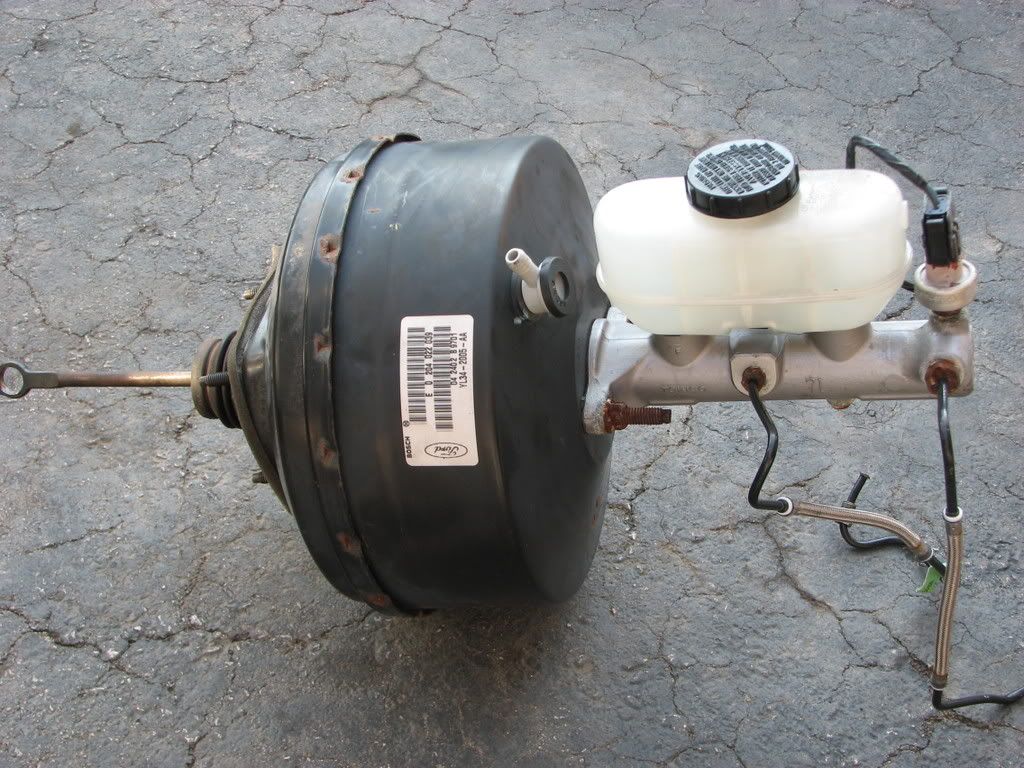 so then while it was apart I decided to put S/S braided lined all around
and since the axles were out I had to change the wheel studs so I opted to put in 14mmx2.0 studs instead of the 12mmx1.75 ones that came on the 97- mid 2000 trucks came with, just a little piece of mind when your tires and wheels weigh 120 pounds each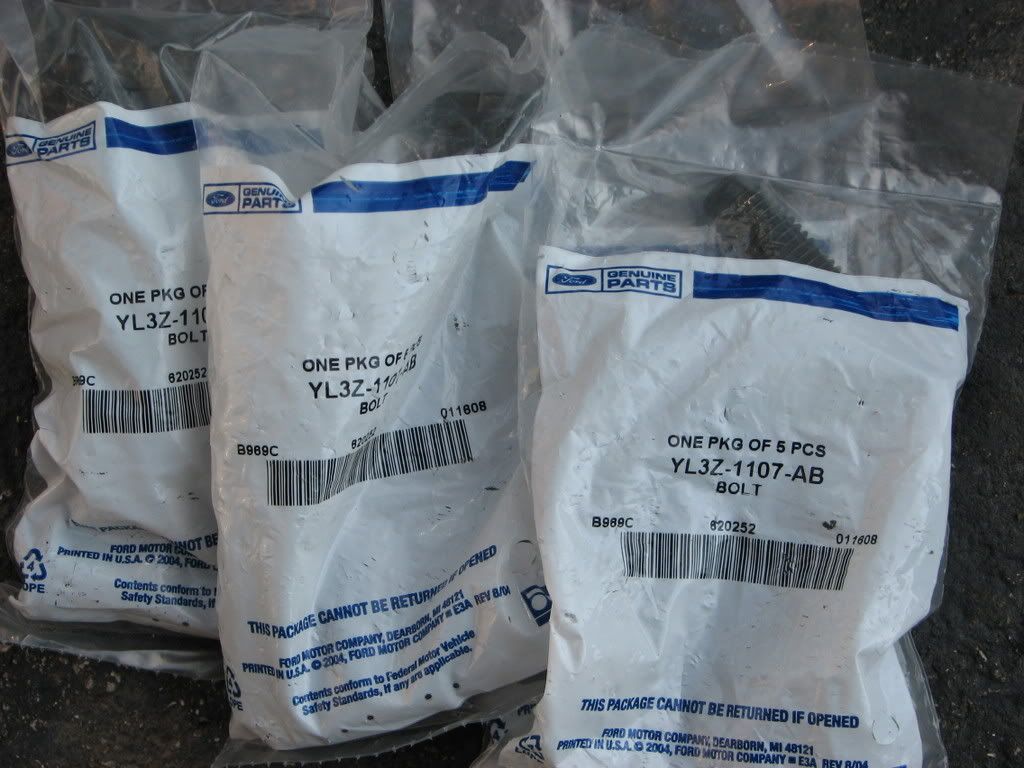 ---
---
Last edited by SKRWZ; 09-01-2008 at

02:05 AM

.
That was a little PITA because after installing the studs in the rear axles I had to pull the front spindles off and knock out the 12mm studs and have the wheel bearings drilled for the new 14mm studs But I knew in the end it's all worth it
here's the difference between the 12mm to 14mm studs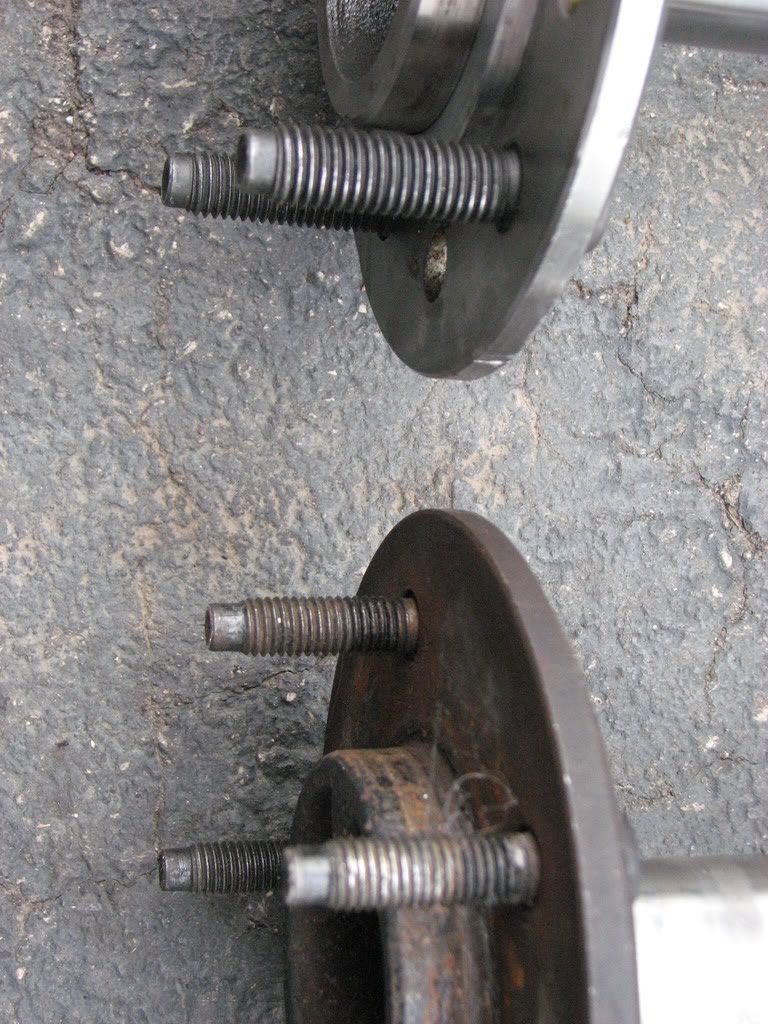 so now i still had a pile of parts
and it was time to pull the differential cover and the axles and while I was at it, I took out the bearing cap bolts and put studs in their place for a little added strength ..I love overkill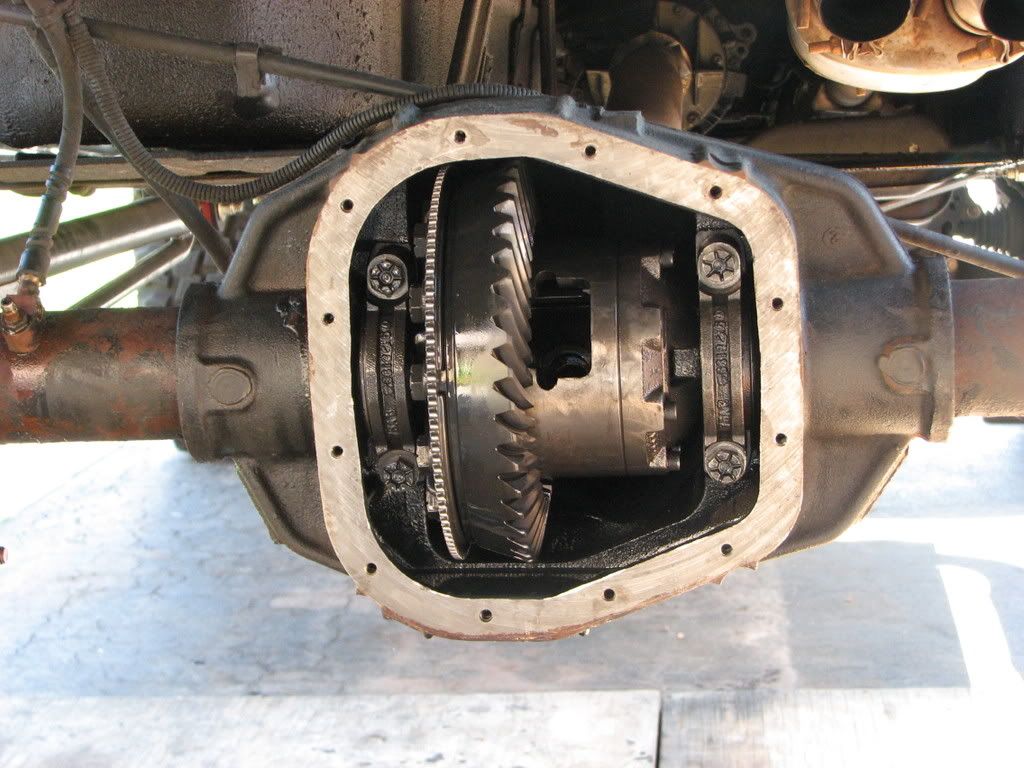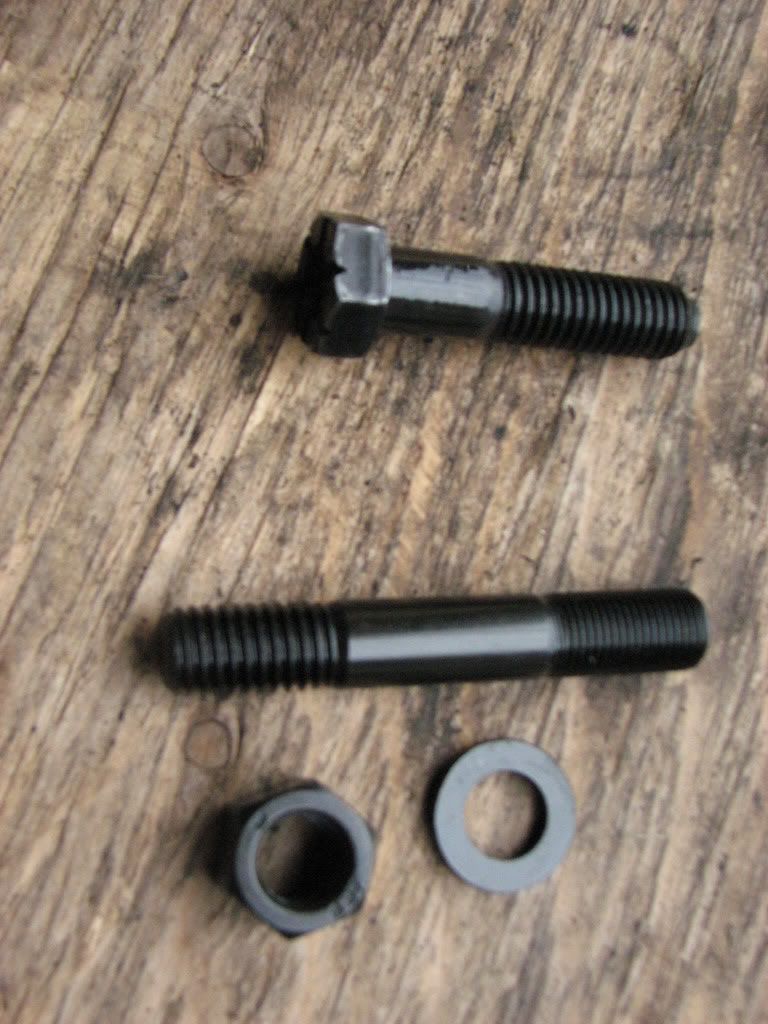 then I disconnected the e brake cable's , pulled the backing plates, seals and bearings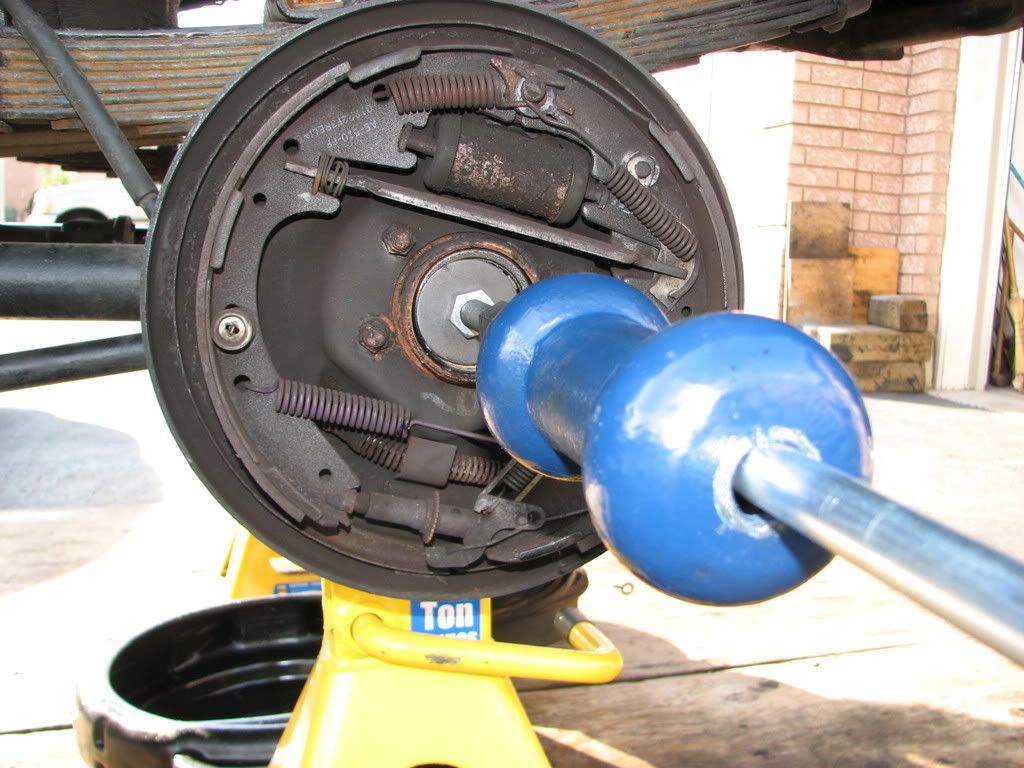 Than cleaned everything, painted the rear diff with POR15 rust paint, and test fit the brackets before painting them with Black POR15 paint as well
then I installed new wheel bearings and seals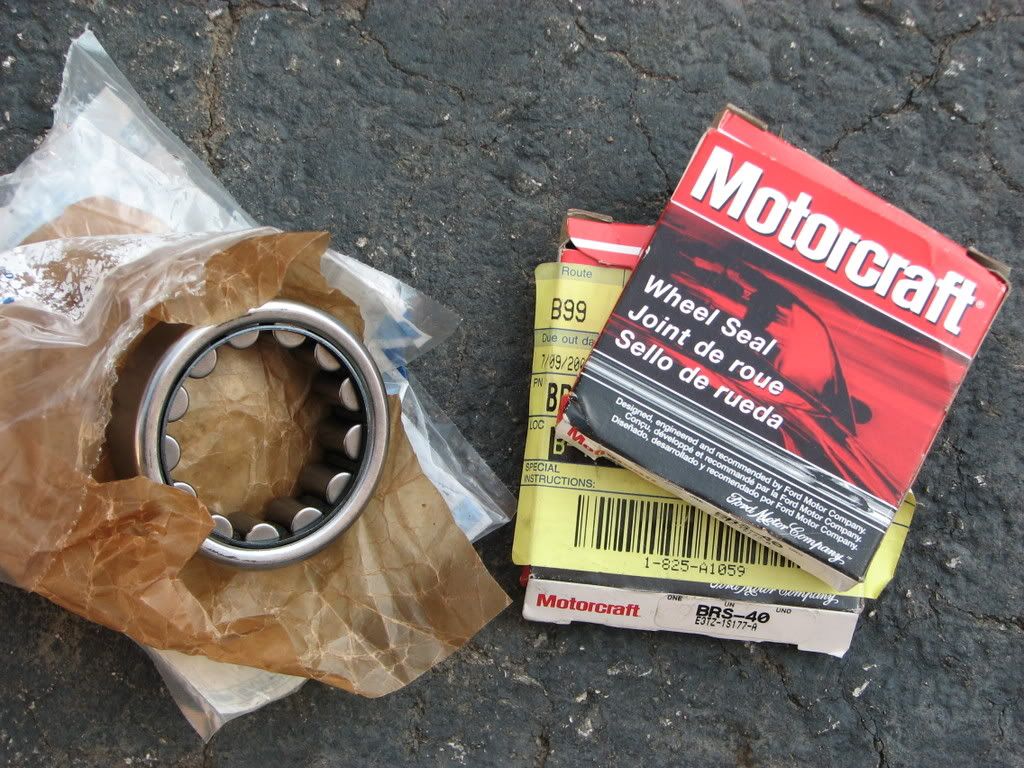 ---
When I got the kit I sent the rotors out to be Cryogenic frozen and slotted to macth my fronts I have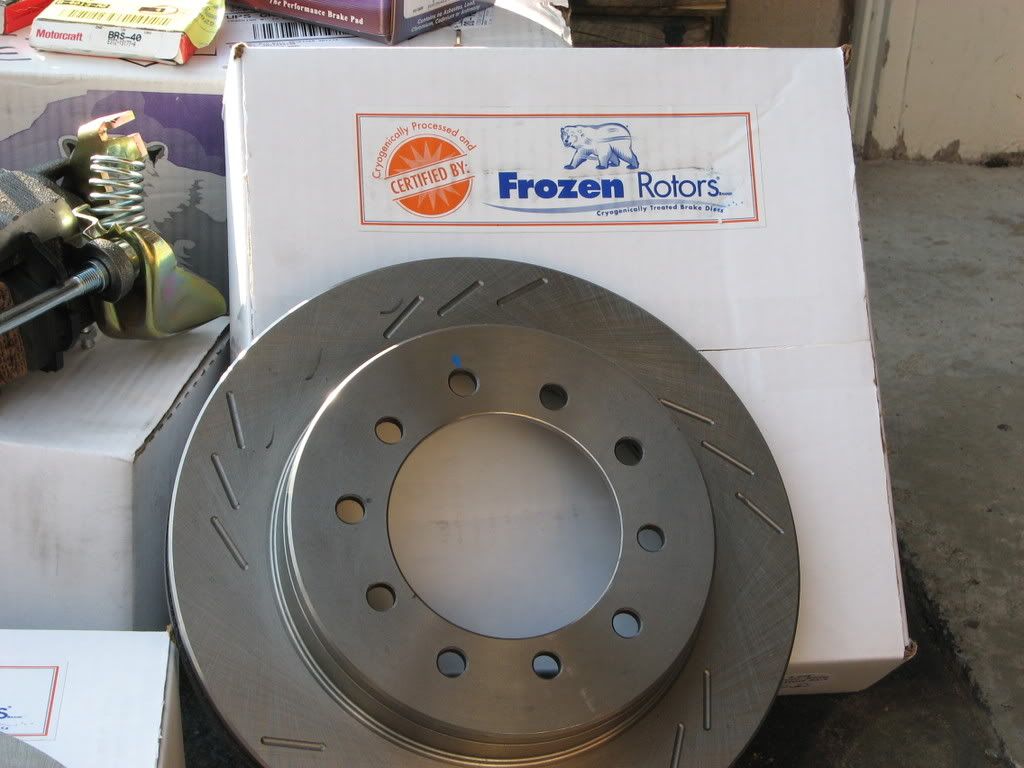 but when installing the kit i didn't like the way the rotor fit on the axle (kit uses a GM truck or Lincoln rotor and Cadillac El Dorado calipers) so I had some custom made hub centric rings and shrunk them on the result is a perfect fit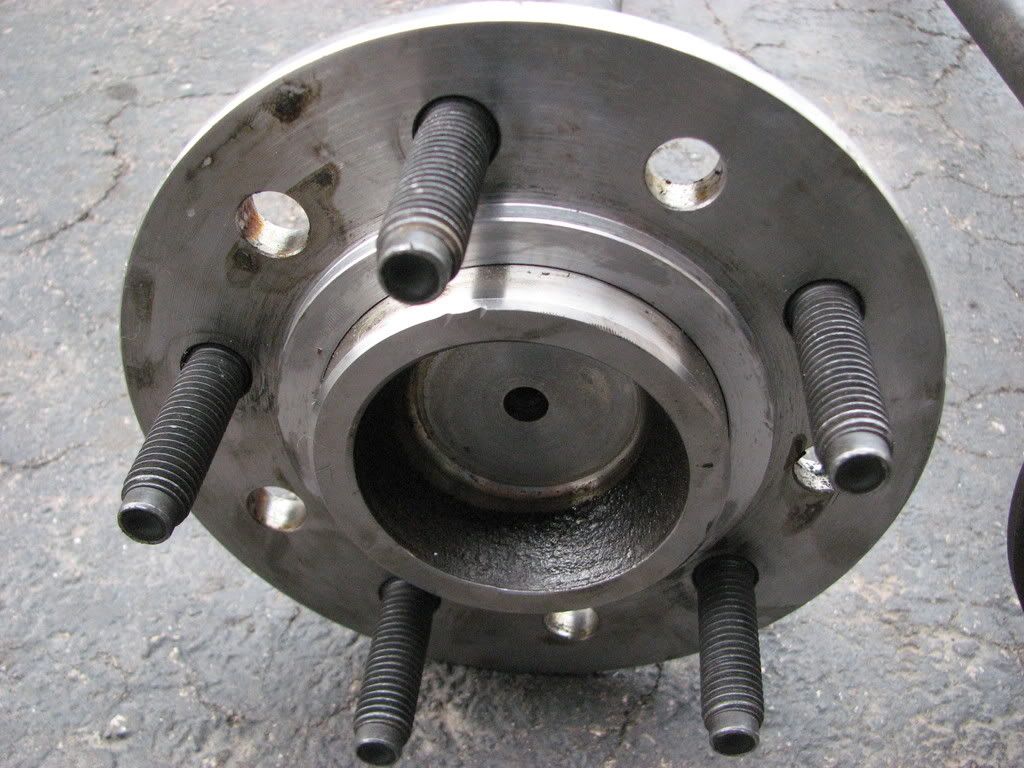 so after I painted the calipers With POR 15 and installed the axle's and fit it was looking like this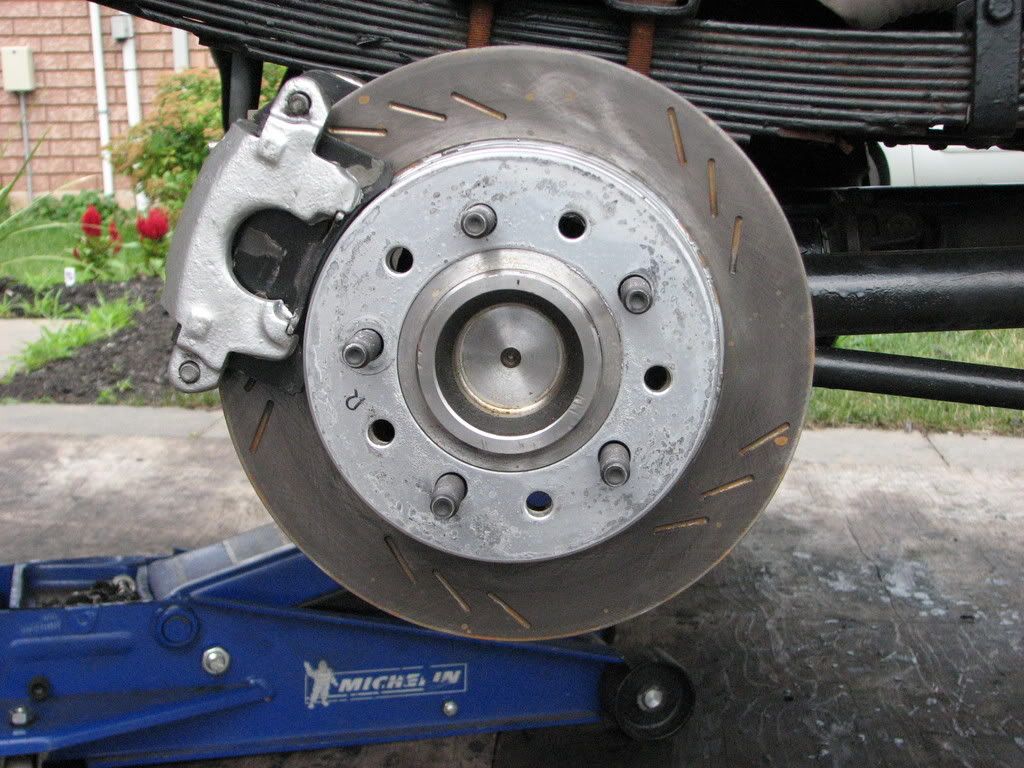 ---
And I decided to cap it off with a T/A Performance rear diff cover it has a stud girdle built into it and holds a little more Royal Purple as well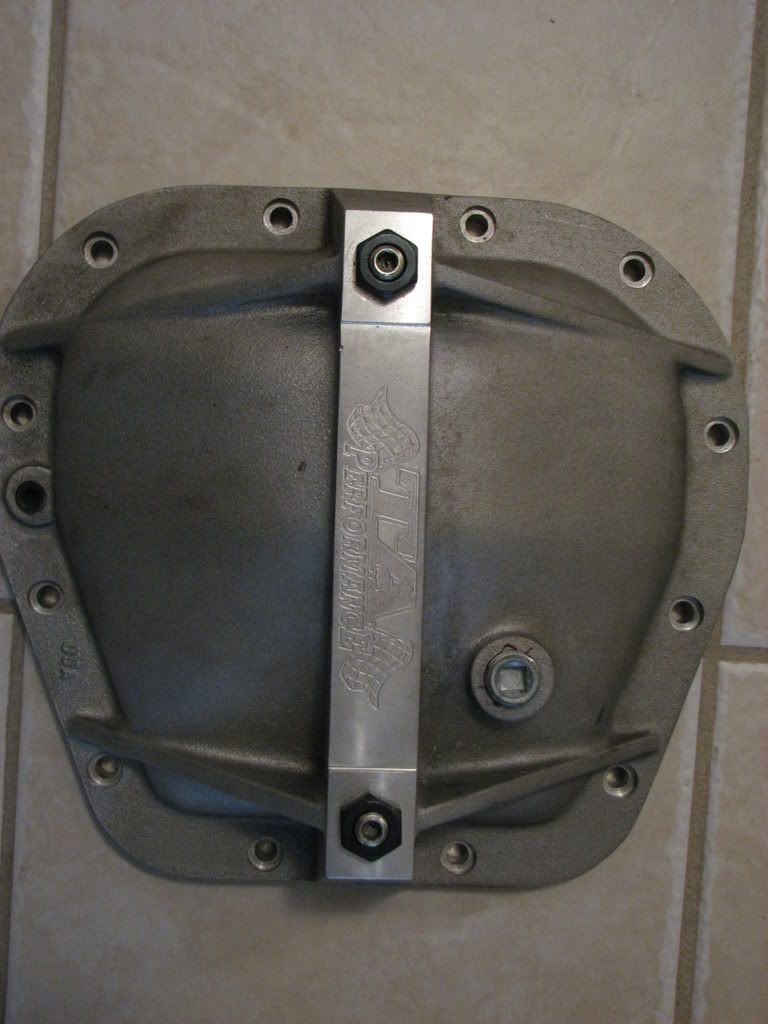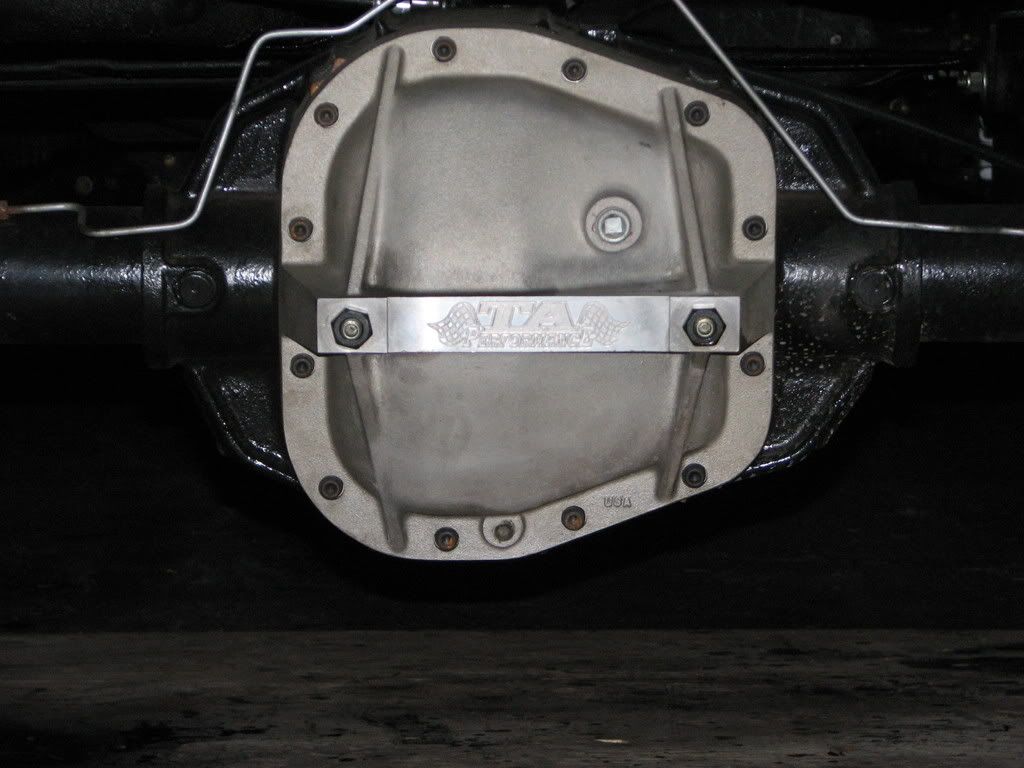 so now things were looking pretty good but i still had to bleed the brakes so I used some super blue dot 4 racing brake fluid it has a higher boiling point so hey I went this far right??
I also swung a deal on a set of traction bars and installed them while I was at it not only do they look cool but functional as well
here's a test fit pic before I painted them Black with POR 15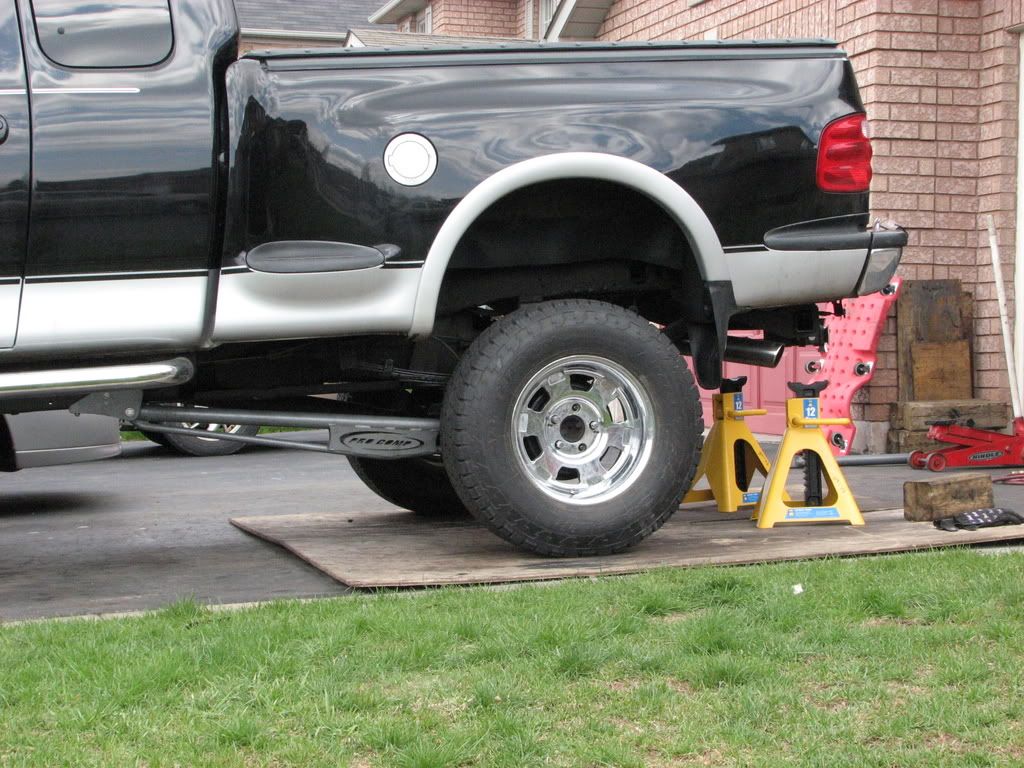 and before things were all done i checked my rear differential angle, something i always wanted to fine tune and I found it to be 4 degrees negative so I installed a 3 degree shim so it now sits 1 degree negitive....perfect for when I torque on it
Before shim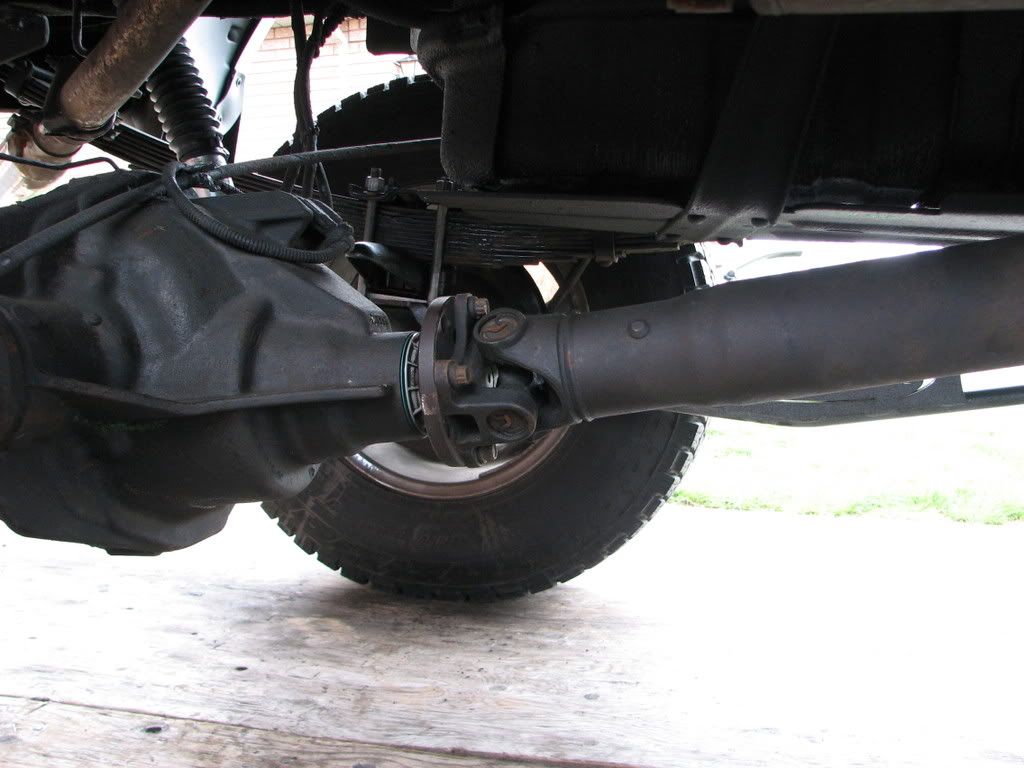 after shim
So this is what it looks like now.. the difference is like night and day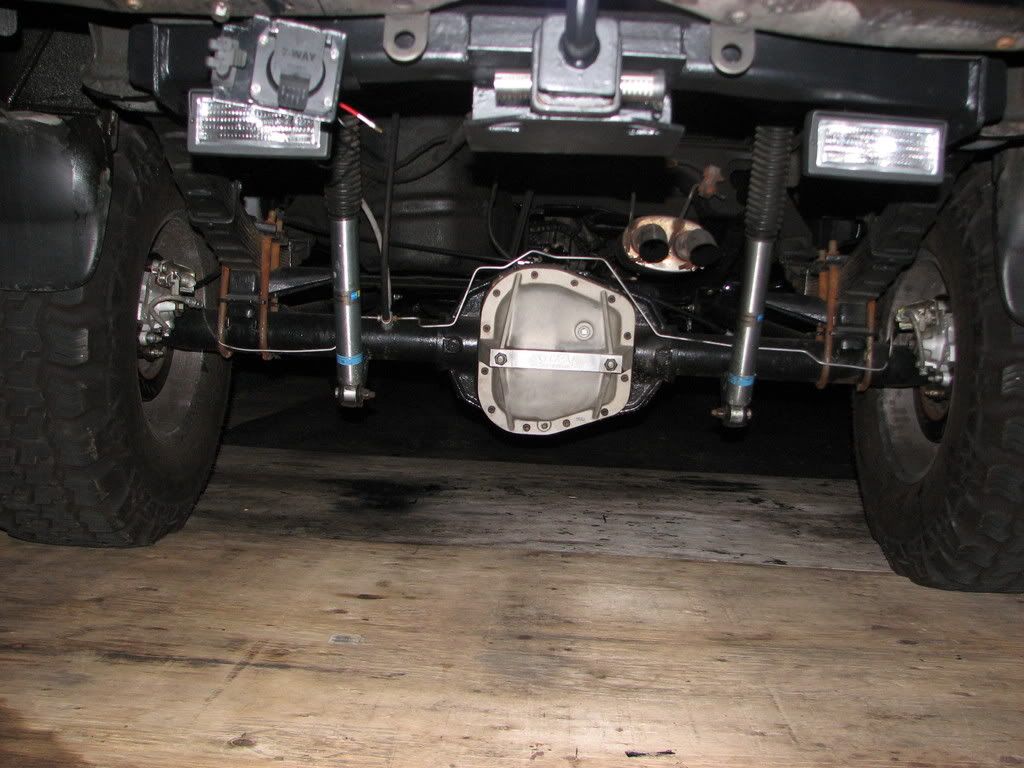 ---
So my leather wheel in my 10 year old beast had been wearing thin for a while now and I bought a new old stock one last winter I thought i would put it on
here's the difference of the both of them
and installed....mmmmm comfort
---
And here's something I have in the work's I wanted to clean up all my switches for the off road light's and the back up light's and accessories so I started with a old used tan o/h console from e bay, and painted and modified it to accommodate my needs this mod, should be done soon it' should clean thing's up some ....
---
Yes he has. what a nice bunch of upgrades. that truck will be soooo bulletproof now!!! Dave, you're running out of things to do....
---
2013 f150 Ecobeast
3.55 E locker
FX4 Screw
SSI tuned!!!!!!!!!!!!!!!!!
Posting Rules

You may not post new threads

You may not post replies

You may not post attachments

You may not edit your posts

---

HTML code is Off

---