Discussion Starter
·
#1
·
This is my 1988 F351 Stroker Edition. Well actually, it started as an '88 F150 Custom 302, 5 speed. I bought it back in '91 and immeadiately tore into it. It went through major body and frame modifications and was finally road ready in '95. During the 4 years, it received a carbed 351 and FMX tranny from an '80 Grand Marquis. Since '95, it has continued to get updated. It started with a mild rebuild on the engine, interior changes, '91 T-Bird IRS, Air Ride suspension, Lentech AOD tranny, Torino Shaker hood scoop, Torque Thrust II wheels and last year, a 351/408 stroker engine, dynoed at 330rwhp and 400rwtq.
Original Truck:
1988 F150 Custom Reg cab, Short box, Daul Tanks, Black.
5L, 5 speed, 3.08 gear.
Exterior Mods:
Fiberglass Repro Torino Shaker Scoop, Airbox and hood reinforcement, Billet support
3" Chop top with uncut Windsheild
3" Frontend Section
3" cab stretch with angled Dodge rear window
Ranger one piece door glass
Explorer Mirrors
Shaved door handles
Grand Marquis consealed wipers with handmade cowl
Headlights lowered 2"
Handmade grill with Dodge Ram inserts
Frenched licence plate and Grand Am driving lights
Sunroof (Came with truck)
Rear portion of rear fenders lowered 1.5"
Flipped tailgate handle
'94 Taillights
Handmade roll pan
Bullhide spray in liner
Custom sparetire mount/air system compartment box
FiberBec box lid
'94 Mustang Chrome Yellow PPG Concept single stage
Custom F351 Fender badges
Chassis Mods:
'91 T-Bird IRS
2.5" frame stretch
Bell Tech 3" drop I-beams
Raised radius arm brackets
Custom Sway Bar mounts
Slam Specialties Air bags
Air Ride air system with remote
QA1 Billet shocks
American Racing Torque Thrust II 18x 8 wheels
BFG g-force 225/45/18 and 255/45/18 tires
Drive Train:
Seasoned '74 351 block
AFR 185 61cc emmissions heads
Eagle 4" stroker cast crank
Eagle forged 6.2" rods
Keith Black Forged 27cc dish pistons .030" over
9.6-1 compresson ratio
Comp Cams 35-424-8 Retro fit roller cam 224/228, .512/.512, 110 VLC
Edlebrock Performer RPM intake
Edlebrock 750 #1411
MSD Pro-Billet dist.
MSD 6AL ignition box
Crane PS91 E-coil
Lentech AOD Street Performer Plus race tranny, rated to 700 HP, 1800/2200 stall and electric OD lockout
Custom length drive shaft
Powermaster 200 amp alt
'94 Windstar dual electric fans
Ford Motorsport rocker covers
Ford Racing shorty headers
2.5" into 3" crossover pipe 316L Stainless Steel
3" high flow cat StSt
Handmade muffler, Magnaflow design, 3"in/twin 2.5" out,316L Stainless Steel
Dual 2.5" tailpipe, under axle, 316L Stainless Steel
Interior:
Grand Marquis steering column with Tempo wheel
Custom Fiberglass center pod
Nissan 300ZX Turbo bucket seats
Custom center seat/console
Painted Instrument cluster trim
Gray Twead upholstery with Yellow piping
Air conditioning from '94 F150
Door panel inserts
Handmade Billet-Dash insert, Shifter, steering column and heater knobs
Windstar auto dimming mirror with headlight delay
Alpine 3 disc indash
Alpine 11 band EQ
RF 401S Sub amp
RF 4020 4 chanel amp
RF RFP1410 10" subs in 1.5 cuin non-ported box
Infinity Kappa 6x9 coax
JL 4" mids
B&W tweeters
Grand Marquis power windows
Grand Marquis cruise control
Unmodified Stock Parts:
Glove box
Cigarette lighter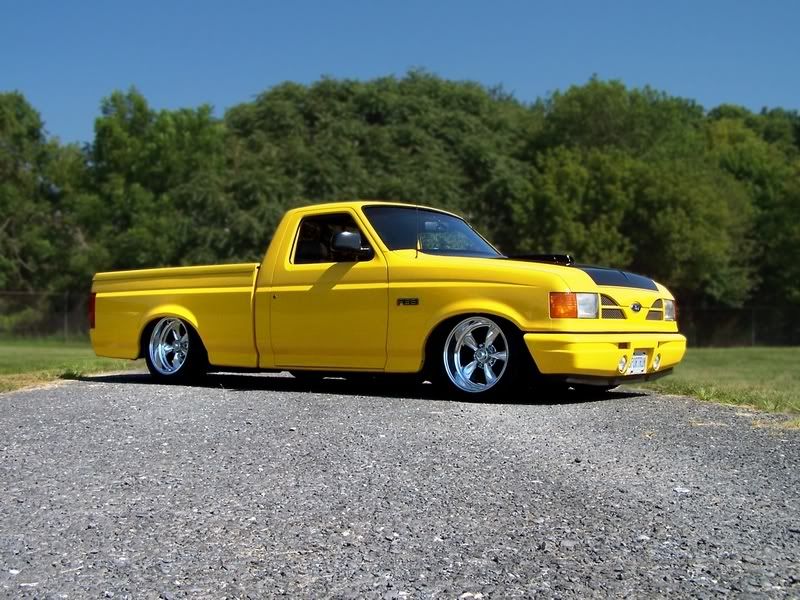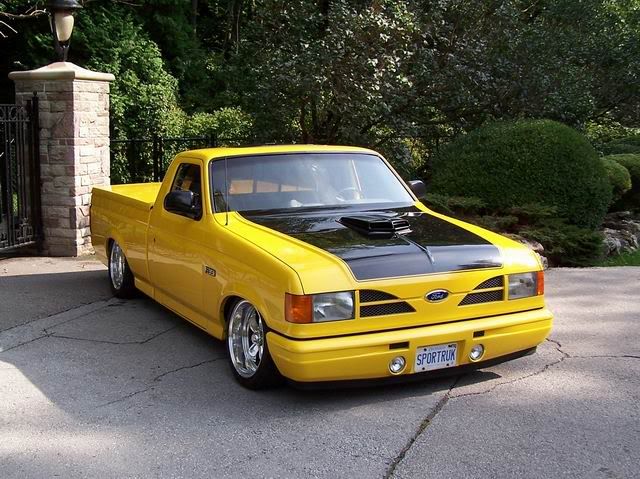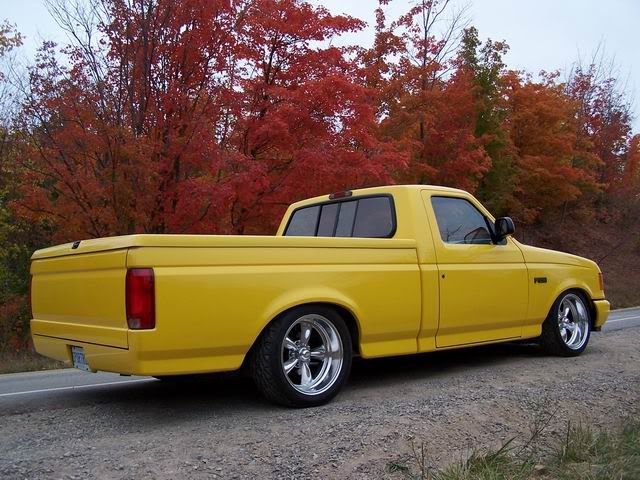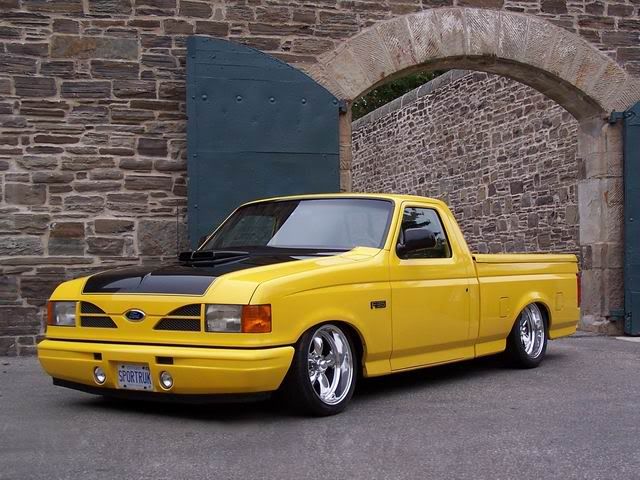 This is the driving height. The ones posted above are at full drop. It can still be driven at that height, but sitting on the bumpstop makes for a rough ride.